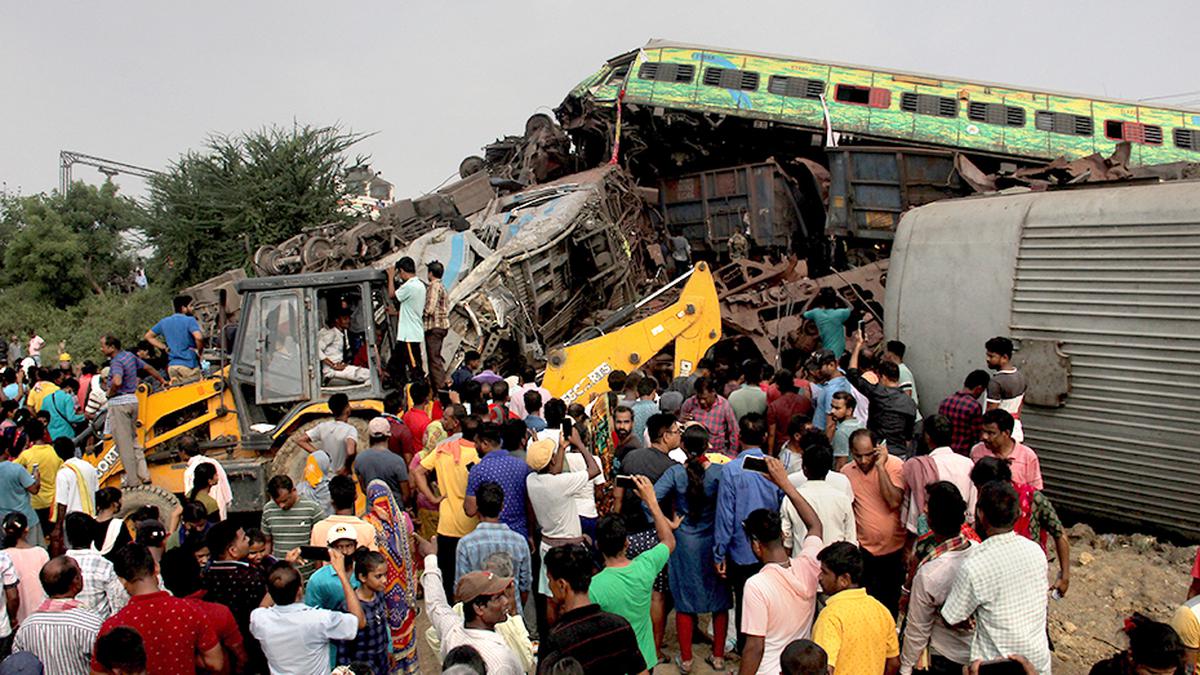 What could have led Coromandel Express into the loop line?
The Hindu
The latest tragedy should now force the Railways to focus on a fail-safe mechanism where trains either come to an automatic halt or reduce speeds drastically whenever a snag is detected
Did the repair of a boom barrier at a level crossing near the Bahanaga Bazar railway station at Balasore in Odisha lead to the horrific crash of the superfast Coromandel Express, bound to Chennai from Howrah, after colliding with a stationary goods train on the loop line?
The level crossing gates and barriers are all inter-linked with the electronic interconnected signalling system which controls the trains' movement automatically to allow the speedier trains to move through the main lines at smaller stations. Senior Railway officials, wishing to remain anonymous, disclosed that the repair of the boom barrier could have led to a break in the circuit connecting the relays and network, which in turn, could have led to a glitch of the signal turning 'green' to allow the Coromandel Express to speed through even as the unit had shifted the train to the adjacent loop line where the goods train was parked.
"There are multiple levels of checks and re-checks, but somehow it had escaped everyone's notice due the work pressure and there were no alerts too. The poor loco pilot has no means to control the train into the loop line as the signalling system will shift the train line and would have been horrified to see the goods train in front," they said.
Usually, when the train is moved to the loop line from the main line, the loco pilot reduces the speed to about 15 kmph but here he was under the impression that he was on the main line with the 'green' signal on, till the last minute of being pushed into the adjacent line, senior officials deduced.
Even if the two express trains were fitted with 'KAVACH' — indigenously developed automatic train protection system and anti-collision device — it would not have prevented the mishap because the system is built on stopping the train automatically when the loco pilot jumps the 'red' signal or when a train is on the same track whether in the opposite direction or a little distance away on the same direction.
"In this case, the Coromandel Express had a clear 'green' signal and there was no way the loco pilot could have applied brakes in such a short span of time and distance. The loco pilot and his assistant look for signals every 1.5 km away and alert each other for being double sure, besides looking for a clear track sans obstructions. They will have no clue about the points/crossings changes near stations, which is overseen by telecom-signal engineering staff and the station master concerned," they said.
Similarly, the Bengaluru-Howrah Superfast Express could not have avoided hitting the capsized coaches of Coromandel Express because it was running at the prescribed high speed on the other direction at about the same time whether equipped with 'KAVACH' or not.
More Related News
External Affairs Minister S. Jaishankar held a meeting with counterparts from Brazil, Bahrain and South Africa on the sidelines of the 78th session of the United Nations General Assembly
Court issues summons to Bihar Deputy CM Tejashwi Yadav for 2nd time in criminal defamation case after 1st summons not served. He must appear before court on Oct 13. Complainant Mehta to deliver summons.
Dr. Mehta's Hospitals launches advanced laser treatment for prostate enlargement, offering precise targeting, reduced discomfort, quicker recovery, lower risk of bleeding, shorter hospital stays, and improved quality of life.
BJP organizes photo expo to mark PM Modi's b'day in Vijayawada. Visitors impressed by array of photos, comic book style posters depicting milestones in PM's life. Daggubati Purandeswari said BJP against birthday bash, rather wants to do service activities. Events from Sept 17-Oct 2 to inspire youth to follow PM's footsteps.
Kerala to unveil housing policy to address AH challenges; KOCHI to get largest exhibition centre; PPP, access to finance for EWS/LIG borrowers sought. #Kerala to unveil housing policy to address AH challenges. #KOCHI to get largest exhibition centre. #PPP, access to finance for EWS/LIG borrowers sought. #KeralaHousingBoard to collaborate with NBCC to construct 40-lakh sq ft complex. #Kalavara scheme extended to districts.
UGC Chairman suggests students learn constantly, take risks & learn from failures to access new opportunities & excel in multi-disciplinary education. NEP 2020 sets direction to scale up quality of education & institutions must invest in academic & research excellence.
Philem Rohan Singh, a traveller and activist from Manipur, called for peace talks to end the four-month communal unrest between the Meitei and Kuki-Zo tribes in the north-eastern State. He urged both sides to stop the blame game and seek a middle ground. He requested Prime Minister Narendra Modi to intervene and for all political parties to visit the State for reconciliation and peace measures. He also highlighted the atrocities against women and the burning of 45 homes and shops belonging to Tamils in Moreh.
Arunachal Pradesh CM Khandu condemns China for denying visas to wushu athletes, urges IOC to address issue. Union Minister Rijiju slams Beijing, lodges strong protest. Thakur cancels visit to China as mark of protest.
Delhi CM Arvind Kejriwal approves ₹1 crore compensation to families of 17 COVID-19 warriors who died while executing pandemic-related duties. 73 families have received similar compensation so far. Delhi BJP welcomes the announcement but accuses CM of politicising the matter.
Using synthetic colour in prepared food is banned. These colours will cause severe health issues. Only in a few sweets are these colours allowed to be used at one mg per one kg of sweets, says District Designated officer Kathiravan.
Kochi Metro Rail Limited (KMRL) has reported an operational profit of ₹5.35 crore in 2022-23, thanks to cost-control measures and increased daily patronage. The fare-box income rose from ₹12.90 crore to ₹75.49 crore, and non-fare-box income from ₹41.42 crore to ₹58.55 crore. Chief Minister Pinarayi Vijayan said the profit will provide impetus to the State's development.