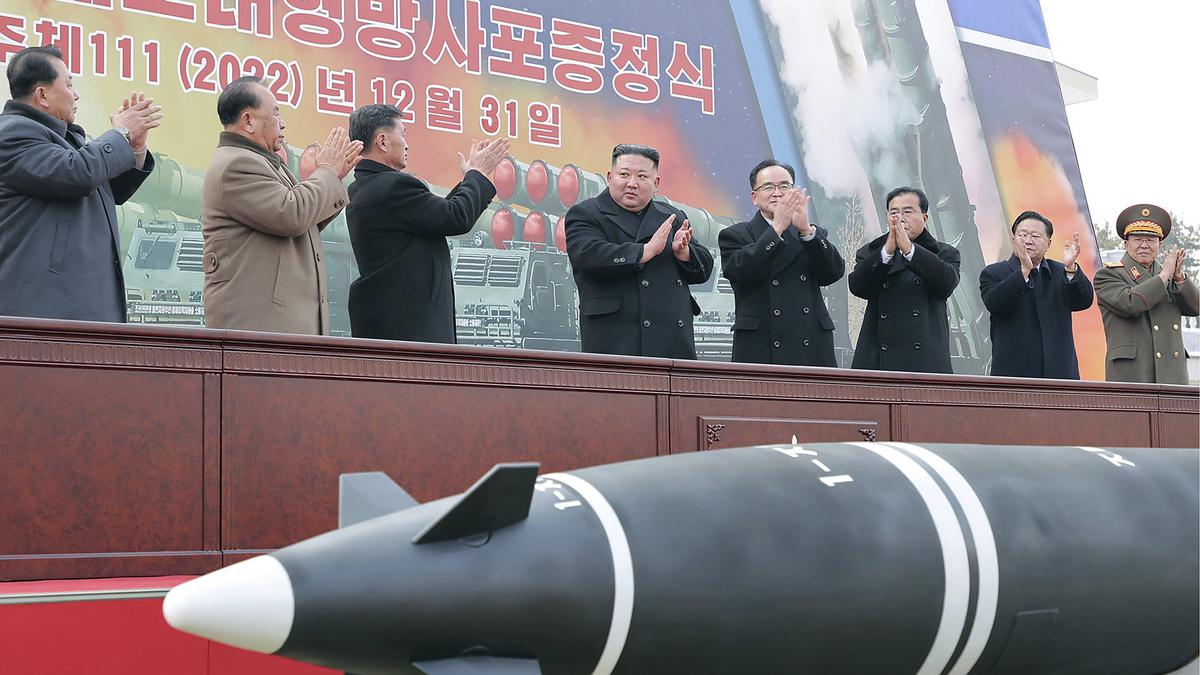 Kim Jong Un orders 'exponential' expansion of nuke arsenal in North Korea
The Hindu
North Korean leader Kim Jong Un has vowed to increase production of his country's nuclear warheads "exponentially."
North Korean leader Kim Jong Un ordered the "exponential" expansion of his country's nuclear arsenal, the development of a more powerful intercontinental ballistic missile and the launch of its first spy satellite, state media reported Sunday, after he entered 2023 with another weapons firing following a record number of testing activities last year.
Kim's moves are in line with the broad direction of his nuclear weapons development program as he has repeatedly vowed to boost both the quality and quantity of his arsenal to cope with what he calls U.S. hostility. Some experts say Kim's push to produce more nukes and new weapons systems reflects his hopes to solidify his future negotiating power as he heads into prolonged tensions with the U.S. and its allies.
"They are now keen on isolating and stifling (North Korea), unprecedented in human history," Kim said at a recently ended ruling party meeting, according to the official Korean Central News Agency. "The prevailing situation calls for making redoubled efforts to overwhelmingly beef up the military muscle."
Kim accused South Korea of being "hell-bent on imprudent and dangerous arms build-up" and openly trumpeting its preparations for war with North Korea. That, Kim said, highlights the need to mass-produce battlefield tactical nuclear weapons and push for "an exponential increase of the country's nuclear arsenal," KCNA said.
Kim also set forth a task to develop another ICBM system "whose main mission is quick nuclear counterstrike," KCNA said. It said Kim accused the United States of frequently deploying nuclear strike means in South Korea and pushing to establish a NATO-like regional military bloc.
Kim said North Korea will also launch its first military reconnaissance satellite "at the earliest date possible," saying related preparations are in their final stages.
Also read |North Korea fires two ballistic missiles in resumption of testing
More Related News
Mr. Johnson insisted that he has stepped down due to his own lack of "domain expertise".
Mr. Zardari rejected the allegations and also sent a legal notice to Mr. Khan.
The appointments reflect the growing influence of the Indian-American community in U.S. politics
The bank plans to consult with Indigenous groups in designing the $5 note, a process it expects will take several years before the new note goes public.
The U.S. embassy and consulates in India have prepared to receive a record number of visas from Indian students in 2023
"Early investigations suggest that the Israeli regime was responsible for this attempted act of aggression," a letter signed by Iranian ambassador Amir Saeid Iravani said.
The United States has opened an embassy in the Solomon Islands in its latest move to counter China's push into the Pacific.
The statement by Pyongyang's Foreign Ministry came in response to U.S.' plan to increase its deployment of advanced military assets to the Korean Peninsula
The agreement was reached as U.S. Defence Secretary Lloyd Austin was in the country for talks about deploying U.S. forces and weapons in more Philippine military camps.
The Israeli military said the airstrikes targeted a rocket production workshop for the militant Hamas group, which controls Gaza.
Authorities in Pakistan said Wednesday the death toll from Monday's suicide bombing at a mosque in Peshawar increased by one to 101