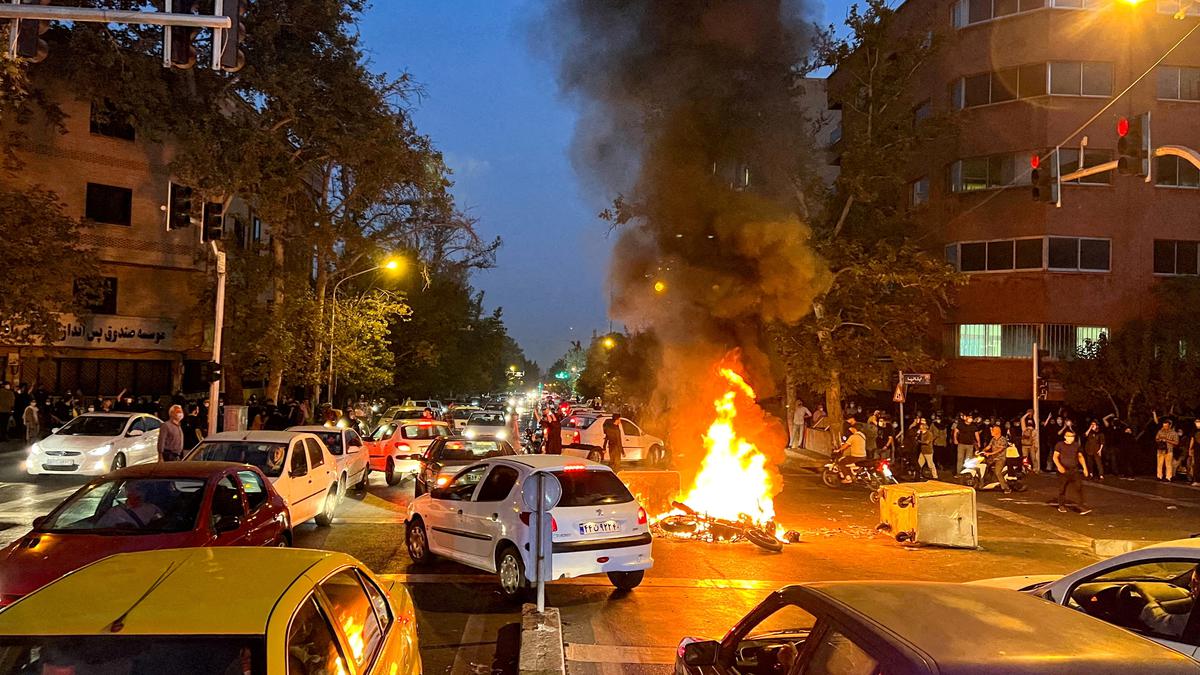 Iran protester on death row granted retrial: judiciary
The Hindu
Activists have called on social media for gatherings in Tehran and other cities across Iran to protest the worsening economic situation
Iran's top court has ordered the retrial of a third death row inmate sentenced over the nationwide protests that started more than 100 days ago, the judiciary said Saturday.
The Islamic republic has been rocked by demonstrations since the September 16 death in custody of Mahsa Amini, a 22-year-old Iranian Kurd, after her arrest in Tehran for an alleged breach of the country's strict dress code for women.
Iranian officials say hundreds of people have been killed in the unrest, including members of the security forces, and thousands have been arrested.
In an updated death toll issued Tuesday, Oslo-based group group Iran Human Rights (IHR) said 476 protesters have been killed so far.
Foreign-based rights groups had reported Sahand Nourmohammad-Zadeh was sentenced to death for tearing down highway railings and setting fire to rubbish bins and tyres.
Also Read | Iran sentences five to hang over protest-linked killing
On Saturday, the judiciary's Mizan Online news website said the 26-year-old had been granted a retrial, without specifying the original verdict.
More Related News
Jeremy Corbyn, a veteran socialist, enjoyed some electoral success in 2017, but in 2019 led the party to its worst defeat since the 1930s
Suu Kyi (77) is serving prison sentences totaling 33 years after being convicted in a series of politically tainted prosecutions brought by the military
A look at the judicial reforms proposed by the Israeli government that have caused widespread protests. They have now been put on hold by Prime Minister Benjamin Netanyahu.
Fighting has intensified near the Zaporizhzhia nuclear plant in Ukraine, which is Europe's largest, further increasing the possibility of a war-related nuclear accident, the head of the International Atomic Energy Agency (IAEA) said on March 28.
U.S. highway safety regulators have opened an investigation into complaints that Tesla seat belts may not hold people in a crash, a month after people reported the SUV's steering wheels came off while being driven.
Police officers in Belgium have arrested eight people during counterterrorism raids across the country as part of operations aimed at thwarting possible attacks.
Greece will hold parliamentary election on May 21, 2023, Prime Minister Kyriakos Mitsotakis said on March 28, 2023.
The Mahatma Gandhi statue placed at Peace Square on the Burnaby campus at Simon Fraser University in Canada was vandalised by Khalistan supporters
Pakistani-origin Member of the Scottish Parliament (MSP) Humza Yousaf on March 28 won the Scottish National Party (SNP) leadership contest and is set to be named as Scotland's new First Minister, replacing Nicola Sturgeon. The 37-year-old MSP served as the Health and Social Care Minister in Nicola Sturgeon's Cabinet until she announced her resignation last month, triggering a leadership contest within the governing party for the devolved region.
Russia's Defense Ministry said Moscow has test-fired anti-ship missiles in the Sea of Japan. The ministry said the target was successfully hit by two Moskit cruise missiles.
Amid mass layoffs in the tech sector, the U.S. Citizenship and Immigration Services (USCIS) has said it is wrong to assume that fired workers holding H-1B visas have to leave the country within 60 days and that they have multiple options to stay.