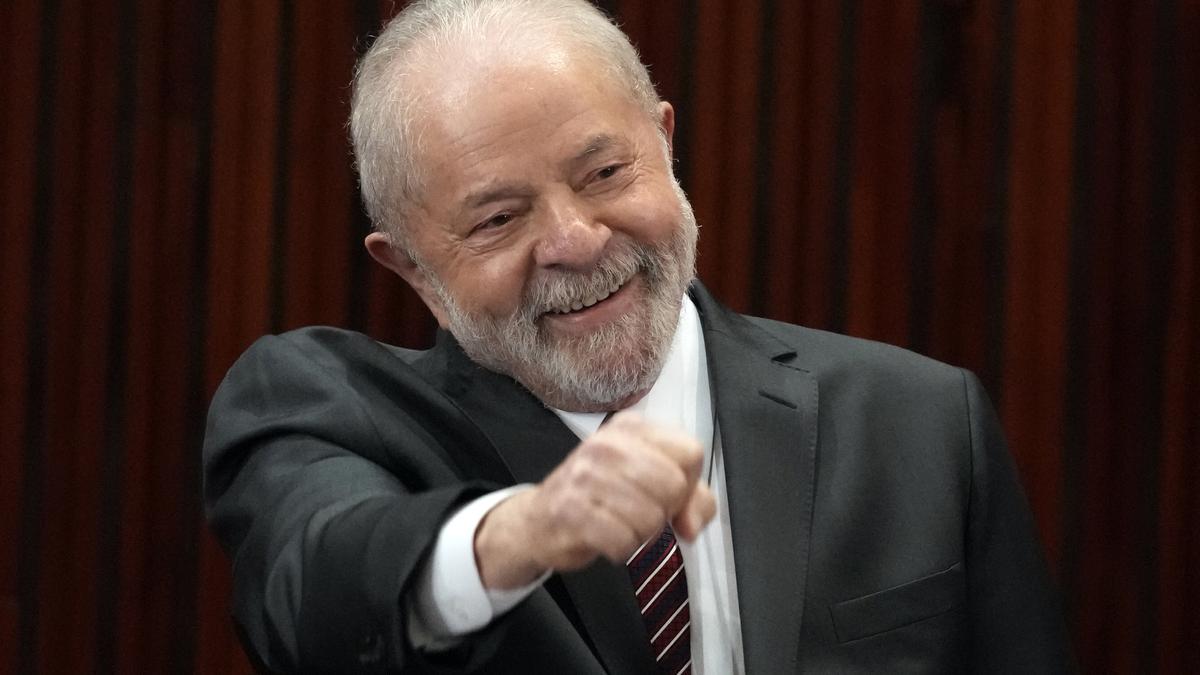 Brazil's Lula calls for peace at meetings with Russia, Ukraine representatives
The Hindu
Luiz Inacio Lula da Silva said he had separately met with the speaker of Russia's Federation Council, Valentina Matvienko, and Ukrainian Vice Prime Minister Yulia Svyrydenko.
Brazilian President-elect Luiz Inacio Lula da Silva met on Saturday with representatives of Russia and Ukraine ahead of his inauguration and called for an end to the war between the two countries.
Lula, who will be sworn in on Sunday, said on Twitter he had separately met with the speaker of Russia's Federation Council, Valentina Matvienko, and Ukrainian Vice Prime Minister Yulia Svyrydenko.
The two were in Brazil to represent their countries at Lula's inauguration and met both him and his future foreign relations minister, Mauro Vieira, according to pictures shared by the leftist leader.
Lula said he told Matvienko that Brazil wishes for "peace and for the parties to find common ground to end the conflict," which began when Moscow sent troops into Ukraine on Feb. 24.
He said Svyrydenko brought him a report about her country's situation.
"In Brazil we have a tradition of defending the integrity of nations and we are going to talk to whoever is possible for peace," said Lula, who spoke with Russian President Vladimir Putin earlier this month to discuss Brazil-Russia relations.
Lula has sought to share the message that "Brazil is back" on the global stage after four years under outgoing President Jair Bolsonaro, whose lax oversight of the environment and attacks on his country's electoral system turned off many diplomats.
More Related News
The European Union and Germany, its largest economy, had been at odds over the planned 2035 phase-out of CO2-emitting cars and the use of new combustion engine cars.
New Zealand Foreign Minister has expressed concern to China over any provision of lethal aid to support Russia in its war against Ukraine
The United Nations has accused both Russia and Ukraine of summary executions of prisoners of war from each side
The rally comes as Trump has berated prosecutors, encouraged protests and raised the prospect of possible violence should he become the first former President in U.S. history to face criminal charges
The Pentagon said a drone attack on a U.S. base in Syria Thursday killed a contractor and injured five U.S. troops and another contractor
The Hindu's Morning Digest brings readers a select list of stories to start the day.
The new Co-Chair of the U.S. House of Representatives' India Caucus, Indian American Congressman Ro Khanna appealed to Prime Minister Narendra Modi on Twitter to reverse the decision of expulsion of Rahul Gandhi from parliament .
Ukraine renewed its push to keep Russian athletes out of the Olympics on March 24, 2023, ahead of an International Olympic Committee board meeting next week.
Territorial disputes in the busy waterway of Philippines have long loomed as a potential flashpoint in Asia and have become a sensitive front in the regional rivalry between China and the United States
U.K. demonstrators protest Mr. Benjamin Netanyahu's visit to London as Mr. Rishi Sunak welcomes him.
Protesters angry at French President Emmanuel Macron's pension reforms continued with scattered actions on March 24, as the unrest across the country led officials to postpone a planned state visit by Britain's King Charles III.