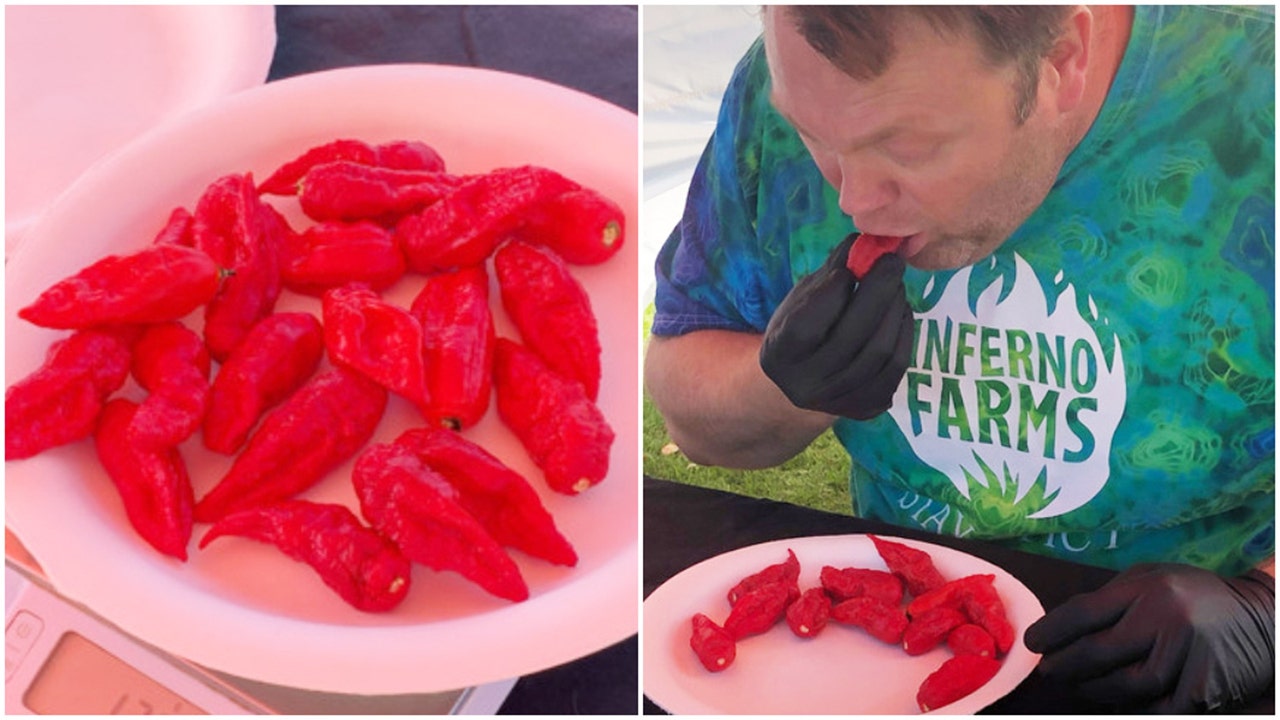 California man breaks world record for most ghost peppers eaten in 1 minute
Fox News
On Nov. 14, 2021, Gregory Foster of California, ate 17 ghost peppers in 60 seconds and was recently recognized by Guinness World Records for the record-breaking accomplishment.
Ann W. Schmidt is a lifestyle reporter and editor for Fox News Digital.
Gregory Foster was recognized on Monday by Guinness World Records for eating 17 ghost peppers – also known as bhut jolokia – in 60 seconds.
More Related News
Talks between Israel and Lebanon on a prized swath of Mediterranean Sea appear to be making progress as the Biden administration urges the two countries to expedite a resolution.
Fisherman Michael Matsunaga reportedly caught a 25.29 pound octopus while he was fishing on Aug. 31. His catch breaks the state record which Matsunaga's brother previously held.
Look no further for a new Greek salad — this creamy cucumber tzatziki salad is a great side dish for meats. Try this recipe using fresh ingredients.
New York Post columnist Karol Markowicz says the Republican Party has been handed a "layup" to run on school issues ahead of the November midterm elections.
On "Fox & Friends Weekend" on Sat., Sept. 24, 2022, the benefits of cow cuddling were explained, thanks to the Rose Bridge Farm & Sanctuary in Dresher, Pennsylvania.
A study in the Journal of Applied Physiology found that a daily dose for six week of high-resistance inspiratory muscle strength training can reduce blood pressure; here's what it means for health.
Put a twist on your usual waffle recipe and add a churro topping. This sweet breakfast dish makes 12 servings and can be enjoyed as a dessert dish - just add ice cream.
A biometric smartphone app aims to make life easier and more secure by finding a new way to prove you're who you say you are online
Interested in pet adoption? Finn, a Nova Scotia Duck Tolling-Chesapeake Bay Retriever mix, is up for adoption at Best Friends Animal Society in Los Angeles after he was rescued with a broken leg.
New North Carolina resident Jeremy Hartzell hit it big in the Tar Heel state after winning a $1 million lottery prize on a $10 scratch-off ticket within a week of moving to Asheville.
A Texas mother moved her children from public school to home-school to keep her children away from gender identity discussions and to avoid political bias.