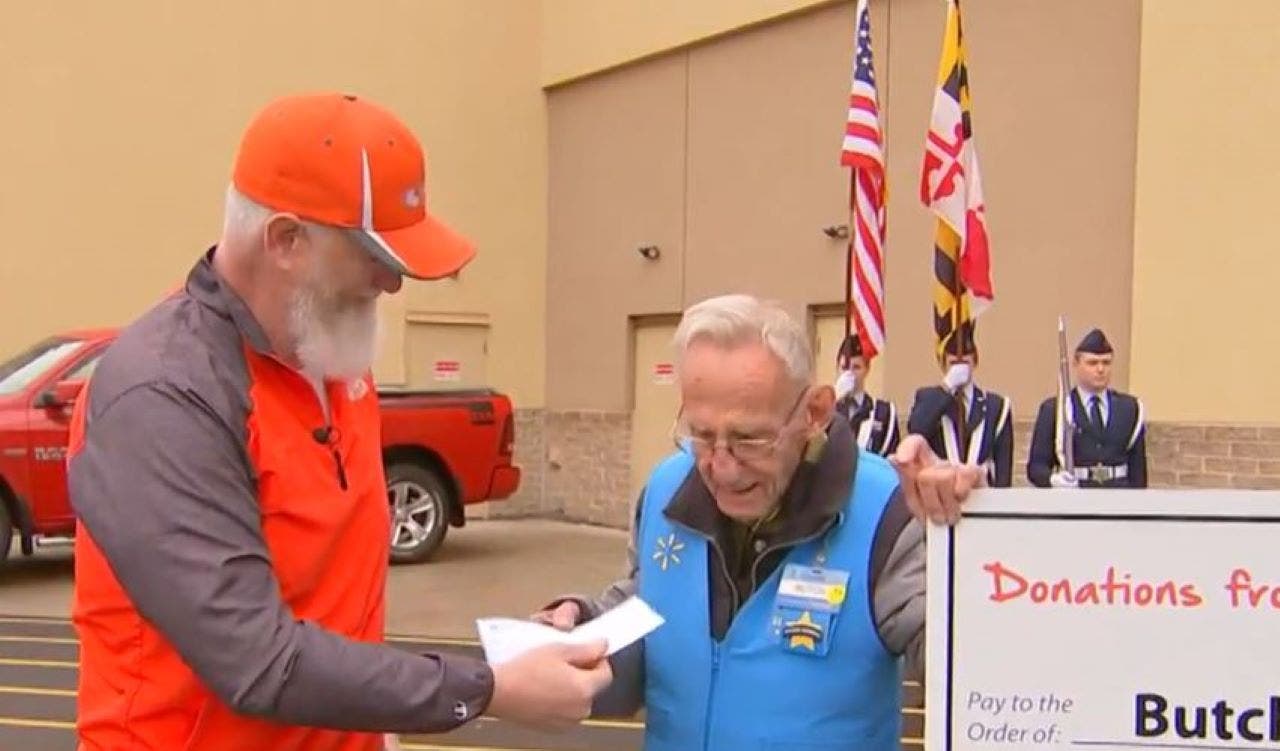 82-year-old Walmart employee retires after viral TikTok video raises over $100,000 on GoFundMe
Fox News
Butch Marion, an 82-year-old Navy veteran, retired from working at Walmart this week thanks to a Good Samaritan who helped him go viral on social media.
That customer, bug extermination business owner Rory McCarty, had seen a previous TikTok video where a woman went into a Walmart and filmed an elderly employee bagging groceries and raised money for that employee by posting the video online. Andrew Mark Miller is a writer at Fox News. Find him on Twitter @andymarkmiller and email tips to AndrewMark.Miller@Fox.com.
McCarty, wanting to do a similar good deed on TikTok, filmed a video of himself explaining the TikTok trend he had seen to Marion and then posted that video on TikTok.
More Related News
Dacia Smith, a Virginia parent, began an almost instantaneous reciting of "The Lord's Prayer" at a recent Suffolk County School Board meeting — and spoke to Fox News about what happened.
The U.S. government is reactivating the program that mails free COVID-19 tests to homes upon request. Effective Sept. 25, households will be able to order four free tests online through COVIDTests.gov.
Aspartame, the non-sugar, low-calorie sweetener, has been linked to deficits in memory and learning, a study from Florida State University College of Medicine found. Experts weighed in.
A woman who was walking her leashed dog on a trail in Boulder County, Colorado, was attacked by a moose, according to wildlife officials.
The surgeon general emphasizes overcoming loneliness and restoring connectivity as a way to provide an alternative to the unhealthy draw of social media platforms.
After analyzing the largest DEI bureaucracies in U.S. public universities, the Heritage Foundation reported found that Virginia placed highest.
While the cognitive aging process can't be stopped, there are ways we can slow it down, according to Dr. Brett Osborn, a Florida neurosurgeon and longevity expert. Here are 10 tips.
Northeastern University in Boston has been granted $17.5 million by the CDC to launch an infectious disease center and prepare communities for outbreaks.
The University of Minnesota teaches that structural racism is a public health crisis and that physicians have an obligation to be antiracist, according to documents.
A young Wisconsin woman was rescued after deliberately entering frigid Lake Michigan. Police officers arrived and managed to rescue her from the rough waters in a heroic rescue.
The Fox News Health Newsletter brings you trending and important stories about health warnings, drug shortages, mental health issues and more in this weekly recap.