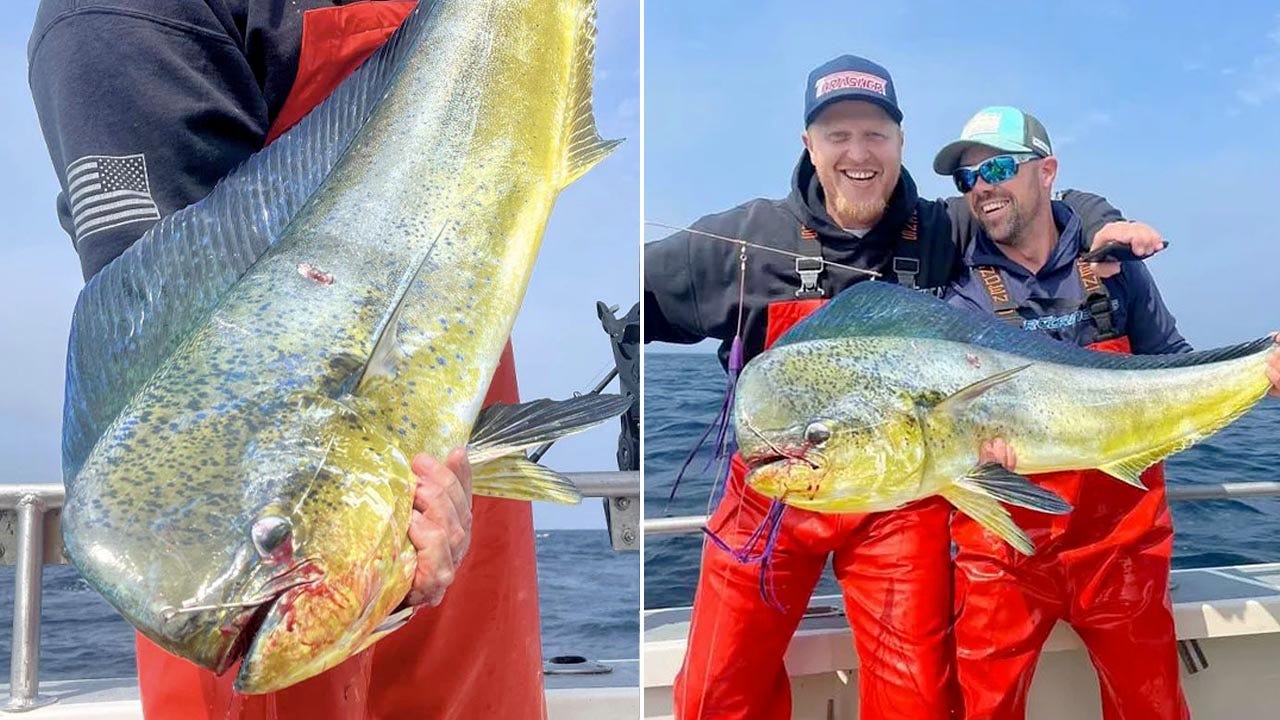 Washington fisherman catches massive record-breaking mahi mahi: 'Prayed for that'
Fox News
A Washington fisherman has set the new state record for mahi mahi after catching the 21-pound fish while out on a two-day tuna expedition. See photos of the massive, exotic catch.
"It was a really nice day on the way. [The] bar crossing was great," La Fontaine told Fox News Digital. "To get one of those exotic species, I prayed for that for 10 years." "I was just really lucky to be there at that rod." Sydney Borchers is a lifestyle production assistant with Fox News Digital.
"[As] soon as we got into about, I don't know, I guess it was about five or six thousand feet of depth, the weather started to pick up and it was starting white cap. It was probably 15 mph winds," he added.
More Related News
Ibram X. Kendi released a statement on his X account regarding the layoff of 15-20 staff workers from his antiracist research center in Boston University.
Jellyfish could be much smarter than scientists previously thought, asserts a new study published in the journal Current Biology. Here's what researchers discovered about the workings of their brains.
Blood cancer typically starts in the bone marrow and affects the body's ability to fight infection. There are many treatment options available for those who are diagnosed with this illness.
More American parents are choosing to educate their children at home. If you choose homeschooling for your child's education, these tips will get your started on your journey.
NASA's Osirs-REx spacecraft will return to Earth carrying the largest-ever sample of an asteroid. The space rock has been deemed "potentiall hazardous."
There's one book that offers insight into the key elements of Western culture. Your kids need to be familiar with it to understand the world they live in and the world they inherited.
Pregnant or breastfeeding women who consume aspartame could experience higher rates of autism diagnoses in their sons, says a study from The University of Texas Health Science Center at San Antonio.
A Florida school district that suffered a cybersecurity breach said the personal information of more than 250 students was accessed without authorization.
Morocco, the North African nation that's popular among tourists is full of history and scenic views that attracts many from all over the globe.
Pastor Jerry Sander of Calvary Chapel Boca Raton reflects on Matthew 15:21-28, the healing of the woman from Canaan's daughter. He explains why Jesus may have said what He did.
Men who experience job strain — and who put in high effort for little reward — have twice the risk of heart disease compared to those who do not have those stressors, per a new study.