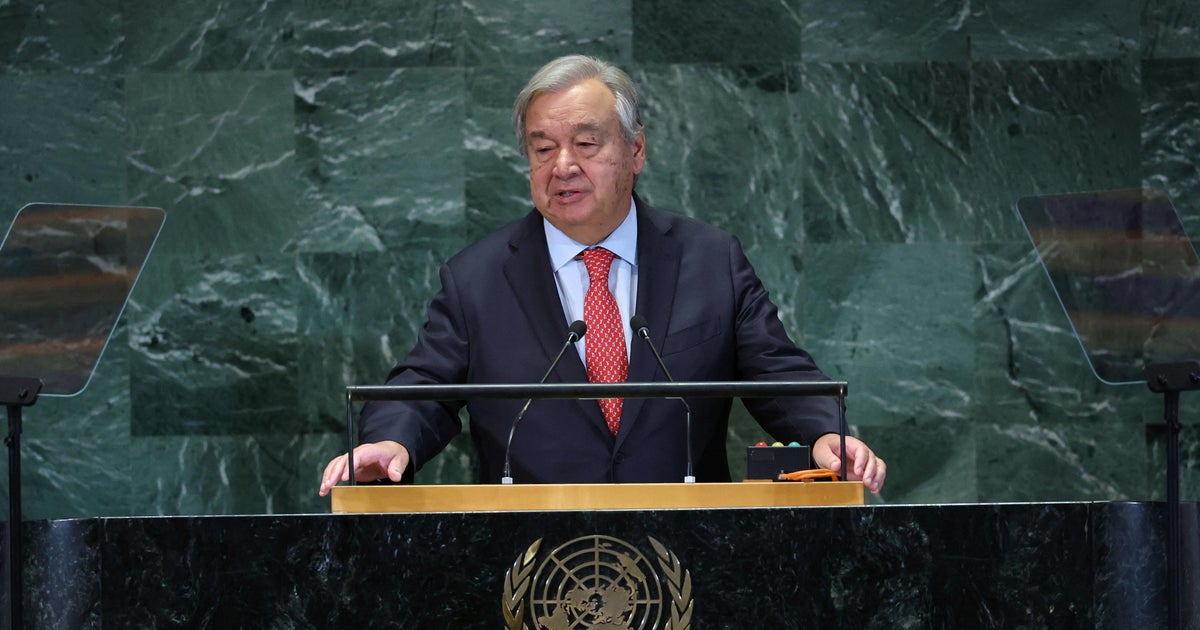 U.N. General Assembly opens with world in crisis — but only 1 of the 5 key world powers attending
CBSN
United Nations — "Drop by drop, the poison of war is infecting our world," U.N. Secretary-General Antonio Guterres said, opening the annual gathering of 193 nations at the U.N. General Assembly.
With the world facing its highest number of violent conflicts since 1945 — beset by the consequences of Russia's 2022 invasion of Ukraine and the related spike in food prices, as well as record temperatures, climate disasters and unprecedented numbers of migrants and asylum seekers crossing borders to look for better lives — the agenda is daunting.
President Biden will speak there on Tuesday, but the leaders of four of the five veto-wielding, permanent members of the U.N. Security Council — Britain, France, Russia and China — will be conspicuously absent. So how much can the United Nations hope to achieve?
More Related News
U.S. Secretary of State Antony Blinken addressed concerns Wednesday that the U.S. deal to release five Iranians and agree to the release of nearly $6 billion in frozen Iranian assets — in exchange for the release of five Americans who were detained in Iran — encourages hostage-taking among hostile nations.
Ipswich, England — A British company is replacing glass wine bottles with a unique paper alternative, and bringing the product to the United States. Frugalpac designs and manufactures paper wine bottles in an effort to help decarbonize the drink industry.
Prince William is visiting New York on Tuesday during Climate Week, the climate summit that coincides with the United Nations General Assembly, and is announcing the finalists for the Earthshot Prize, his climate-focused charity.
Azerbaijan's forces opened fire Tuesday on Armenian positions in the Nagorno-Karabakh region in what it called an "anti-terrorist operation," and ethnic Armenian officials reported at least two civilians were killed and 11 wounded and that there was heavy artillery fire around the region's capital.
Anti-government protests have been gaining steam in Syria for more than a month, echoing the demonstrations that President Bashar Assad sent his security forces to crack down on in 2011, sending the country into a downward spiral that morphed into a full-scale civil war.
Canada expelled a top Indian diplomat Monday as it investigates what Prime Minister Justin Trudeau called credible allegations that India's government may have had links to the assassination in Canada of a Sikh activist.
United Nations — "Drop by drop, the poison of war is infecting our world," U.N. Secretary-General Antonio Guterres said, opening the annual gathering of 193 nations at the U.N. General Assembly.
Derna, Libya — The United Nations warned Monday that disease outbreaks could bring "a second devastating crisis" to Libya a week after a huge flash flood shattered the coastal city of Derna, sweeping thousands to their deaths. Local officials, aid agencies and the World Health Organization "are concerned about the risk of disease outbreak, particularly from contaminated water and the lack of sanitation", the United Nations said.
Almost 20 staff members of a charity organization operating in central Afghanistan, including one U.S. national, have been arrested by regional officials in the Taliban-controlled nation, a spokesman for the provincial government in Ghor province told CBS News on Monday. The 18 detained aid workers were arrested for "propagating and promoting Christianity," a violation of the Taliban's strict regulations on all non-governmental groups, according to Abdul Wahid Hamas, the spokesman for the regional administration in Ghor province.
Russell Brand appeared on stage Satruday for the first time since he was accused of rape, sexual assault and abuse by multiple women.
North Korean leader Kim Jong Un is on his way home Sunday from Russia, ending a six-day trip that triggered global concerns about weapons transfer deals between the two countries locked in separate standoffs with the West.