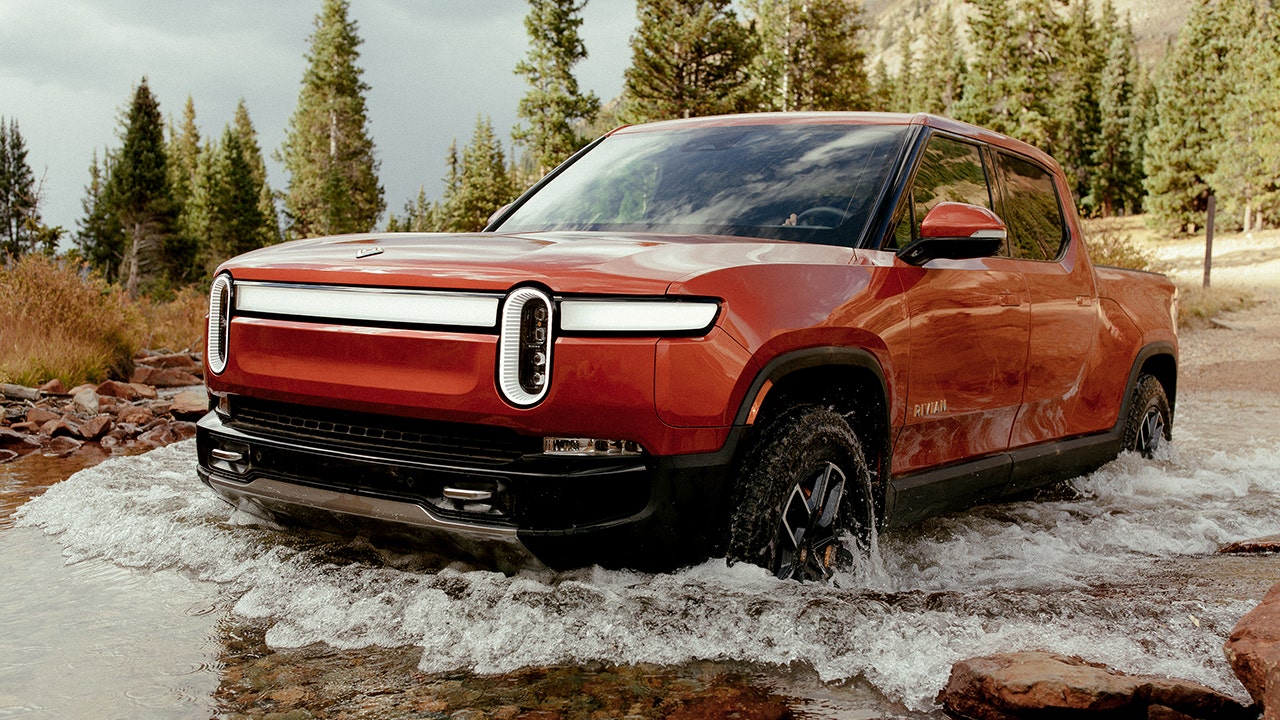 The Rivian R1T electric pickup was the best vehicle I drove this year
Fox News
The Rivian R1T all-electric pickup was the best vehicle Fox News Autos Editor Gary Gastelu drove in 2021.
More power than any muscle car ever, in fact. The R1T Launch Edition that went on sale this fall has a four-motor drivetrain with a combined 835 hp, which makes it the king of performance pickups, too.
It's also equipped with a computer-controlled air suspension system that can lower the vehicle to give it the driving dynamics of a sports sedan, or raise it to deliver over 14 inches of ground clearance and extreme off-road capability. All this with a driving range of 314 miles per charge and a maximum tow rating of 11,000 pounds, just not at the same time.
Rivian wanted to make a statement and threw the kitchen sink at the R1T. Literally. The midsize truck offers an optional Camp Kitchen with sink and stove that slides into the unique Gear Tunnel storage area that runs through the vehicle between the cab and bed.
More Related News
Tesla is developing a robot that can take over your daily chores and errands, but what does this mean for us as humans? Kurt "CyberGuy" Knutsson explains.
Alex Jones, co-founder and CEO of Catholic prayer app Hallow, describes an experience during Lent in which he heard God's message to him — about letting go of a problem and letting God handle it.
The State Department has issued a level two advisories urging travelers to "exercise increased caution" when traveling to the Dominican Republic.
A Pentagon official denied an Air Force veteran's assertion that the government has a secret program "non-human origin" crafts and sometimes encounter "dead pilots."
Nutritionists are weighing in on the heavily debated brown rice vs. white rice argument by taking a look at each grain and breaking the down the different health benefits.
Kamui Kobayashi will make his NASCAR debut for 23XI racing, the team owned by Denny Hamlin and Michael Jordan, in August at the Indianapolis Motor Speedway.
A bride's inquiry about whether she's "being unreasonable" for asking her bridesmaids to hold off on getting pregnant for her wedding has gone viral on Reddit.
A new study suggests conservative-run red states have a greater degree of racial equality in education than their counterparts in progressive-run blue states.
Search crews found the body of a missing solo climber in a crevasse at Mount Rainier in Washington. The Spokane man was celebrating his 80th birthday at the national park.
School boards have replaced merit-based admissions to elite academic high schools with policies intended to achieve racial diversity through racial balancing of the student body.
Potentially "practice-changing" new breast and lung cancer treatments were announced at the American Society of Clinical Oncology's annual meeting this week in Chicago. Here are details.