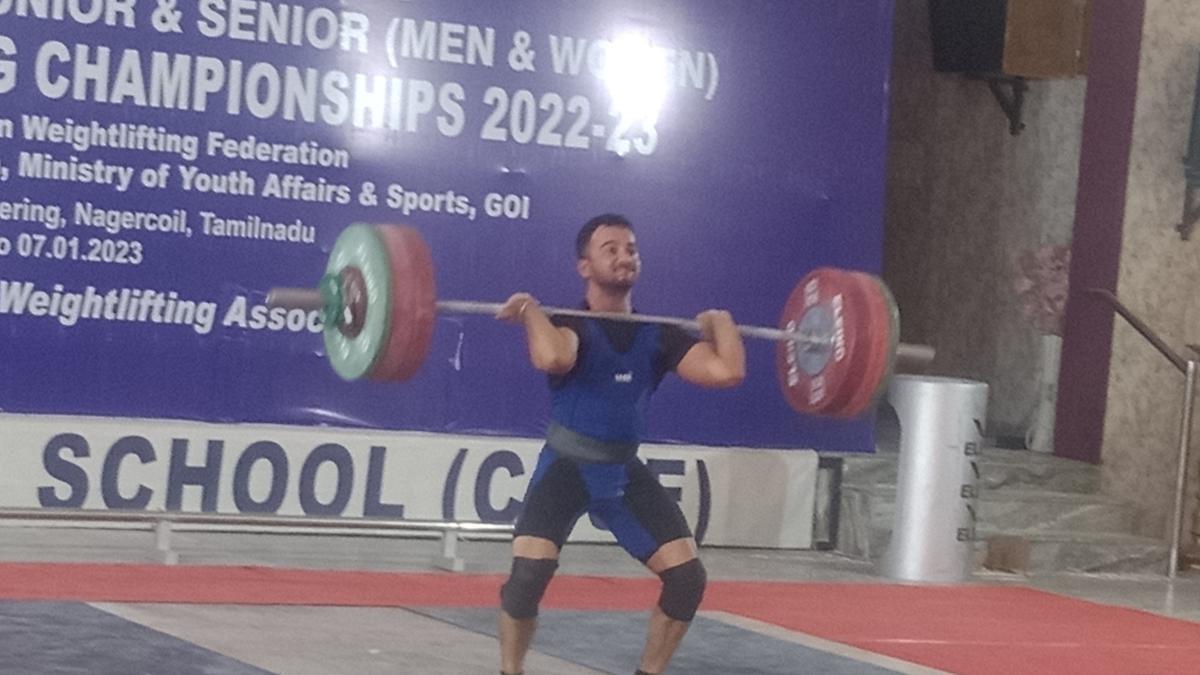 Subham Todkar wins men's 61kg gold
The Hindu
Charu Pesi's delight turns into disappointment as his last attempt is called fault
It was an anti-climax for Services' Charu Pesi.
He completed his last clean-and-jerk attempt of 154kg and jumped in joy believing he had won the gold. But, a few seconds later, there was gloom as the jury decided that the lift was faulty. The gold thus went to Subham T. Todkar of Railways, who had cleared 152kg for a total of 271 in the men's 61kg category of the National weightlifting championships here on Saturday.
Charu had to settle for silver with a total of 267.
Subham, the 25-year-old from Pune, couldn't believe his luck. This was his maiden National gold after two silvers in Visakhapatnam (2019) & Patiala (2021). "It's a great experience. I was lucky!" he told The Hindu.
It was a close fight between Subham and Charu throughout. In snatch, Subham lifted 119kg, 1kg more than Charu. In clean & jerk, the difference was 3kg; 152 to Charu's 149.
Charu was obviously upset with the verdict. "I don't know what was wrong with my lift," he said.
Shankar Lapung of Arunachal Pradesh won the junior men's gold while Golom Tinku (Arunachal) finished first in youth men's.
More Related News
former Indian opening batsman Sunil Gavaskar IPL coming but Australia ODI series loss shouldn't be forgotten: Gavaskar warns India ahead of World Cup
Kylian Mbappe replaced the retired Hugo Lloris as captain of the France national team in a new-look squad for the Euro qualifiers
Star Indian shuttler H.S. Prannoy beat All England Championships finalist Shi Yu Qi of China to storm into the men's singles pre-quarterfinals at the Swiss Open Super 300 badminton tournament while two-time Olympic medallist and fourth seed P.V. Sindhu too made a positive start to her title defence, beating Jenjira Stadelmann of Switzerland.
World Cup winner Mesut Ozil announced his retirement from football. He helped Germany to glory in Brazil in 2014 but bitterly quit the international scene after the Germans crashed out of the 2018 tournament in Russia.
Captain Rohit Sharma calls the defeat to Australia in the 3rd ODI a 'collective failure' on the part of the Indian team
Pacer Mohammed Siraj was dethroned from the top spot by Australia's Josh Hazlewood in the latest ICC rankings for ODI bowlers, as the Indian slipped to third place.
Team captains in IPL 2023 will walk in with two different team sheets before handing in their final Playing XI after the toss.
India vs Australia 3rd ODI cricket match updates at MA Chidambaram stadium in Chennai
The Men in Blue have only lost one ODI series since 2016, when Australia beat India 3-2 in 2019
Novak Djokovic unsuccessfully applied to the U.S. government for special permission to play at Indian Wells and Miami.
2,000-2,500 sportspersons are getting associated with sports events in every parliamentary constituency of the State with Sansad Khel Mahotsava.