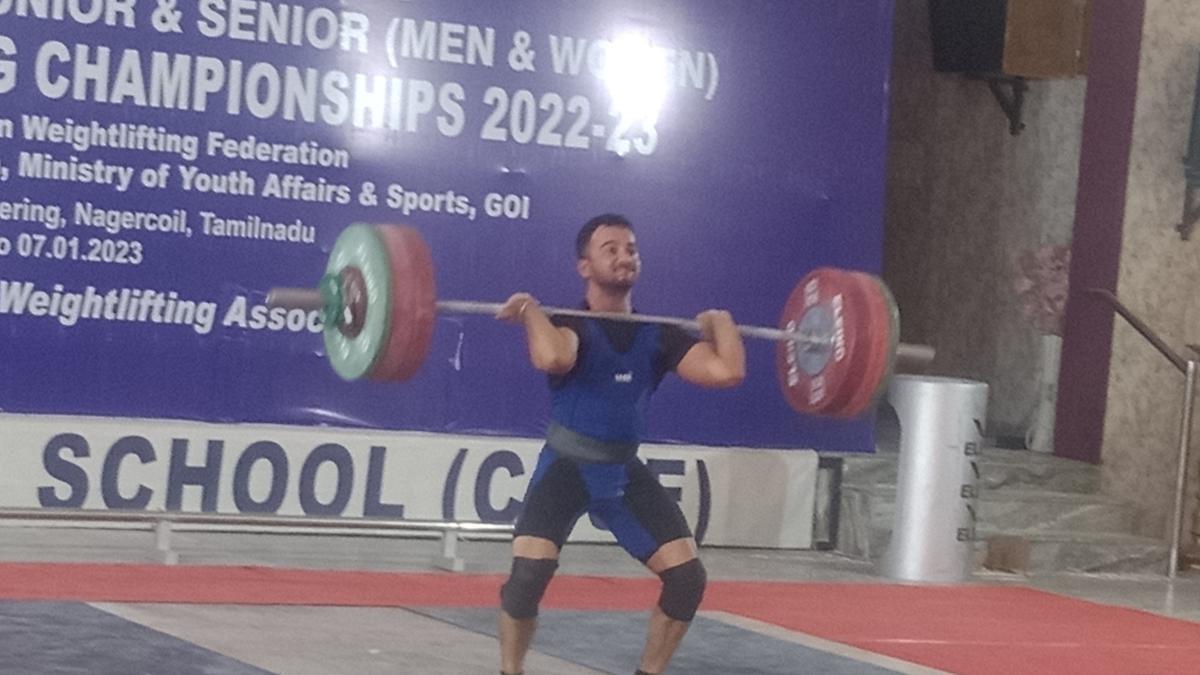 Subham Todkar wins men's 61kg gold
The Hindu
Charu Pesi's delight turns into disappointment as his last attempt is called fault
It was an anti-climax for Services' Charu Pesi.
He completed his last clean-and-jerk attempt of 154kg and jumped in joy believing he had won the gold. But, a few seconds later, there was gloom as the jury decided that the lift was faulty. The gold thus went to Subham T. Todkar of Railways, who had cleared 152kg for a total of 271 in the men's 61kg category of the National weightlifting championships here on Saturday.
Charu had to settle for silver with a total of 267.
Subham, the 25-year-old from Pune, couldn't believe his luck. This was his maiden National gold after two silvers in Visakhapatnam (2019) & Patiala (2021). "It's a great experience. I was lucky!" he told The Hindu.
It was a close fight between Subham and Charu throughout. In snatch, Subham lifted 119kg, 1kg more than Charu. In clean & jerk, the difference was 3kg; 152 to Charu's 149.
Charu was obviously upset with the verdict. "I don't know what was wrong with my lift," he said.
Shankar Lapung of Arunachal Pradesh won the junior men's gold while Golom Tinku (Arunachal) finished first in youth men's.
More Related News
Shai Hope and Daren Sammy secured their first ODI series victory as West Indies captain and coach with a 78-run win over United Arab Emirates here.
The Hindu's Morning Digest brings readers a select list of stories to start the day
Sachin Tendulkar reckons the spin-friendly Oval pitch will make India a confident side going into the World Test Championship final against Australia and their tweakers could become doubly dangerous if they are able to get "that drift" and make the ball talk in the air.
Novak Djokovic has come back after dropping a set for the first time in the tournament to beat Karen Khachanov 4-6, 7-6 (0), 6-2, 6-4 at the French Open on Tuesday to reach his 45th career Grand Slam semifinal.
India will want to make amends for the inaugural WTC final held at Southampton in 2021 when New Zealand cruised home by eight wickets in a rain-affected encounter. Australia stands in the way this time around, as India takes another shot at redemption.
Days after the All India Football Federation rejected the Blasters' appeal against the Rs. 4 crore fine for its walkout in an ISL playoff match against Bengaluru FC in March, the club's management announced on Tuesday that it was temporarily stopping its women's team's activities following the huge financial blow.
Prolific batsman Virat Kohli says the Indian Test team has earned formidable Australia's respect after beating them twice in their own backyard and they are no longer taken lightly in the traditional format.
Kerala Blasters temporarily shut down the women's team owing to "financial crunches" arising out of the fine imposed by AIFF after the men's side walked out of an ISL match