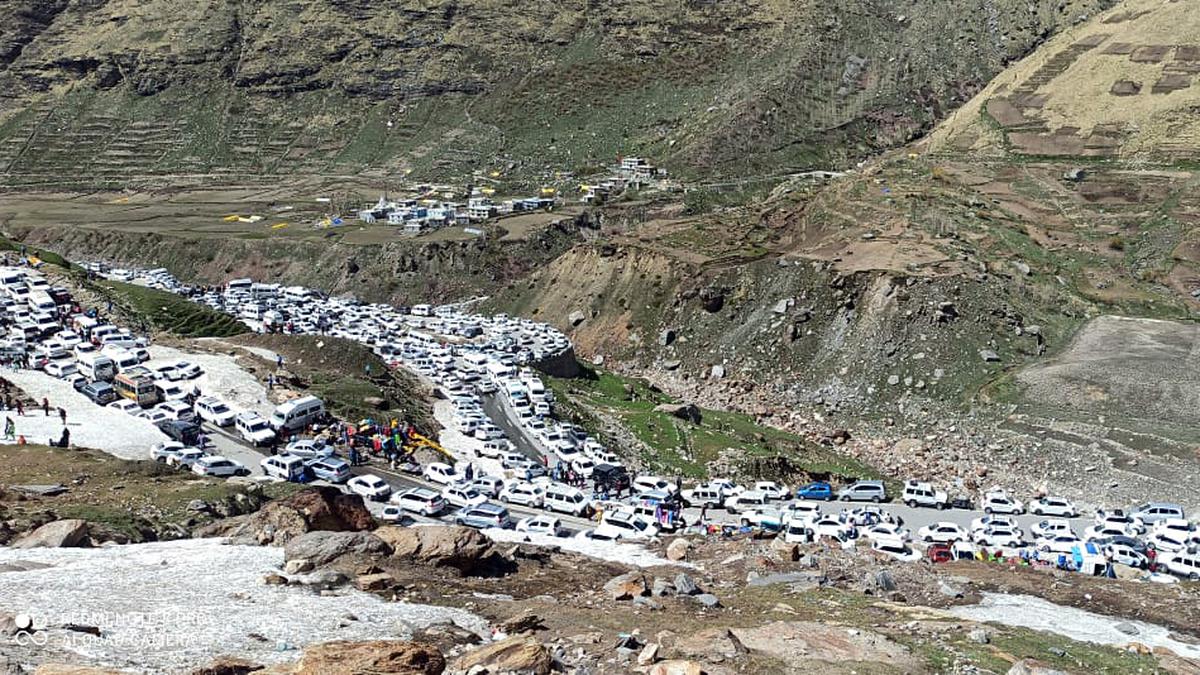 Shrinking snow cover continues to haunt Himachal Pradesh
The Hindu
The trend of gradual reduction in snow cover in the ecologically fragile state of Himachal Pradesh continues to haunt the hill state – also the mean maximum and minimum average temperature is on the rise in this Himalayan region.
The trend of gradual reduction in snow cover in ecologically fragile Himachal Pradesh continues to haunt the hill State — also the mean maximum and minimum average temperature is on the rise in the Himalayan region.
In the past decade, Himachal Pradesh has been witnessing an erratic, inconsistent, and decreasing trend of snowfall, besides a shift in the pattern of snowfall and precipitation, triggered by climate change.
The depleting snow cover is an immediate concern in the mountain environment as it could have a devastating impact on hydropower, water sources, people, livestock, forests, farms, and infrastructure.
In the 2022-23 winter period (October-April), there was an overall reduction of about 14.05 % in the total area under snow cover in Himachal Pradesh in comparison to 2021-22.
This has been revealed in the latest scientific report conducted jointly by the Himachal Pradesh's State Centre on Climate Change (HIMCOSTE) and Geo-Sciences, Hydrology, Cryosphere Sciences and Applications Group (GHCAG) and Space Applications Centre (SAC-ISRO).
Himachal Pradesh receives winter precipitation in the form of snow at the higher altitudes. About one-third of the total geographical area of the State remains under thick snow cover during the winter season. Most of the major rivers like Chenab, Beas, Parvati, Baspa, Spiti, Ravi, Satluj, and their perennial tributaries originating from the Himalayas, depend upon the seasonal snow cover for their discharge dependability.
Given the importance of seasonal snow cover as a major input in controlling the hydrology of the river basins, seasonal snow cover assessment in terms of its spatial distribution was carried out in different river basins during the winter season of 2022-23 from October to April. The total area under snow cover was estimated using Advanced Wide Field Sensor (AWIFS) satellite data during 2022-23.
More Related News
Kerala to unveil housing policy to address AH challenges; KOCHI to get largest exhibition centre; PPP, access to finance for EWS/LIG borrowers sought. #Kerala to unveil housing policy to address AH challenges. #KOCHI to get largest exhibition centre. #PPP, access to finance for EWS/LIG borrowers sought. #KeralaHousingBoard to collaborate with NBCC to construct 40-lakh sq ft complex. #Kalavara scheme extended to districts.
UGC Chairman suggests students learn constantly, take risks & learn from failures to access new opportunities & excel in multi-disciplinary education. NEP 2020 sets direction to scale up quality of education & institutions must invest in academic & research excellence.
Philem Rohan Singh, a traveller and activist from Manipur, called for peace talks to end the four-month communal unrest between the Meitei and Kuki-Zo tribes in the north-eastern State. He urged both sides to stop the blame game and seek a middle ground. He requested Prime Minister Narendra Modi to intervene and for all political parties to visit the State for reconciliation and peace measures. He also highlighted the atrocities against women and the burning of 45 homes and shops belonging to Tamils in Moreh.
Arunachal Pradesh CM Khandu condemns China for denying visas to wushu athletes, urges IOC to address issue. Union Minister Rijiju slams Beijing, lodges strong protest. Thakur cancels visit to China as mark of protest.
Delhi CM Arvind Kejriwal approves ₹1 crore compensation to families of 17 COVID-19 warriors who died while executing pandemic-related duties. 73 families have received similar compensation so far. Delhi BJP welcomes the announcement but accuses CM of politicising the matter.
Using synthetic colour in prepared food is banned. These colours will cause severe health issues. Only in a few sweets are these colours allowed to be used at one mg per one kg of sweets, says District Designated officer Kathiravan.
Kochi Metro Rail Limited (KMRL) has reported an operational profit of ₹5.35 crore in 2022-23, thanks to cost-control measures and increased daily patronage. The fare-box income rose from ₹12.90 crore to ₹75.49 crore, and non-fare-box income from ₹41.42 crore to ₹58.55 crore. Chief Minister Pinarayi Vijayan said the profit will provide impetus to the State's development.
India's MotoGP debut: In 2011, India hosted F1; this weekend, the inaugural MotoGP Grand Prix of India takes place. The premier two-wheeler championship is sanctioned by FIM, with Dorna Sports as commercial rights holder. MotoGP bikes are bespoke machines, with 11 teams fielding two riders each. Practice sessions on Fri, qualifying on Sat, race on Sun. Track modified for MotoGP, with resurfacing, reduced asphalt run-off, increased gravel, air fences, foam barriers. Big challenge to hold event, with many personnel, riders, journalists facing visa issues.
S. Jaishankar, India's External Affairs Minister, arrived in New York for a nine-day visit to address UNGA and have bilateral/plurilateral meetings. He met with U.S., Australian and Japanese Foreign Ministers for the Quad ministerial meeting. He will address UNGA, have discussions with UNSG and UNGA President and have bilateral talks with Blinken in Washington. He will also interact with think tanks & business leaders.
Chief Minister Pinarayi Vijayan on Friday hailed the contributions of 20th century saint-social reformer Sree Narayana Guru and said he was a strong anti-caste proponent and a driving force of renaissance movement in the southern State
PV Sindhu faces a tough challenge to regain her form and win medals at the Asian Games and Olympics. With her pedigree, she has the potential to succeed, but it depends on her motivation and desire to win.