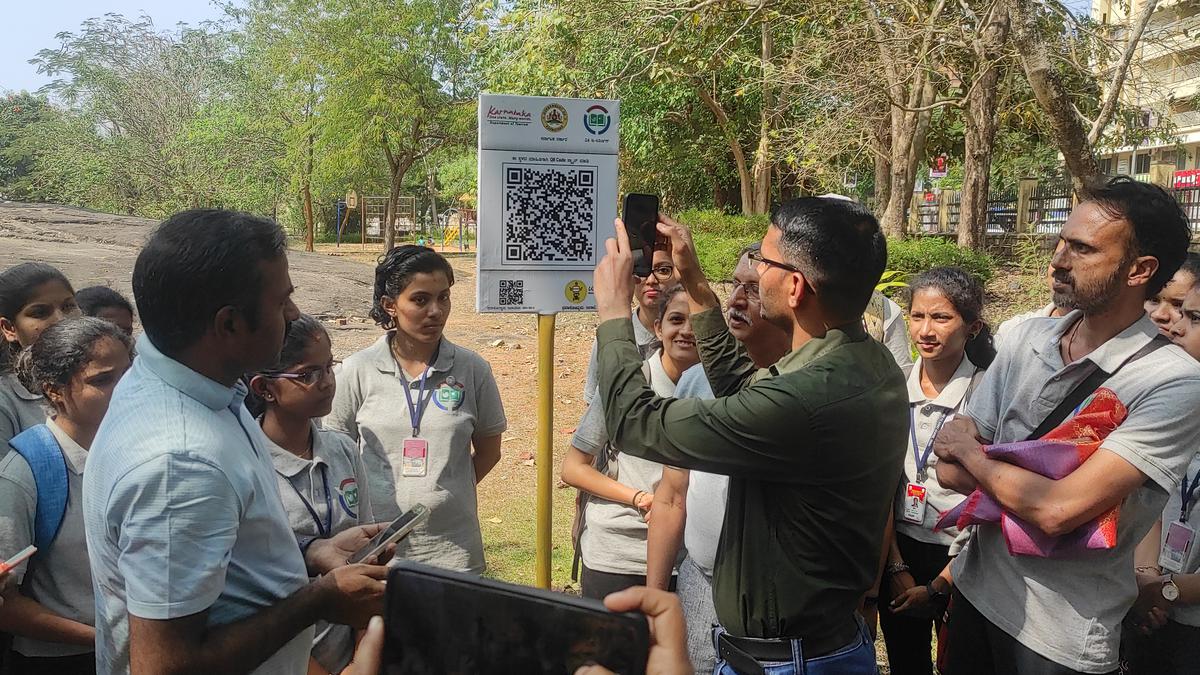 Scan QR code to learn more about tourist destinations in Udupi
The Hindu
The district administration in association with the tourism department has uploaded comprehensive information on prominent tourist destinations of the coastal district that could be viewed using the QR codes
Tourists visiting prominent tourist attractions in Udupi district now can seek information about those places by scanning a QR code that will be installed at various tourist places.
The district administration in association with the tourism department has uploaded comprehensive information on prominent tourist destinations of the coastal district that could be viewed using the QR codes.
Deputy Commissioner M. Kurma Rao unveiled one such code at the Bhujanga Park at Ajjarkad in Udupi city. Karavali Wikimedia, Wiki e-leaning course and Dr. G. Shankar Government First Grade College for Women have joined hands in the QR code initiative.
Mr. Rao noted that despite tourist destinations in the district attracting large number of tourists, they were unable to get complete information about such places. Therefore, the administration with other stakeholders, has planned the QR code initiative. The stakeholders were working on providing information about 30 tourist attractions in the district in Kannada and other prominent languages, the DC said.
While uploading the information, officials should ensure it was authentic and correct. They should collect all relevant details of tourist destinations. The initiative should help increasing tourists footfall in the district.
The district is known for multiple kinds of tourism—beach, temple, nature, healthcare and many more. While the district headquarters itself is endowed with Sri Krishna Mutt, Malpe Beach and Manipal, Kollur has been another National religious tourist destination.
Maravanthe-Trasi are on the international tourist map for their verdant beach stretch while Karkala is known for a number of Basadis and the Attur Basilica. The Ottinene hillock and the Someshwara Beach are the attractions in Byndoor.
More Related News
The party proposes to organise 8,000 grama shabas under the programme till March 30, says Sunil Deodhar
Facility will provide support to the pharma firm's worldwide knowledge services, initially have 800 employees, 1,800 in near future, company says after meeting of leadership with KTR
Composed by Marathi poet Raja Badhe, the song will be adopted on February 19, i.e. on the birth anniversary of Maratha warrior-king Chhatrapati Shivaji
ST panel seeks action-taken report in 3 days, failing which it may exercise powers of civil court to issue summons
The exhibition, broadly reflects the varsity's vision to promote teaching, research and outreach in environmentally clean methods of energy production, conservation and utilisation
Chaos filled the air during the public hearing organised by the Tamil Nadu Pollution Control Board a
Trinamool Congress hits back at the National People's Party for backing the "foreigner-embracing" Citizenship (Amendment) Act after being accused of batting for Bangladeshis
An interpretation that the 2018 verdict extends to the armed forces would seriously dent the command structure and internal discipline, says govt.