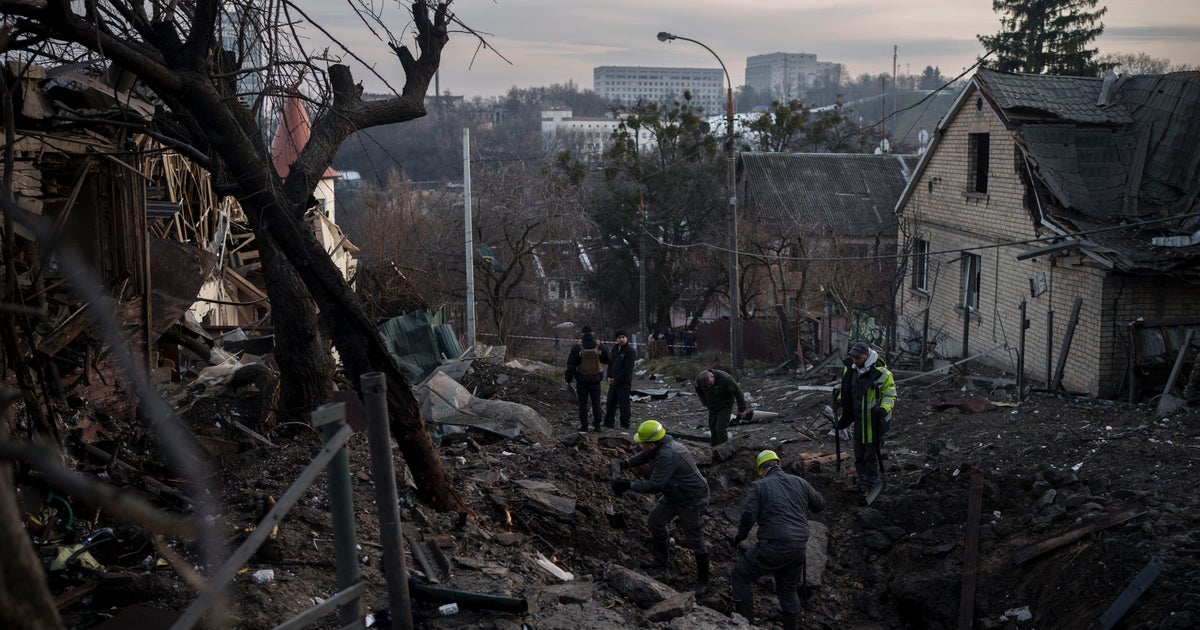 Russia hits Ukraine with new missiles; Zelenskyy gives "really powerful" end-of-year speech
CBSN
Ukrainians woke up to a grim 2023 Sunday, reeling from more sirens and fresh missile attacks as the death toll from Russia's massive New Year's Eve assault across the country climbed to at least three.
Shortly after midnight, air raid alerts sounded in the capital, followed by a barrage of missiles that interrupted Ukrainians' small celebrations at home. Ukrainian officials say Russia is now deliberately targeting civilians, seeking to create a climate of fear and destroy morale.
Many waking up on New Year's Day, when Kyiv was largely quiet, savored the snippets of peace.
More Related News
Target said Tuesday it is shuttering nine stores in four states because mounting thefts and organized retail crime at those locations is jeopardizing the safety of workers and customers.
The conventional wisdom is that retail politics — the door-knocking, hand-shaking grassroots campaigning for months before the primaries — make Iowa and New Hampshire different from what we see nationally. And like a lot of conventional wisdom these days, that's looking outdated.
Donald Trump and his company "repeatedly" violated state fraud law, a New York judge ruled Tuesday.
Nine members of the "Los Chapitos" faction of Mexico's Sinaloa Cartel were sanctioned by the U.S. Treasury for fentanyl trafficking the agency announced in a news statement on Tuesday. A tenth individual, a leader of Clan del Golfo, one of Colombia's most significant cocaine cartels, was also sanctioned.
Washington — Law enforcement agencies have so far seized over 55 million pills of fentanyl this year and more than 9,000 pounds of powder containing the deadly drug, Attorney General Merrick Garland told dozens of families whose loved ones died after ingesting fentanyl. And the Drug Enforcement Administration is on pace to seize more fentanyl in 2023 than in any previous year, a yield that continues to grow annually, according to DEA Administrator Ann Milgram.
The judge in the case against the Philadelphia police officer seen on video shooting Eddie Irizarry last month dismissed all charges, including a murder count, onTuesday.
Taylor Swift isn't just sending Eras Tour merchandise flying off shelves, she's now boosting sales of NFL apparel, too.
The Federal Trade Commission and 17 state attorneys general on Tuesday filed a much-anticipated antitrust case against Amazon, alleging the retailing giant illegally wields monopoly power to maintain higher prices, harming customers and hurting rivals.
Washington — Sen. Cory Booker called for fellow New Jersey Democrat Bob Menendez to resign from the Senate on Tuesday, joining a growing list of Democrats in the upper chamber who have called on him to step down after his indictment on federal bribery charges.
An Alabama inmate would be the test subject for an "experimental" execution method of nitrogen hypoxia, his lawyers argued, as they asked judges to deny the state's request to carry out his death sentence using the new method.
A group of 100 Jewish leaders, including some prominent rabbis and academics, released a public letter criticizing X, the social media platform formerly known as Twitter, and its owner Elon Musk for enabling a "new stage of antisemetic discourse."