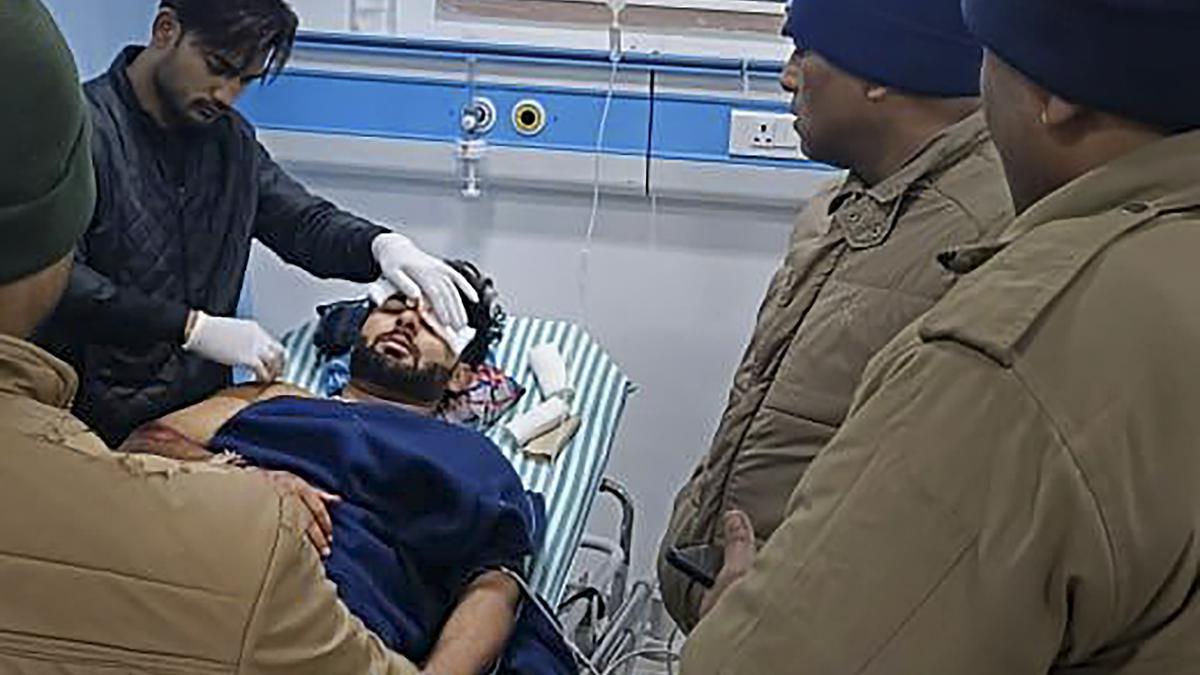 Rishabh Pant likely to be shifted to Delhi; DDCA Director monitoring his health
The Hindu
While returning from Delhi to Roorkee, Pant's car collided with the divider on the Narsan border of Roorkee near Hammadpur Jhal on December 30
The Delhi & District Cricket Association Director Shyam Sharma said a DDCA team will be at Max Hospital in Dehradun to monitor Indian cricketer Rishabh Pant's health, who met with an accident on December 30, and if needed the batter-wicketkeeper would be airlifted to Delhi for his plastic surgery.
While returning from Delhi to Roorkee, Pant's car collided with the divider on the Narsan border of Roorkee near Hammadpur Jhal on Friday.
Also read | Wishes pour in for Rishabh Pant after fiery car accident
Mr. Sharma said that Pant might be airlifted to the National Capital for further surgery as he suffered multiple injuries. The 25-year-old was alone in the car and suffered injuries on his back, forehead and leg.
Talking to ANI, Mr. Sharma said: "A team of Delhi & District Cricket Association (DDCA) is going to Max Hospital Dehradun to monitor his health, if required we'll shift him to Delhi and chances are high that we'll airlift him to Delhi for plastic surgery."
Haridwar SP (Rural) Swapan Kishore said on Friday that Pant was admitted to the Max Hospital in Dehradun.
The cricketer narrowly escaped death after his high-end vehicle smashed into a road barrier and caught fire on the Delhi-Dehradun highway.
More Related News
Team World took a 4-0 lead on the first day of competition, and extended it to 10-2 over Team Europe by the end of Saturday
Indian riders need sustained investment from bike manufacturers to reach world championship level. Rajini Krishnan, 11-time national champion, runs an academy to teach basics, but sustained investment is needed to take riders to the next level. With changing mindset of parents, there is enough talent, but bike manufacturers need to invest more in motorsports.
The Babar Azam-led side plays two warm-up games and as many World Cup matches in Hyderabad starting with the practice fixture against New Zealand on September 29.
The Indian men's 10m air rifle team shot down gold with a world record score on the second day of shooting competition at the Asian Games here on Monday.
China, India call for strengthening bilateral relations on healthy, stable track. Union Sports Minister cancels visit to Hangzhou to protest China's denial of visas to 3 Indian wushu players from Arunachal Pradesh. MEA reaffirms Arunachal Pradesh is integral part of India.
India's dream of a medal ends with Japan's win. Despite strong performances, India's lack of experience and resources prove costly as Japan's depth in quality and experience lead to a straight set win. India's players battle off-court too, with limited opportunities and lack of recognition for the PVL.
Players belong to the clubs so negotiations are only way to solve Asian Games and Olympics issue, says AFC secretary general
Bezzecchi wins Indian GP; Martin cuts Bagnaia's lead. Bezzecchi flew to victory, Martin fought to 2nd, Bagnaia crashed out. Quartararo, Marquez, Mir, Zarco, Morbidelli, Vinales, Fernandez, Nakagami, Oliveira, Espargaro, Miller, Bradl, Pirro complete top 15. India's 3rd int'l motorsport event a success.
Sandeep and Chetan win in premier MRF Formula 2000 category
India pacers script 8-wkt win vs Bangladesh, assuring silver medal at maiden Asian Games. Bangladesh shot out for 51, chased down in 9 overs. India's ground-fielding, bowling & catching excellent. Vastrakar, Titas, Gayakwad & Devika picked up wickets. India to face Pakistan/Sri Lanka in gold medal match.