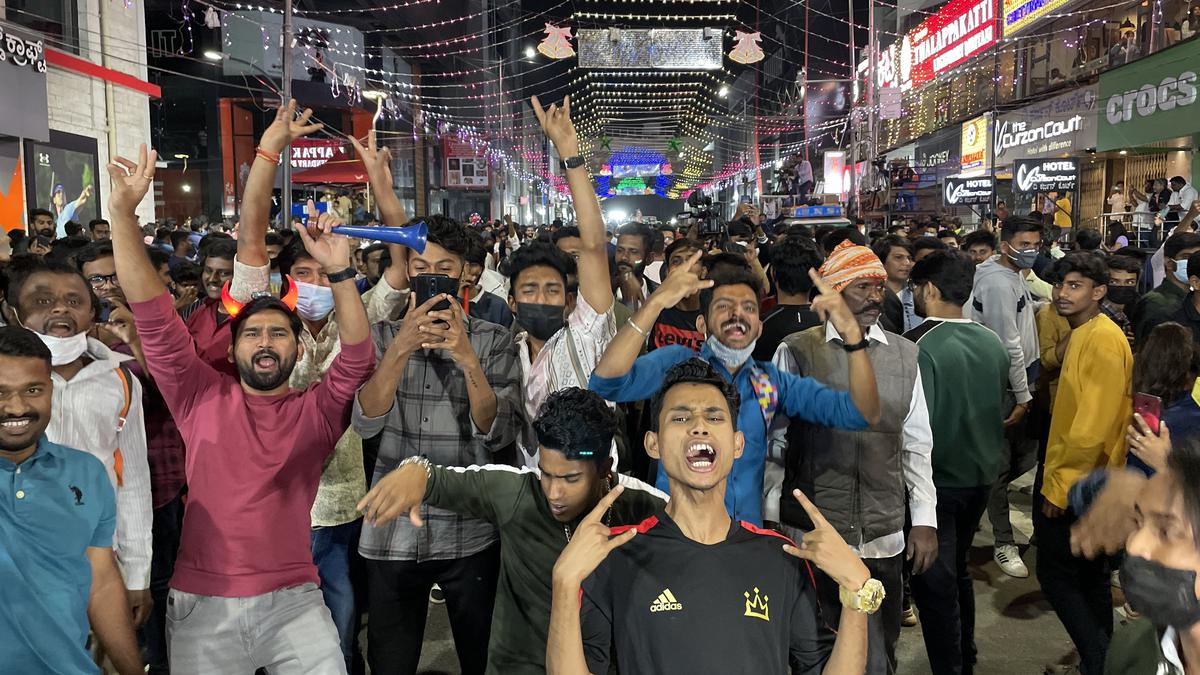 Amid COVID-19 scare, Bengaluru welcomes 2023
The Hindu
BENGALURU
After a gap of two years, when the celebrations were muted due to the pandemic, new year revelry in the city reached a feverish pitch on Saturday.
At the stroke of midnight, thousands who had gathered at Brigade Road, Koramangala, Indiranagar, and other market and restaurant hubs in the city, which wore a carnival look for the big moment, erupted in joyous cheer.
Businesses, which had seen a washout of the season for the past two years, did brisk business through the night.
Even as civic marshals creating awareness on wearing masks amidst the swelling crowds served as a reminder that we are yet not out of the long shadow of COVID-19, most hoped the year ahead will not be a repeat of the three years that have gone by.
The CBD area around Brigade Road and other spots where revelers had gathered turned into a fortress, and the celebrations were closely monitored by thousands of police personnel on the ground, aided by watch towers, drones and CCTV cameras.
Traffic Police, who were out on the streets in full numbers, were checking for drunk driving and as a precaution had banned traffic on all flyovers. People were not allowed to consume liquor in public.
Unlike previous years, city police had imposed a deadline of 1 am on celebrations and the crowds were soon cleared after the midnight cheer.
More Related News
ISRO has successfully completed the CE20 E13 engine hot test for the Gaganyaan qualification and 22-tonne thrust qualification
R. Nischal and B. Shreevatsa Acharya, MBBS interns from Kasturba Medical College, Mangaluru, emerged winners in the Mangaluru round of the Ramnarayan Chellaram Rotoquiz on Saturday. They won the prize for the second year running
Karnataka and Tamil Nadu in dispute over Cauvery water; SC asked Karnataka to release 5,000 cusecs for 15 days; activists arrested; shops closed; coalition calls for Bengaluru bandh; CWDT's 2007 award and SC's 2018 judgment spell out sharing system; 740 tmc ft available in basin; TN needs water for irrigation, drinking; CWMA should take initiative to evolve distress-sharing formula.
Minister Kamalakar appeals to Union Minister Goyal to reconsider KYC regulations from humanitarian perspective, as it poses significant hurdle for Telangana residents, Gulf countries, and those working in cities like Mumbai. Majlis Bachao Tehreek leader Khan and Right to Food Campaign member Masood express concerns that exercise could lead to exclusion of poor people, especially migrant workers. Govt. urged to provide better facilities for locals, and consider simple declaration from card holders instead of KYC.
Union Minister of State for Agriculture and Farmers' Welfare Shobha Karandlaje on Monday directed banks in Udupi district to give priority in lending for food processing and similar other industries that generate more employment
Sanjay Varma, Managing Director (Additional Charge), Mangalore Refinery and Petrochemicals Ltd., on Monday said Mangaluru can be positioned as a key economic hub by enhancing connectivity through air, rail, and national highways
CM Siddaramaiah launched "Our Monument: Our Heritage, Our Identity, Our Pride" campaign to boost tourism & economy. 280 monuments identified for project; 60 lakh women benefitted from free bus travel scheme. MoUs signed for renovation of Venkatappa Art Gallery & project mgmt unit. 3D laser scanning of monuments demonstrated.
Kozhikode district to maintain restrictions on public events till Oct 1; educational institutions, except those in containment zones, resume offline classes; 42 animal body fluid samples test negative for Nipah virus; Health Minister Veena George to review situation on Sept 26; those in medical isolation must complete 21-day period.
Delhi High Court issued a fresh notice to the BBC on a plea by an NGO claiming its documentary "India: The Modi Question" casts a slur on the country's reputation
Perambalur district police launch Kalviyum Kaavalum initiative to create confidence among students & drive home message that "law-enforcers are friends of children". 103 schools, mostly govt, visited in 3 months to explain duties & responsibilities of police & create awareness that "police are our friends". Objective also to make students bold in lodging complaints to police.
MSMEs in western districts of TN stopped ops on Mon, demanding withdrawal of hike in fixed charges & removal of peak hour charges. Representatives submitted memorandum to Collector & Tangedco officials. Over 20K units closed in Salem, 2L workers stayed away from work in Erode. Govt urged to reduce tariff slab, fixed charges & levy on solar power.