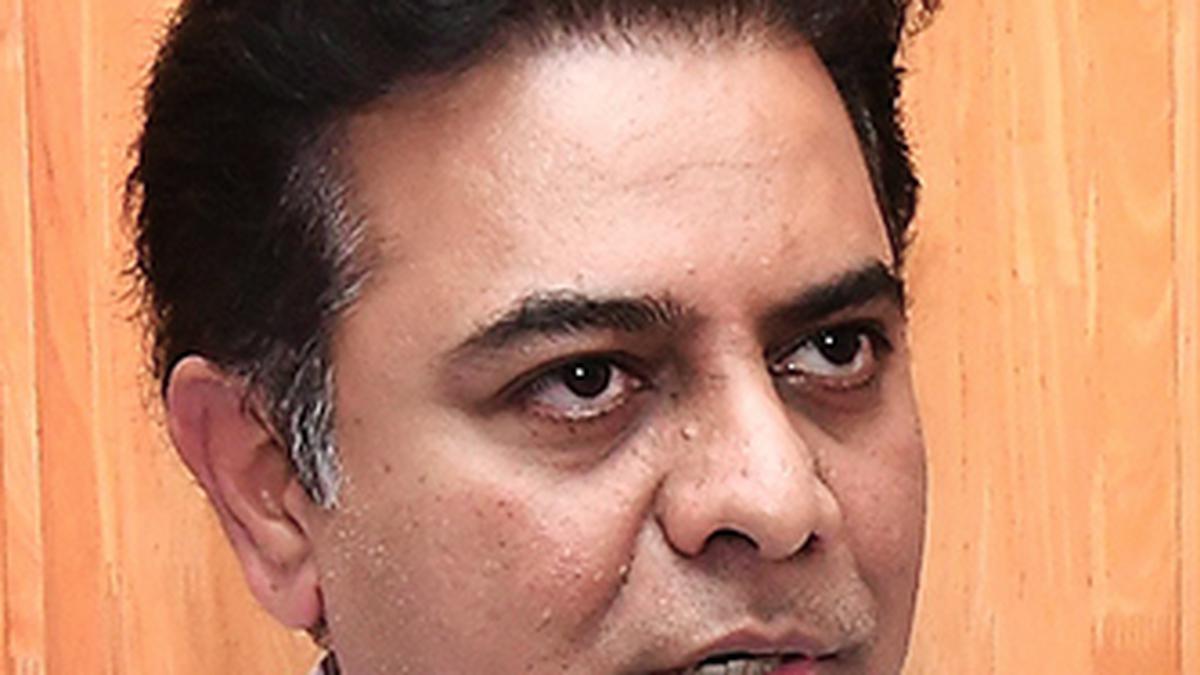 Allocate more for Hyd projects in Union Budget, KTR writes to Centre
The Hindu
Minister lists out various projects taken up or proposed for urban sector in the State
Telangana Municipal Administration and Urban Development Minister K.T. Rama Rao urged the Centre to allocate sufficient funds in the forthcoming Union Budget 2023-24, for various urban sector initiatives in the State.
Mr. Rama Rao said Telangana was an urban State with 46.8% of the population living in the cities and necessary infrastructure has to be created for them. The Centre must assist the State by giving priority funding for the projects being taken up or planned.
He listed various urban infrastructure projects planned and initiated, including Strategic Road Development Project (SRDP), Strategic Nala Development Project (SNDP), Comprehensive Road Maintenance Project (CRMP), Hyderabad Road Development Corporation (HRDC), Musi River Development Corporation (MRDC) and Telangana Urban Infrastructure Development Corporation (TUFIDC) and sought budgetary allocations for them.
He said the Hyderabad Airport Express Metro Project (31 km) was undertaken at an estimated cost of ₹ 6,250 crore with the State government funding and sought 'in principle approval' from the Centre for the project. The ₹ 254 crore, part of viability gap funding for the Hyderabad Metro Rail Project, has been pending for five years, he said and urged for expeditious sanction.
Mr. Rao also sought ₹ 450 crore towards 15% of Centre's equity for the proposed Mass Rapid Transit System (MRTS) in the Hyderabad Urban Agglomeration area for a 20-km length at a cost of ₹ 3,050 crore. He also asked ₹ 800 crore to construct link roads in 104 corridors which costs ₹ 2,400 crore. He said a Detailed Project Report (DPR) to provide relief from traffic congestion on National Highway 65 was prepared and urged the Centre to sanction ₹ 500 crore towards it.
The Minister said the State government, with an estimated cost of ₹ 34.500 crore, has taken up Musi Riverfront Development, East West Expressway, SRDP Phase II and Development of Elevated Corridors and urged the Centre to provide at least 10% of budgetary support.
More Related News
She urged people of poll-bound Tripura to break myth of a double-engine government and vote only for her party, to introduce 'Bengal model' of governance
The Assembly Session will start with the Governor's address to the House, the first in the State Assembly after assuming office
As both teams head into the semifinal clash at the M. Chinnaswamy Stadium starting Wednesday, Karnataka has a score to settle.
Notwithstanding a couple of untimely adjournments, both the Houses conducted discussion on the Presi
The Home Minister, while chairing the meeting of the Parliamentary Consultative Committee on LWE, said that for the first time in four decades, the number of deaths of civilians and security forces was under 100 last year
Bengaluru Traffic Police launches special drive to crack down on vehicles using fake number plates
Madurai The first fully-solar powered police check post of Madurai district police was inaugurated a
The 21st edition of the event is open for school students in two categories
The High Court, in the meantime, began hearing submissions on the bail plea of the Rashtriya Janata Dal's youth wing leader and Jamia Millia Islamia student Meeran Haider in the same case