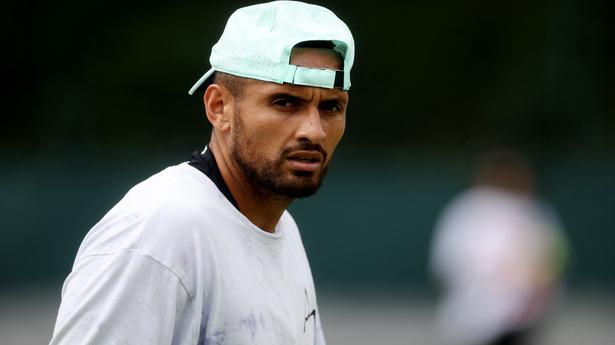 Wimbledon quarterfinalist Nick Kyrgios to face assault charges in Australia
The Hindu
The precise nature of the assault allegations is neither certain nor confirmed by either the prosecution or Kyrgios
Wimbledon quarterfinalist Nick Kyrgios is due in court back home in Australia next month, and a lawyer representing him said Tuesday the "precise nature of" the allegations "is neither certain at this moment nor confirmed by either the prosecution or" the 27-year-old professional tennis player.
Kyrgios practiced at the All England Club on Tuesday, and the All England Club confirmed he is scheduled to play his match against Cristian Garin of Chile on Wednesday.
"While Mr. Kyrgios is committed to addressing any and all allegations once clear, taking the matter seriously does not warrant any misreading of the process Mr. Kyrgios is required to follow," attorney Pierre Johannessen wrote in a statement emailed to the media.
Johannessen wrote that "the allegations are not considered as fact" by the court, and Kyrgios is not "considered charged" with an offense until a first appearance in court.
Wednesday's match against Garin is the third Grand Slam quarterfinal of the Australian's career — he is 0-2 in the others — and first in 7 1/2 years.
"We have been made aware of legal proceedings involving Nick Kyrgios in Australia, and as they are ongoing, we are not in a position to offer a comment," an All England Club spokesperson said Tuesday. "We are in touch with Nick's team and he remains scheduled to play his quarterfinal match tomorrow."
Police in Canberra, Australia, where Kyrgios grew up and is based, issued the following statement: "ACT Policing can confirm a 27-year-old Watson man is scheduled to face the ACT Magistrates court in relation to one charge of common assault following an incident in December 2021."
More Related News
Audi has opened bookings for the new Q3, which is likely to be launched in India next month. Custome
Decisions would be taken for making better arrangements for pilgrims after talks with religious leaders, says CM Gehlot.
Djokovic also not expected to be able to enter U.S. Open
Train witnesses overwhelming response with an average occupancy of 63%
The West Indies managed only 125/9 in reply of Kiwi's mammoth total of 215/5
Raju Srivastava was admitted to the hospital after suffering a heart attack on August 10, 2022
The court found Google misled some customers about personal location data collected through their Android mobile devices between January 2017 and December 2018.
Delhi flood control room said the water level breached the danger mark and reached 205.99 metres on August 13 morning
C.P. Muhammad Niyas, Judge, Kerala High Court, will inaugurate the programme at M.K. Damodaran Hall near the Kerala High court