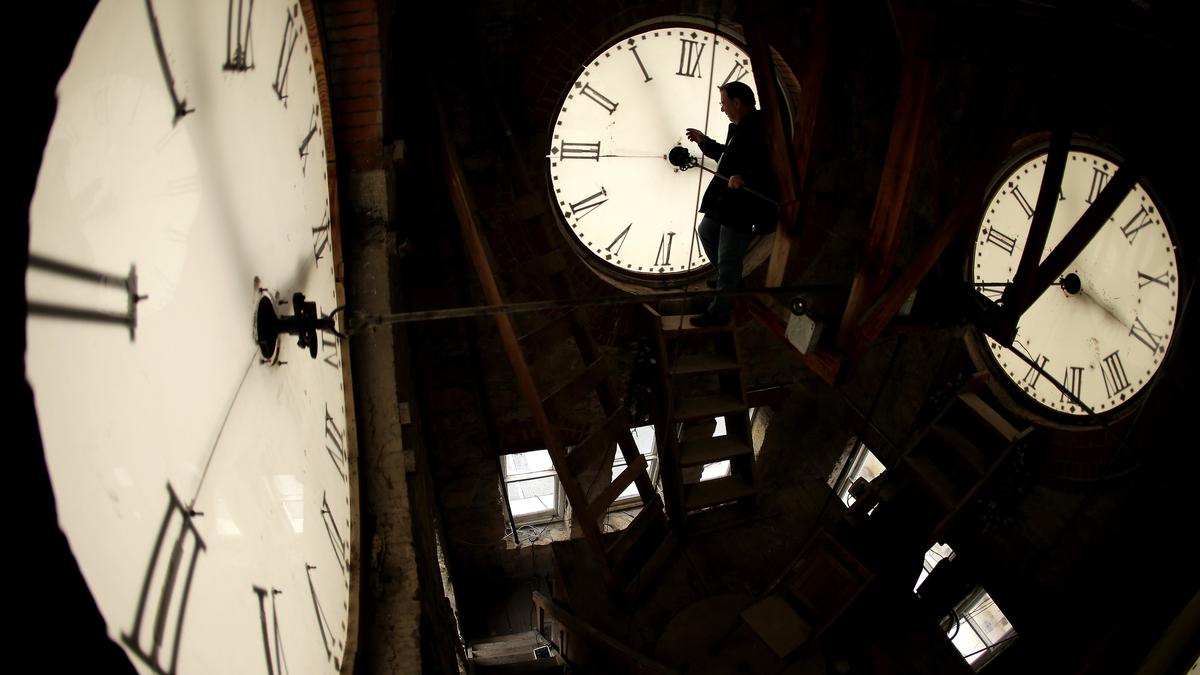 When UTC became the standard of time
The Hindu
The Coordinated Universal Time (UTC) replaced the Greenwich Mean Time (GMT) as the world standard of time on January 1, 1972. For 50 years now, UTC has been the standard that is used to set all time zones around the globe. A.S.Ganesh takes out some time to throw some light on UTC…
Time is now an integral part of our lives everyday. We wake up at a particular time, go to schools or offices at a set time, have our classes or meetings scheduled to take place at a given time,... there is an endless list like this. Every aspect of life is now driven by time.
It wasn't always like this though. Until some centuries ago, there wasn't any need to measure time as accurately as we do today. There was basically daytime and nighttime in all the different places on Earth as the sun, moon and the stars dictated time. But then, as the world grew smaller, and more connected with increasingly better technology, things changed.
When rail and shipping lines started connecting the world, economic activity started requiring standardised timetables to coordinate activities. The idea for a universal time stemmed from this requirement and it was first conceived late in the 1800s.
A way to synchronise clocks across the world was first discussed in 1884 by the members who met at the International Meridian Conference in Washington D.C. While latitudes running east to west had always been measured from the equator, there was no such consensus around longitudes, or lines running north to south around our planet.
It was at this conference that delegates from 25 countries chose to set the prime meridian or the zero point for longitude lines as that which passes through Greenwich, England. Time standards and time zones were built around this line, and hence came to be known as Greenwich Mean Time (GMT).
The advent of the atomic clocks after World War II enabled time to be measured with astounding accuracy in the second half of the 20th Century. These atomic clocks were able to show that Earth's rotational period actually varied ever so slightly on an everyday basis owing to tectonic movements, melting ice sheets and natural oscillations in our planet's movements.
The idea behind Coordinated Universal Time or UTC (though it wasn't yet known by that name) was thus born in the 1960s. It was a way to accommodate the differences in timekeeping that arise between atomic time and solar time.
More Related News
"Chandrayaan-3 has already reached the launch port, preparation is going on there at Sriharikota and we do expect that sometime in July the launch can take place," said U.R. Satellite Centre Director M. Sankaran on Thursday.
The personal health challenges of the generation who became adults during the COVID-19 pandemic, how they deal with them, and what it heralds for the future
Consumption-based accounting accounts for impacts at the point of consumption, attributing all the social and environmental impacts that occurred during production and trade to the final products and to the eventual consumers. That is, the approach urges the consumer to accept responsibility for the embodied or 'virtual' impacts of the product that is being consumed.
S Eshwar's book beautifully portrays the struggles of birds in building nests, receiving praise from wildlife photographers for its captivating depiction of nature.
Neuralink is making a Class III medical device known as a brain-computer interface. The device connects the brain to an external computer via a Bluetooth signal, enabling continuous communication back and forth. It could revolutionise treatment for conditions such as Parkinson's disease, epilepsy, and spinal cord injuries.