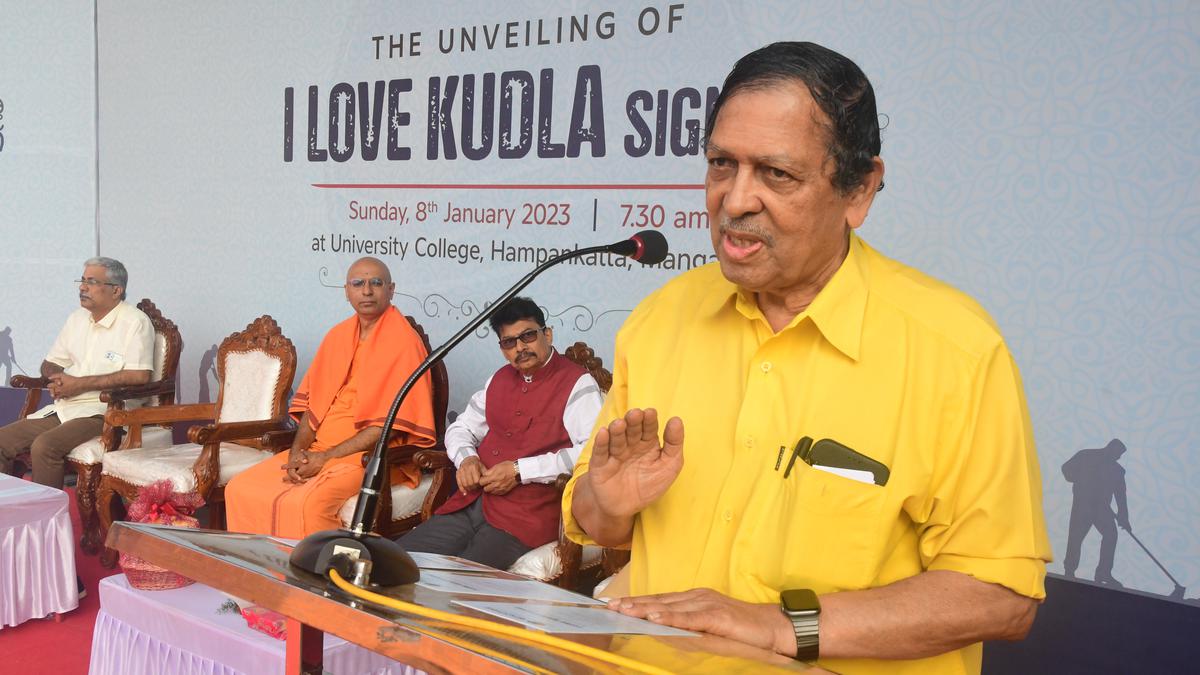 When former Lokayukta had to abruptly end his speech
The Hindu
MANGALURU
An unintentional signal by Mangaluru City South MLA D. Vedavyas Kamath, who was in the audience, to organisers on stage, led former Lokayukta N. Santosh Hegde to abruptly wrap up his speech during the programme to unveil the "I love Kudla" signage here on Sunday.
When Mr. Kamath arrived at the venue, Mr. Hegde's speech was on. While speaking about the problems resulting from people's greed to unethically accumulate wealth, Mr. Hegde's attention went to the signal that Mr. Kamath made, prompting him to cut his speech short.
When Mr. Hegde told this to the organisers, former MLC Ganesh Karnik clarified that Mr. Kamath's signal was meant to convey his refusal to come on the stage. "I asked him to come on stage, but he refused the offer. It was not directed at you, sir," Mr. Karnik said. "But I did not realise that and thought it was meant for me. Hence, I quickly ended my speech," Mr. Hegde replied.
More Related News
The Congress government tabled a 'white paper' on the State finances in the State Assembly during the ongoing monsoon session. The paper held the BJP-led Central Government equally responsible for the State's economic mess and added that the State has landed into a poor fiscal position due to shortsightedness and ineffective policies of the previous government during the last five years.
Eatala Rajender appeals to people to question parties & leaders on how they'll implement freebies & fund them. Karnataka Congress govt in fix unable to implement promises. Modi govt has credibility as it implemented promises. BJP to announce manifesto with something for all sections.
Two persons drowned in Palar river during idol immersion in Tirupattur. Murali and Poovarasan, both from Natrampalli town, were part of 550 idols immersed as part of Vinayaka Chathurthi festival. Murali was pushed to centre of dam, Poovarasan jumped in to help but both drowned. Bodies retrieved and sent to hospital; case registered.
Hubballi's Ganesh festival ends peacefully with heavy police presence. Leaders led procession in open jeep, joined by youths, women & students. Procession moved at snail's pace, with DJ music & traditional drums. Idol immersed at artificial pond, traffic diverted as precaution. Festival ends on 28th.
The BJP has set an ambitious target of cobbling up 10 lakh people for PM Modi's address, said party insiders. With the mega event, it wants to showcase its strength ahead of the polls, they said.
TNUHDB MD P. Sankar urged officials to ensure Chief Minister M.K. Stalin's schemes reach people. He inspected various schemes, tasted food given to students, inspected Allikuttai lake renovation, visited Urban Primary Health Centre, and inspected Bodinaickenpatti lake renovation. He asked officials to ensure works are completed on time to benefit people..
Several localities in north Chennai have been suffering from inadequate electricity infrastructure when compared to southern areas for several years
Tirunelveli DM R. Selvaraj inspected dev. works in Valliyoor & Nanguneri panchayats. Bus stand, road, help desks, Mahalir Urimai Thogai scheme & underground drainage scheme in Tirunelveli Zone inspected. Collector & officials accompanied. Ensure all eligible women get ₹1,000/month.
A video Pariwar Foodexpress, the first train-themed restaurant at any railway station in Telangana