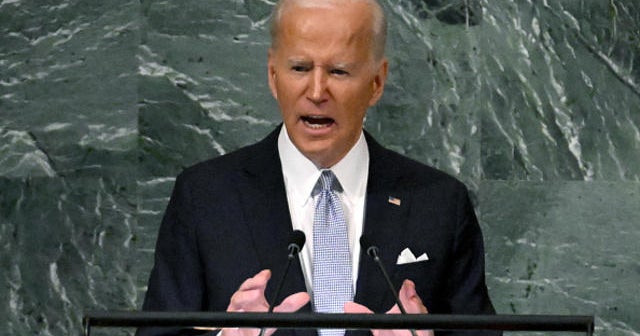 Watch live: Biden addresses U.N. General Assembly in New York
CBSN
President Biden is addressing the United Nations General Assembly in New York on Tuesday, as he continues to call for global cooperation in support of Ukraine and as the Biden administration celebrates the return of five Americans who had been held in Iran.
Five U.S. citizens detained by Iran have touched down on U.S. soil after they were freed Monday in a complicated diplomatic deal that included the transfer of $6 billion in unfrozen Iranian oil assets and the release of five Iranians facing charges in the U.S.
Russia's war in Ukraine will be a key focus of Mr. Biden's remarks and of UNGA as a whole. Ukrainian President Volodymyr Zelenskyy will speak at UNGA Tuesday in his first address to the assembly since Russian President Vladimir Putin launched an unprovoked assault on his country. Zelenskyy and Mr. Biden are also scheduled to meet at the White House on Thursday.
More Related News
Washington — Democratic Sen. Robert Menendez of New Jersey and his wife have been indicted by a federal grand jury, according to court filings unsealed Friday.
The bears are back – bigger, hungrier and hopefully, fatter than ever. Fat Bear Week will soon launch at Katmai National Park and Preserve in Alaska, bringing some of the park's most beloved bears to the spotlight to eat their way to get the crown for fattest bear before it's time to hibernate for the winter.
A Louisiana fugitive who has been on the run for 32 years was finally captured in Mexico this week — and video released by the FBI shows him laughing as he's being handcuffed.
A Kansas man has been charged with two counts of murder after detectives in a newly formed cold case unit connected him to the deaths of two women nearly three decades ago.
North Charleston, S.C. — A military pilot whose advanced fighter jet went temporarily missing over the weekend is heard repeatedly requesting an ambulance in a perplexing 911 call from the South Carolina home where he had parachuted to safety, according to an audio recording released Thursday to The Associated Press.
Washington — A State Department IT contractor was charged with espionage after investigators alleged he sent classified documents from sensitive federal systems to foreign government contacts — and likely gave those contacts access to his U.S. government account, the Justice Department announced Thursday.
Salton City, California — Damien Lopez, age 4, has symptoms that many people who live near Southern California's Salton Sea also have.
Actor Matt Walsh has decided to take a pause from participating in the latest season of "Dancing with the Stars" due to the ongoing writer's strike.
Lizzo is facing another lawsuit from a former employee who alleges that the entertainer condoned a hostile work environment in which staff were subjected to harassment, discrimination and bullying. Asha Daniels, a wardrobe designer who worked on Lizzo's tour earlier this year, filed the new complaint in Los Angeles Superior Court on Thursday, the same day Lizzo was expected to receive the Quincy Jones Humanitarian Award from the Black Music Action Coalition.
Washington — Texas state officials this week recovered the bodies of two migrants, including a 3-year-old child, who are believed to have drowned while attempting to cross the U.S. southern border, where illegal crossings have soared to near-record levels in recent days.
Washington — A 96-year-old judge on Wednesday was suspended from hearing cases for one year after she refused to undergo medical examinations and turn over medical records sought in response to concerns raised by her fellow judges and staff about her fitness to continue her work.