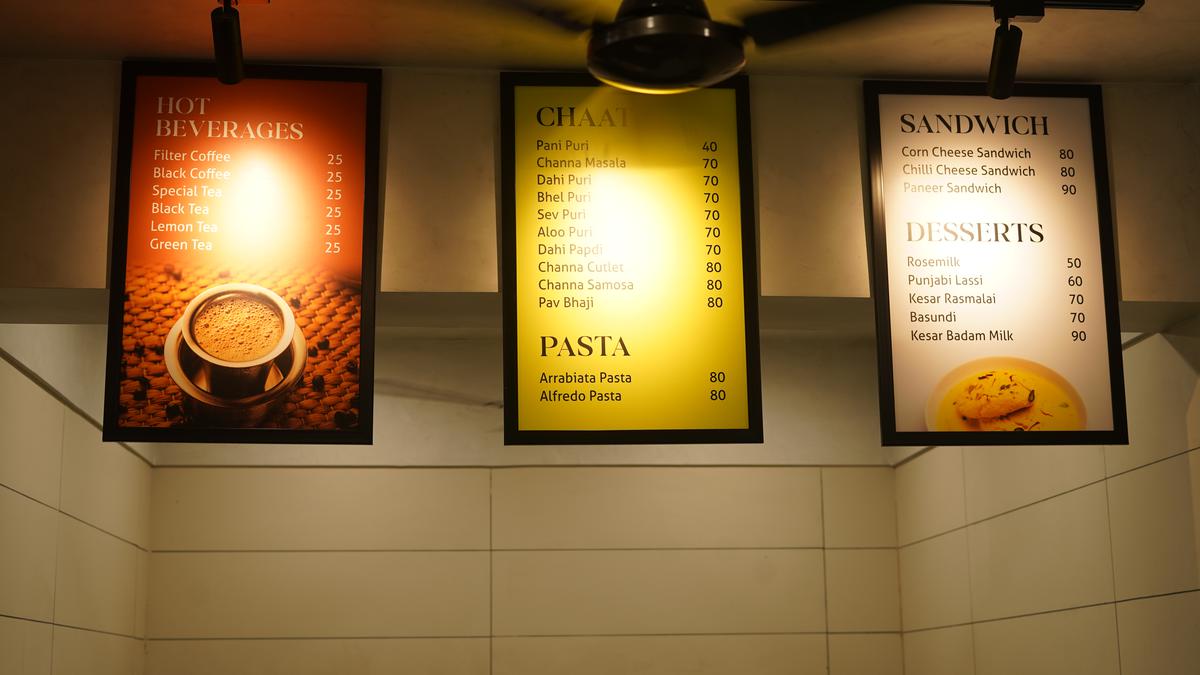 Watch | Jazzing up Chennai's college canteens
The Hindu
From food courts to in-house apps - a look at how canteens in Chennai's leading colleges have evolved
Remember standing in line for chilli cheese toast when you were in college? A lot has changed since then.
With UPI payment systems and in-house apps, students now pick up their orders in a scan. The staid menus of the past have been upgraded with pastas, chaat counters and specialised kiosks.
Several colleges across Chennai including Loyola college, Chennai Institute of Technology, IIT-Madras and Anna University have adopted a food court model. While accountability and quality assurance is one of the main reasons, it is also more convenient for the students as they can grab a bite at any time of the day.
As students become the primary target groups for restaurants and cafes across the city, college canteens are adapting menus to cater to students on campus with reasonably healthy meals that are also easy on the pocket.
Read the full story: What's on the menu in Chennai's college canteens?
Reporting: Ananyaa Desikan
Video: S. Shiva Raj and Thamodharan Bharath
More Related News
Taslima Nasrin's novel Lajja brought her fame, a fatwa, and exile. Her works have been banned and fatwas renewed, and her views on patriarchy, gender injustice, and sexual freedom have caused controversy. Her new poetry collection Burning Roses in My Garden comprises poems that range in topic from love to language, country, and humanity. Nasrin's voice is soft, wistful, and reflective, and her blend of ideology and sensitivity is unique.
.Varavara Rao allowed to travel to Hyderabad for cataract surgery: NIA court permits activist to travel Dec 5-11; must report to NIA Dec 4 and provide details of journey. Court warns against misuse of liberty.
Adya Singh from Patna wins National Crossword Champion trophy 2023. Sahil Sabne & Sakshee Vaidya from Pune & Dhara & Lakshmi from Delhi are runners-up. 38 teams from across India competed in 2-day Grand Finale at YMCA Auditorium, New Delhi. Alan Cowell, English teacher from Don Bosco Academy, Patna, was Cross Master. Civil society initiative Extra-C has been organizing contest since 2013, acknowledged by Limca Book of Records.
Dudiya is a gripping tale of a young female Naxal recruit, exploring the exploitation of Adivasis and the rise of Naxalism in India. Through the character of Dudiya, Vishwas Patil sensitively portrays the dark reality of India's Maoist insurgency, while gently scoffing at the perceived threat of the 'urban Naxal'.
Kerala HC Division Bench stays single judge's order nullifying election of V.A. Sreejith as chairperson of Education Standing Committee of Kochi Corporation. Court directs State Election Commission to keep ballots in sealed cover. Single judge had allowed petition filed by UDF candidate Bastin Babu. Case to be considered later.
NCP leader Chhagan Bhujbal faced opposition from Maratha community during his tour of villages affected by unseasonal rains in Nashik district. He was opposed for his stand on Maratha reservation issue. He was shown black flags and slogans were raised against him. He managed to visit few villages and had to cut short his tour due to the opposition. He assured to make efforts to get special funds approved for the farmers and urged not to bring politics in it.
Devanampiye and Piyadasi (meaning 'Devanampriya' and 'Priyadarshi' in Sanskrit and 'beloved of the gods' and 'one with a benevolent gaze' in English) were the two names that were widely referred to, either separately or together, in the ancient inscriptions and Buddhist literature found across South Asia. Since nobody could authentically ascertain the identity of the person, different historians came up with different opinions. In the course of lengthy debate, some even attributed them to an imaginary personality and a great mythological figure.
Despite discrepancies in voter lists and lack of awareness, Hyderabad saw enthusiastic participation from senior citizens and individuals with disabilities. Raju and his son were unable to cast their votes due to his name missing from the list, while others faced similar disappointments. At various polling stations, individuals argued with staff due to lack of awareness, while others hurried to nearby stationeries to obtain printouts. Subramanya Ponnada, a physically challenged man, demonstrated his commitment by casting his vote.
Union Minister of State for Health and Family Welfare Bharati Pravin Pawar inaugurated the 11th phase of Thiruvananthapuram Rozgar Mela, aimed at providing equal employment opportunities for all. Prime Minister Narendra Modi's message was screened, and 25 job aspirants were given appointment letters. Skill India and Start-up India were launched to promote entrepreneurship. The government is committed to building a nation where citizens can realise their wishes.
Dalit youth Shyam Kumar was allegedly kidnapped, abused, and urinated on by upper caste college-mates in retaliation to a two-year-old fight. Despite laws to protect SCs, discrimination and violence are common, with victims often left helpless when police protect wrong-doers. The Tsunduru and Karamchedu massacres are examples of horrific caste atrocities, with families still awaiting justice. Effective monitoring of SC/ST (Prevention of Atrocities) Act is critical to reduce such violence.