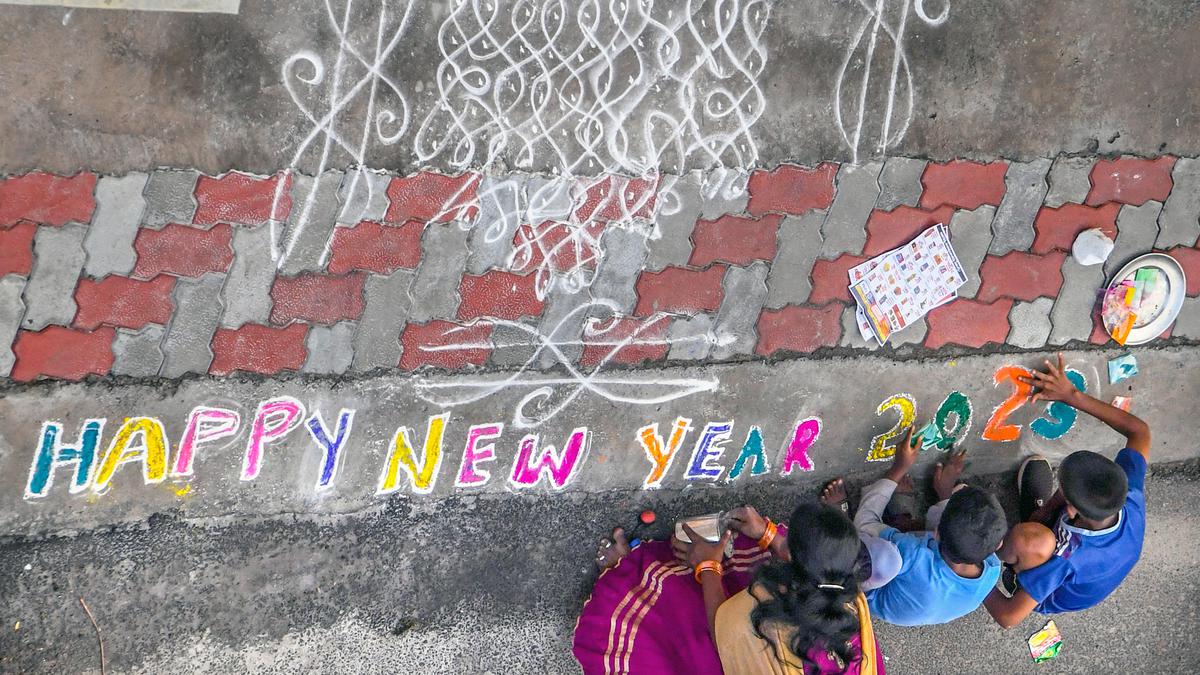 Vizagites hope the New Year will see completion of pending projects
The Hindu
Some realtors are eagerly waiting to see Chief Minister Y.S. Jagan Mohan Reddy's camp office in Visakhapatnam in 2023
While many Vizagites are revelling in the New Year bash and festive joy to welcome 2023 till midnight on December 31, stakeholders of various State and Central government projects have high hopes on them materialising at least in the New Year.
While some are demanding the completion of ongoing projects like the Indian Institute of Management-Visakhapatnam (IIM-V) and cruise terminal in Visakhapatnam Port Authority premises, others are urging the government to start work on large-scale projects like Vizag Metro Rail, Bhogapuram Greenfield International Airport, redevelopment of Visakhapatnam to Bhimili road along the beach and floating restaurant on the abandoned Bangladesh ship at Tenneti Park among others.
Speaking to The Hindu, Andhra Pradesh Metro Rail Corporation Limited (APMRDC) Managing Director U.J.M. Rao said, "Chief Minister Y.S. Jagan Mohan Reddy is likely to start the Vizag light metro rail project works in 2023. The project report requires the approval of eight Union ministries. The ₹14,309 crore project will cover the metro track of 76.9 km in length."
Andhra University Vice-Chancellor P.V.G.D. Prasad Reddy said that 2023 would be the year of Andhra University with start-ups on different themes and projects poised to come up on the campus. There would be pharma start-up eco system with the support of Visakha Pharma City named as "Element", food start-up eco system as "Jenniber", and music, sound engineering eco system with Saint Luke's named as "Dolby Atmos" in the New Year. Drone technology eco system named as " U- Flybus", all around the periphery of AU campus bringing a paradigm shift in imparting education at AU, attracting the attention of the youth towards entrepreneurship with a scope to explore, experiment and create products in order to address social, psychological and emotional dimensions of living beings on the globe and thus become meaningful to themselves, Prof. Prasad Reddy added.
On the other hand, the RINL-Visakhapatnam Steel Plant staff want the government to stop privatisation of the steel plant in 2023. Visakhapatnam Steel Plant Protection Committee Chairman Mantri Rajasekhar said: "2023 is a crucial year for our steel plant family to save it from the prospect of privatisation. We will intensify our agitation, if the Centre does not revoke its decision on strategic sale of the plant."
Meanwhile, almost all the Opposition parties in Greater Visakhapatnam Municipal Corporation (GVMC) have been lashing out at the government for levying user charges on garbage since it was approved in the GVMC Council meeting in April 2021.
GVMC corporator Peethala Murthy Yadav of Jana Sena Party, said that user charges on garbage was not only a burden on the people but also a major setback for the ruling YSR Congress Party.
More Related News
Yanabailu in Bhadradri-Kothagudem dist. records 46.4 degree Celsius
Understanding the KAVACH system which is an indigenously developed Automatic Train Protection (ATP) system and how it could prevent collisions between trains
students, teachers, staff and alumni of St. Aloysius' Anglo-Indian High School enthusiastically took part in a beach clean-up drive at R.K beach here on Sunday
Born in 1928 in Khadaklat in present-day Karnataka, she was known by her mononym 'Sulochana' and acted in more than 300 Marathi and Hindi films.
The Aam Aadmi Party (AAP) on Sunday attacked the Bharatiya Janata Party (BJP) over the Balasore train accident, and said that before the accident, there were complaints of problems with the signalling system and a shortage in manpower, but the Central government had not done anything about these issues.
The silver jubilee celebrations of Amrita Hospital, Ernakulam, were inaugurated on Sunday. Inaugurating the celebrations, Union Home Minister Amit Shah said the hospital had set an example by providing free medical support to needy sections of the society.
Dakshina Kannada Member of Parliament Nalin Kumar Kateel has said that 22 km of the 45 km- long Bikarnakatte-Sanur National Highway widening project has been completed.
A month after Manipur was engulfed in ethnic violence, only 18% of over 4,000 weapons, looted or taken away from police armouries have been surrendered with the authorities.
The Congress had earlier demanded the resignation of Railway Minister Ashwini Vaishnaw and criticised Prime Minister Narendra Modi
Mamata Banerjee announced ₹5 lakh compensation to the kin of the deceased, ₹50,000 to the injured
Members of HB Colony Residents Welfare Association and Visakhapatnam Apartment Resident Welfare Association staged a protest demanding that the APSRTC officials resume city bus 20A service immediately