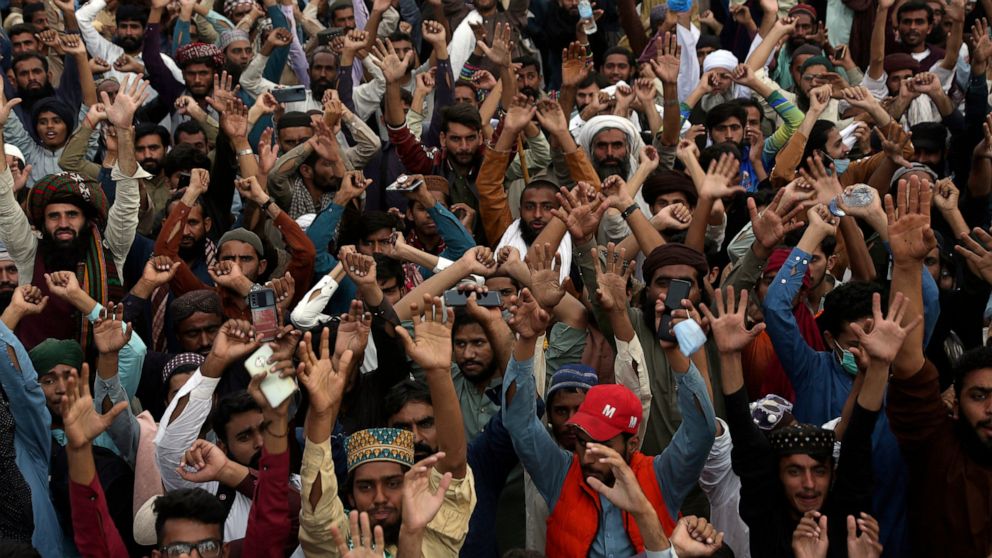 Violent rally in Pakistan leaves 2 Islamists, 1 police dead
ABC News
Officials say violence at an anti-France Islamist rally in eastern Pakistan has left at least one police officer and two demonstrators dead
LAHORE, Pakistan -- Violence at an anti-France Islamist rally Wednesday in eastern Pakistan left at least one police officer and two demonstrators dead, officials said.
Thousands of supporters of a radical Islamist party rallied on a highway in the town of Sadhuke as they marched toward the capital Islamabad. They demanded the expulsion of France's envoy to Pakistan over publication of caricatures of Islam's Prophet Muhammad in France.
The violence erupted a day after the government of Prime Minister Imran Khan said it would not accept the Islamists' demand to close the French Embassy and expel the French envoy.
Khan's decision infuriated supporters of the Tehreek-e-Labiak Pakistan party who over the weekend suspended their march to Islamabad to give the government three days to consider their demands.
More Related News
Former Argentine President Mauricio Macri has been charged with illegally spying on relatives of sailors whose submarine sank in 2017, a loss that was one of the most embarrassing incidents of his presidency
U.S. Secretary of State Antony Blinken is warning that President Vladimir Putin could quickly order an invasion of Ukraine if he has a pretext for doing so
British officials say about 30,000 people in the north of England and in Scotland have been without electricity for the better part of a week after a storm brought snow, ice and wind gusts of almost 100 miles per hour
Russia's top diplomat has warned NATO against redeploying U.S. atomic weapons to Eastern Europe if Germany refuses to keep hosting them
Russia has expressed concern about Ukraine's military buildup near the area of the separatist conflict in the country's east, a statement that comes amid Ukrainian and Western worries about an alleged plan by Moscow to invade its neighbor
China is lashing out at Shinzo Abe after the former Japanese prime minister warned of the serious security and economic consequences of any Chinese military action against self-ruled Taiwan
An Indian man has built a one-third sized replica of the historic Taj Mahal for his wife, but unlike the original, it's their residence, not a mausoleum