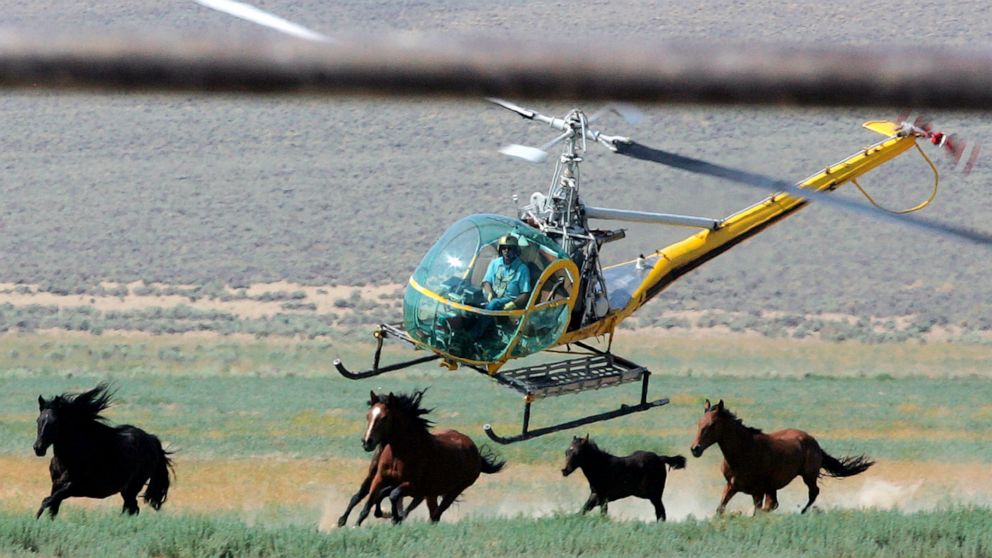 US plans more wild horse roundups this year than ever before
ABC News
The U.S. government plans to capture more wild horses on federal lands this year than ever before
RENO, Nev. -- The U.S. government plans to capture more wild horses on federal lands this year than ever before, drawing sharp criticism from mustang advocates who hoped the Biden administration would curtail widespread gathers of thousands of horses annually across the American West.
Bureau of Land Management Director Tracy Stone-Manning, known as an ally of conservationists on several public land fronts when she was appointed in the fall, says the agency plans to permanently remove at least 19,000 horses and burros this year.
That's 70% more than the previous high a year ago.
Critics say it's a continuation of a decades-old policy that kowtows to ranchers who don't want horses competing with their cattle and sheep for limited forage on agency rangeland in 10 states.
More Related News
The head of the International Energy Agency is urging countries and investors not to use Russia's invasion of Ukraine as a reason to increase fossil fuel investments
Shares are mixed in Asia in cautious trading after Wall Street rumbled to the edge of a bear market on Friday
President Joe Biden is set to launch a long-anticipated Indo-Pacific trade pact on Monday
The average U.S. price of regular-grade gasoline spiked 33 cents over the past two weeks to $4.71 per gallon
President Joe Biden is expected to come out with a list of countries that will join an Indo-Pacific trade pact, but Taiwan won't be among them
The much-ballyhooed World Economic Forum in the Swiss Alpine town of Davos gets underway this week after a two-year hiatus due to the COVID-19 pandemic
With prices across the economy soaring at their fastest pace in decades, you might think Americans would tap the brakes on spending
The World Economic Forum is encouraging European attendees to come to its exclusive gathering in the Swiss Alps by train
The Vatican's sprawling financial trial may not have produced any convictions yet or any new smoking guns
President Joe Biden is tending to both business and security interests as he wraps up a three-day visit to South Korea on Sunday
The incident points to a toxic blend of circumstances, including heightened social media use, experts told ABC.