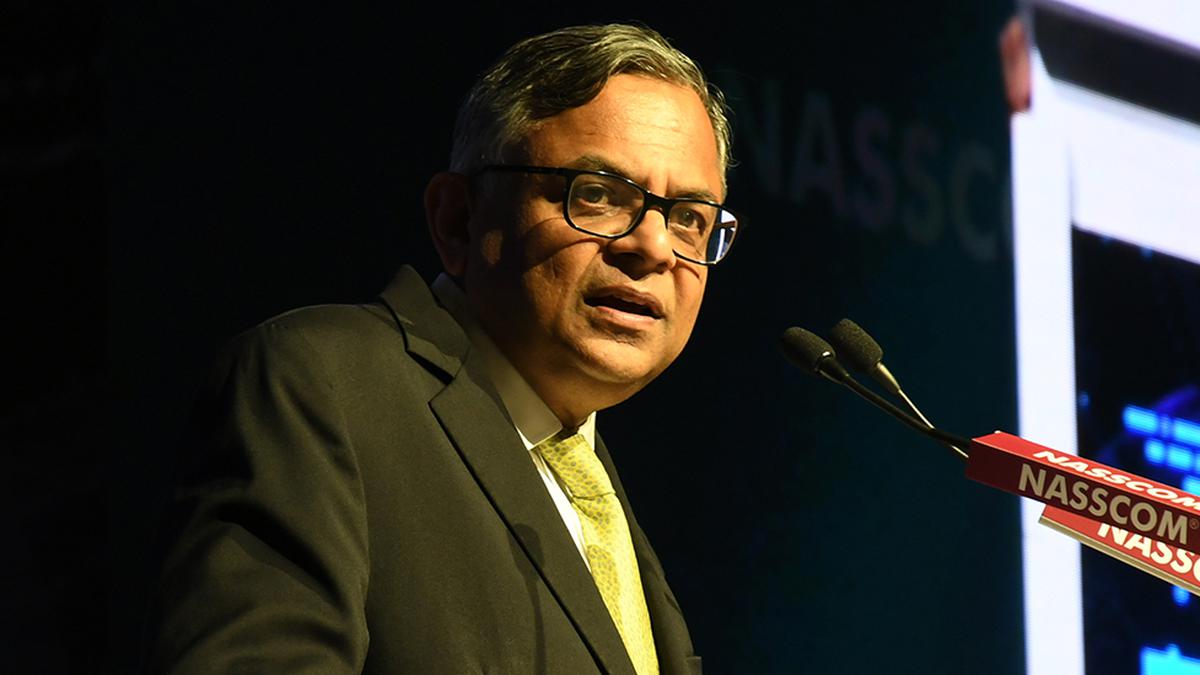 Urinating incident | Air India's response should have been much swifter: Tata Sons chairman Chandrasekaran
The Hindu
The airline's CEO Campbell Wilson earlier said that four cabin crew and one pilot have been issued show cause notices and de-rostered pending investigations
Tata Sons chairman N. Chandrasekaran on January 8 said the urinating incident on November 26 Air India flight from New York to New Delhi, has been a "matter of personal anguish to him and his colleagues at Air India".
"Air India's response should have been much swifter. We fell short of addressing this situation the way it should have been," the Tata Sons chairman said in a statement.
Also Read | Don't make captain, crew scapegoat in urinating incident: veteran pilots to Air India
Delhi Police arrested Shankar Mishra, 34, from Bengaluru, who allegedly urinated on a woman co-passenger during the flight. He has been sent to judicial remand for 14 days by a Delhi Court which rejected a plea by police for his custody.
"The Tata Group and Air India stand by the safety and well-being of our passengers and crew with full conviction. We will review and repair every process to prevent or address any incidents of such unruly nature," the statement read.
Earlier, the airline's CEO Campbell Wilson had said that four cabin crew and one pilot have been issued show cause notices and de-rostered pending investigations.
Mr. Wilson in a statement said that "the airline "regrets and is pained" by these experiences. "Air India is deeply concerned about the in-flight instances where customers have suffered due to the condemnable acts of their co-passengers on our aircraft," he added.
More Related News
Born in 1928 in Khadaklat in present-day Karnataka, she was known by her mononym 'Sulochana' and acted in more than 300 Marathi and Hindi films.
The Aam Aadmi Party (AAP) on Sunday attacked the Bharatiya Janata Party (BJP) over the Balasore train accident, and said that before the accident, there were complaints of problems with the signalling system and a shortage in manpower, but the Central government had not done anything about these issues.
The silver jubilee celebrations of Amrita Hospital, Ernakulam, were inaugurated on Sunday. Inaugurating the celebrations, Union Home Minister Amit Shah said the hospital had set an example by providing free medical support to needy sections of the society.
Dakshina Kannada Member of Parliament Nalin Kumar Kateel has said that 22 km of the 45 km- long Bikarnakatte-Sanur National Highway widening project has been completed.
A month after Manipur was engulfed in ethnic violence, only 18% of over 4,000 weapons, looted or taken away from police armouries have been surrendered with the authorities.
The Congress had earlier demanded the resignation of Railway Minister Ashwini Vaishnaw and criticised Prime Minister Narendra Modi
Mamata Banerjee announced ₹5 lakh compensation to the kin of the deceased, ₹50,000 to the injured
Members of HB Colony Residents Welfare Association and Visakhapatnam Apartment Resident Welfare Association staged a protest demanding that the APSRTC officials resume city bus 20A service immediately
As many as 32 people from Karnataka, part of volleyball teams, who were stranded after the train accident in Balasore, managed to return on Sunday
The power sector in Tamil Nadu may see a maximum coal demand of 65.7 million tonnes by the financial year 2030 from actual consumption of 27.95 million tonnes in financial year 2022, as per government's report on Integrated Coal Logistics Plan for efficient coal evacuation.
Heavy rain accompanied by strong winds brought down the mercury level in Sivaganga town and its peripheries on Sunday evening..