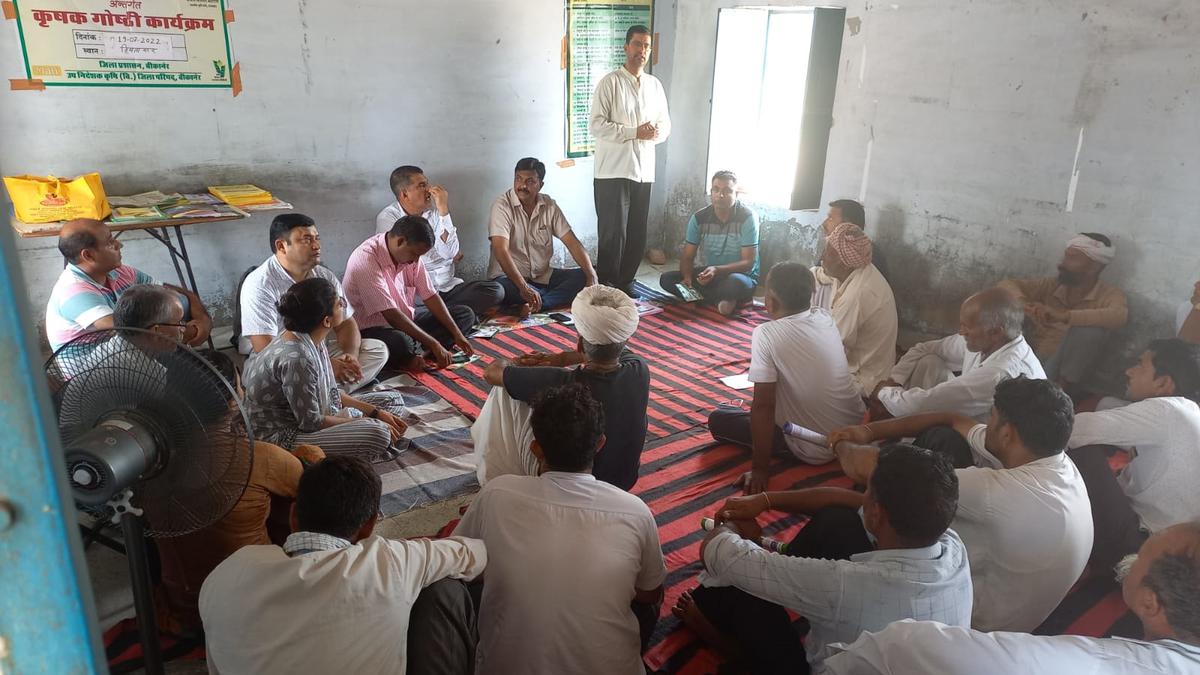 Unique soil campaign helps increase farmers' income by 40% in Bikaner district
The Hindu
A total of 1,250 farmers were selected for assistance through individual plans with 10 actionable points for their kharif crops.
Amid the agrarian crisis which has rendered farming a loss-making proposition, a unique initiative for soil health management and crop diversification launched in Rajasthan's Bikaner district has helped increase farmers' income by up to 40% in six months. The 'Mati Abhiyan' (soil campaign) has for the first time devised individual farm plans for agriculturists.
A total of 1,250 farmers were selected for assistance through individual plans with 10 actionable points for their kharif crops. While an identical number of farmers were identified for making a comparative study, the selected farmers were called to the district headquarters in May 2022 for a workshop, in which they were apprised of new techniques to be adopted.
The campaign was the brainchild of Bikaner Collector Bhagwati Prasad Kalal who encouraged the farmers to adopt modern technology and take up agriculture as an entrepreneurship. Mr. Kalal said the farmers, selected from five villages each in the five Assembly constituencies falling in the desert district, were trained in the 10 components of their individual plans.
The integrated kharif farm plan under the 'Mati Abhiyan' comprised the features of technical inclusion of horticulture and animal husbandry, infrastructure development, advanced crop production, soil health, organic farming and integrated farming. The farmers who followed all the actionable points reported a significant increase in their crop yield as well as expansion of the sowing area and an increase in the number of cattle heads despite the lumpy skin disease.
Guidance was also provided for reducing the input cost of agriculture, while the farmers used their individual plans, for which the files were maintained for each of them, as per the resources available in their villages. An exposure to new techniques of crop diversification, pest and disease management and micro-nutrients also immensely helped the farmers.
Mr. Kalal said the average income growth of farmers in six months was 12.55%, as they earned ₹3.38 crore more than the amount earned during the kharif crop season last year. Sixty-five farmers who adopted all the 10 components reported an increase of 40% in their income, while the income of other farmers not covered in the campaign increased marginally by 0.59%.
Hadman Das, a progressive farmer at Gopalyan village in Lunkaransar tehsil, said his income had doubled as a result of compliance with the new initiative. Mr. Das said he had used solar pumps, vermi-compost and organic decoction for the crops and also started growing vegetables, besides bringing more cattle heads to his farmland.
More Related News
The victim reached home and reported the incident to her mother, with whose help she got treated at a hospital.
In the midst of a heated debate surrounding the legacy of Hindu ideologist Vinayak Damodar Savarkar, Maharashtra Minister Mangal Prabhat Lodha has announced plans to celebrate 'Swatantraveer Savarkar Vichar Jagran Saptaha', across the State.
Tamil Nadu Today newsletter, your guide from The Hindu on the major news stories to follow today
Prithu's feat gained traction in modern times after Assam Chief Minister Himanta Biswa Sarma cited the "path shown" by the 13th-century king to underscore the need to struggle against an existential threat.
Harvest of 'nendran' variety of bananas, which has good market potential in Kerala and some parts of Tamil Nadu, is in full swing in Tiruchi and Karur districts. Unlike varieties such as 'poovan', 'rasthali' 'karporavalli' and 'elachi', farmers in Tiruchi and Karur districts raise nendran banana intending to tap its demand in Kerala. It is mainly raised on agricultural fields situated close to the banks of the Cauvery in Karur and Tiruchi districts.
Misra and her team decided to build hybrid FETs to increase electron mobility.
Whatever progress that is visible in Andhra Pradesh is due to the funds sanctioned by the Central government, says BJP State president Somu Veerraju
A senior Jammu and Kashmir government official told The Hindu that several claims could not be processed, as the individuals were not able to produce original documents such as refugee cards
Two persons, who ran a business cleaning septic tanks in the Nilgiris, were arrested by the district police on Friday after they allegedly dumped human faeces in a stream running into a reserve forest that also serves as an important source of drinking water for villagers in Nanjanad panchayat.
On Tuesday, "unknown" men allegedly trespassed, shouted slogans and harassed women students during the 'Shruti' festival at Delhi Univeristy's Indraprastha College for Women.