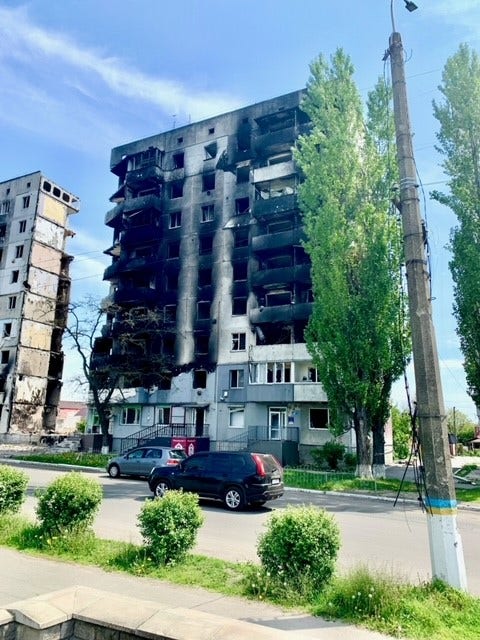 Ukrainian town's resistance halted Russian troops
Fox News
Russian military forces attacked the Ukrainian town of Borodyanka from the air and from the ground. Damage can be seen all over the town. Local authorities say at least 150 people were killed with 41 locals still missing
The resistance in Borodyanka surprised and confused the Russians, who then provided a preview of the brutal tactics Putin's forces are using to try and force Ukraine into submission. On March 2, with advancement stalled, the bombings began.
Anatoliy Rudnichenko, an advisor to the mayor, was here when his city was relentlessly shelled told Fox News Digital, "There was no reason for this town to be bombed," he said. " There were no strategic targets, no military here."
More Related News
Pope Francis, in a Spanish-language interview with Argentina's national news agency, dismissed the United Nations as "powerless" to affect meaningful change or preserve peace.
North Korea claims those with COVID-19 contracted the disease after they came in contact with balloons flown from South Korea, with South Korea denying the claim.
Following the Supreme Court's ruling on abortion, senior U.S. officials have crossed the line into bashing the U.S. on the international stage, says one prominent foreign policy relations expert.
A Russian missile strike near the port city of Odesa killed at least 18 Ukrainians early Friday.
One troubled area that deserves a renewed focus is northeastern Syria. The looming problem there involves national security concerns of our Turkish ally.
Pope Francis called Russia's invasion of Ukraine a "cruel and senseless war of aggression" that is pitting Christians against each other on Thursday.
Russian forces committed a "clear war crime" when they bombed a theater in Mariupol where hundreds of civilians were sheltering, Amnesty International says.
Jesse Watters blasted President Biden on "The Five" Thursday for refusing to take responsibility for rising inflation at home, blaming it on Russia and the war in Ukraine.