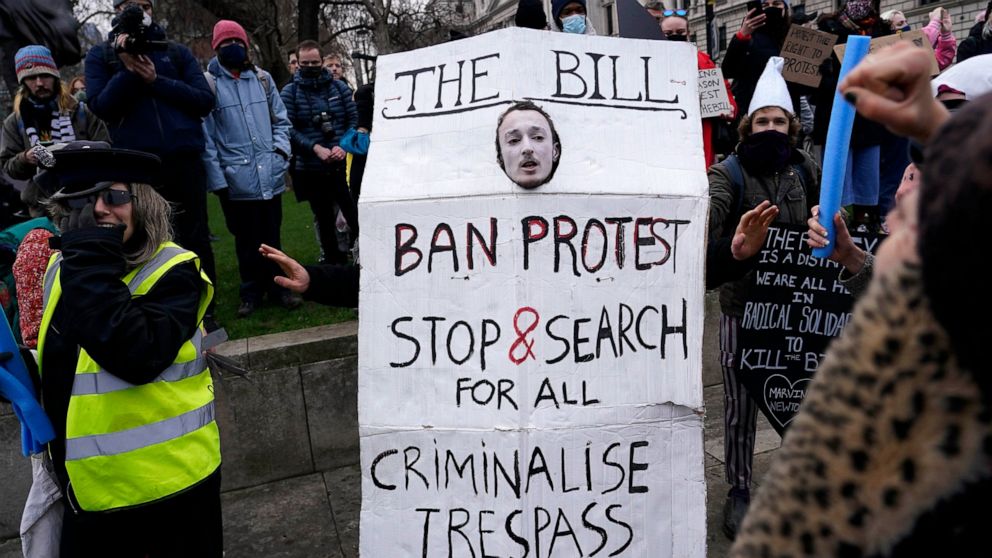 UK plan to curb protests faces opposition in Parliament
ABC News
Britain's Conservative government has suffered a setback in Parliament in its attempt to give authorities stronger powers to curb peaceful but disruptive protests
LONDON -- Britain's Conservative government has suffered a setback in Parliament in its attempt to give authorities stronger powers to curb peaceful but disruptive protests.
Parliament's upper chamber, the House of Lords, late Monday rejected some of the most contentious provisions in the Police, Crime, Sentencing and Courts Bill. The defeated measures would give police officers the right to stop and search people at demonstrations without suspicion, allow courts to bar named individuals from attending protests and empower police to curb protests that are judged to be too noisy.
Home Office Minister Susan Williams said the bill — targeted at environmentalists who have blocked roads and glued themselves to commuter trains to protest climate change — protected the "law-abiding majority" from "the highly disruptive tactics employed by a small number of people."
But civil liberties groups say the proposed measures violate long-held freedoms of assembly and speech. Thousands of people attended "Kill the Bill" protests across Britain in recent months to oppose the legislation.
More Related News
The head of the U.N.'s World Food Program is telling billionaires it's "time to step up" as the global threat of food insecurity rises because of Russia's war in Ukraine
British Prime Minister Boris Johnson has been shadowed by career-threatening scandal for months — but so far has escaped unscathed
U.S. President Joe Biden has met with families of Japanese citizens abducted by North Korea decades ago to show his support for their efforts to win the return of their loved ones
A French government spokeswoman says there will be "zero tolerance" for sexual misconduct by members of French President Emmanuel Macron's newly named government
Ukrainian President Volodymyr Zelenskyy is calling for "maximum" sanctions against Russia during a virtual speech at the World Economic Forum gathering in Davos, Switzerland
The latest edition of the World Economic Forum has kicked off in Davos, Switzerland
Russian forces are bombarding a key city in eastern Ukraine with artillery and missiles in an attempt to take more of the Donbas region
Australia's new prime minister has been sworn into office ahead of a Tokyo summit with President Joe Biden
The Philippine coast guard says a ferry carrying more than 130 people caught fire while approaching a northeastern province and many people escaped by jumping into the sea
An Indigenous migrant who was accused of kidnapping and jailed in a northern Mexico border city has returned to her homeland of Guatemala as a free woman after spending more than seven years in prison without a sentence
Gangs are fighting each other and seizing territory in Haiti's capital with a new intensity and brutality