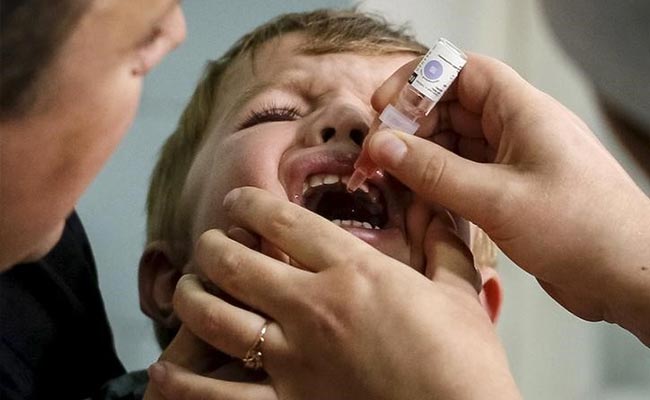 UK On Polio Alert: What You Need To Know About The Disease
NDTV
Poliovirus is transmitted by respiratory droplets, but it can also be caught from food or water thats been in contact with the faeces of someone who has the virus.
Just as we thought that monkeypox would be the new virus scare for 2022, the UK Health Security Agency (UKHSA) declared a national incident of repeated poliovirus detection in sewage in north and east London. Repeated positive readings for polio suggest that there is an ongoing infection and likely transmission in the area. This is unexpected since the UK had been declared polio-free since 2003. Here's what you need to know.
Poliomyelitis (polio) is a devastating disease that historically has caused paralysis and death around the world. It is caused by polioviruses, small RNA viruses that can damage cells in the nervous system.
It is not found in animals, so, like smallpox, it can be eradicated. And thanks to effective vaccination campaigns, we have been getting closer to this goal every year.
There are three types of poliovirus, and infection or immunisation by one type does not protect against another. Type 1 poliovirus has continued to cause outbreaks, but transmission by types 2 and 3 have been successfully interrupted by vaccination.
More Related News
Chris Darnell, 40, died at the Battle Creek Field of Flight Air Show, where he was driving the SHOCKWAVE Jet Truck down a runway at more than 483 kilometers per hour.
Sri Lanka's energy minister Kanchana Wijesekera said the next petrol shipment is expected between the 22nd and 23rd of July.
Russia has focused on driving Ukrainian forces out of Luhansk and Donetsk regions in the Donbas.
Shops have been gradually reopening and residents have returned to the city in Ukraine's eastern Donbas region.
The fossils belong to the now-extinct ancient relative of the panda called an Ailurarcto that lived in China six to eight million years ago.
At least 11 apartment buildings were damaged and 39 private residential houses.
Russian forces seized Lysychansk's sister city Severodonetsk on the opposite side of the Siverskiy Donets river last month.
A Talibanrun gathering of thousands of male religious and ethnic leaders ended on Saturday by asking foreign governments to formally recognise their
Wildlife biologists in Connecticut, US, had to rescue a bear cub who stuck its head in a transparent plastic jar, according to wildlife officials.
The research amassed new data on bone loss in astronauts caused by the microgravity conditions of space and the degree to which bone mineral density can be regained on Earth.
The Supreme Court last week overturned the landmark 1973 Roe v. Wade ruling, restoring the ability of individual states to ban abortion.