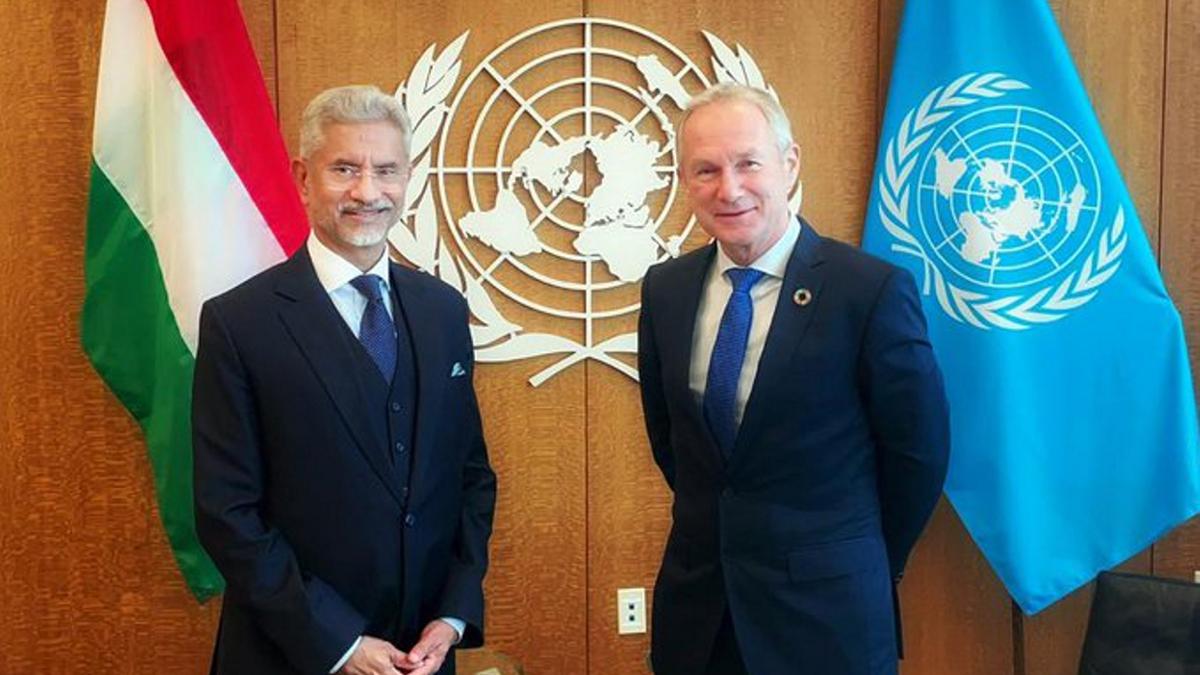 U.N. General Assembly President Csaba Kőrösi to visit India on January 29
The Hindu
Focus on India's engagement with U.N., water conservation projects
India's engagement with the U.N. and water conservation projects in the country will be among the focus areas of discussions for U.N. General Assembly President Csaba Kőrösi as he undertakes an official visit to India from January 29 to 31.
During his first official visit to India as President of the 77th session of the General Assembly, Mr. Kőrösi will meet with External Affairs Minister Dr. S. Jaishankar in New Delhi.
Discussions between the two are expected to continue on topics raised during their last meeting in December, "among them the ongoing priorities of the General Assembly and India's engagement with the U.N. body".
These priorities are also expected to be on the agenda when Mr. Kőrösi visits India's G20 Secretariat, and meets with a delegation led by G20 Sherpa Amitabh Kant.
In December last year, during India's Presidency of the U.N. Security Council, Jaishankar had met Mr. Kőrösi here and discussed India's tenure in the Council, the country's goals as G20 president and importance of reformed multilateralism.
Mr. Kőrösi had said that he had also discussed maximising synergies on water with Jaishankar. India had assumed the monthly rotating presidency of the Security Council, before its tenure ended, as well as the year-long presidency of the G20 on December 1 last year.
Mr. Kőrösi's visit to India will include conversations with government officials, leading national scientists and academics, and include field visits related to sustainable water use, a statement issued by his spokesperson said on Wednesday.
More Related News
The agreement was reached as U.S. Defence Secretary Lloyd Austin was in the country for talks about deploying U.S. forces and weapons in more Philippine military camps.
The Israeli military said the airstrikes targeted a rocket production workshop for the militant Hamas group, which controls Gaza.
Authorities in Pakistan said Wednesday the death toll from Monday's suicide bombing at a mosque in Peshawar increased by one to 101
The lawmakers have written a letter to Blinken and Treasury Secretary Janet Yellen, ahead of their upcoming trip to Beijing.
Here's a select list of stories to read before you start your day
Myanmar has been in turmoil since the military's power grab and bloody crackdown on dissent, which has sparked fighting across the country and tanked the economy
Year-on-year inflation in January 2023 was recorded at 27.55%, the highest since May 1975, with thousands of containers of imports held up at Karachi port
The search in Rehoboth, which attorney Bob Bauer said was done "with the President's full support and cooperation"
The initiative comes at a time when the U.S. is seeking to out-compete China in critical technologies and tighten the screws on China's semiconductor industry
The U.S. has indicated solidarity with several Asian nations, several of whom have conflicts with an aggressive China which is flexing its muscles in the strategic Indo-Pacific region
A new innovation bridge will be created to connect defence start-ups on both sides, says Ministry of External Affairs