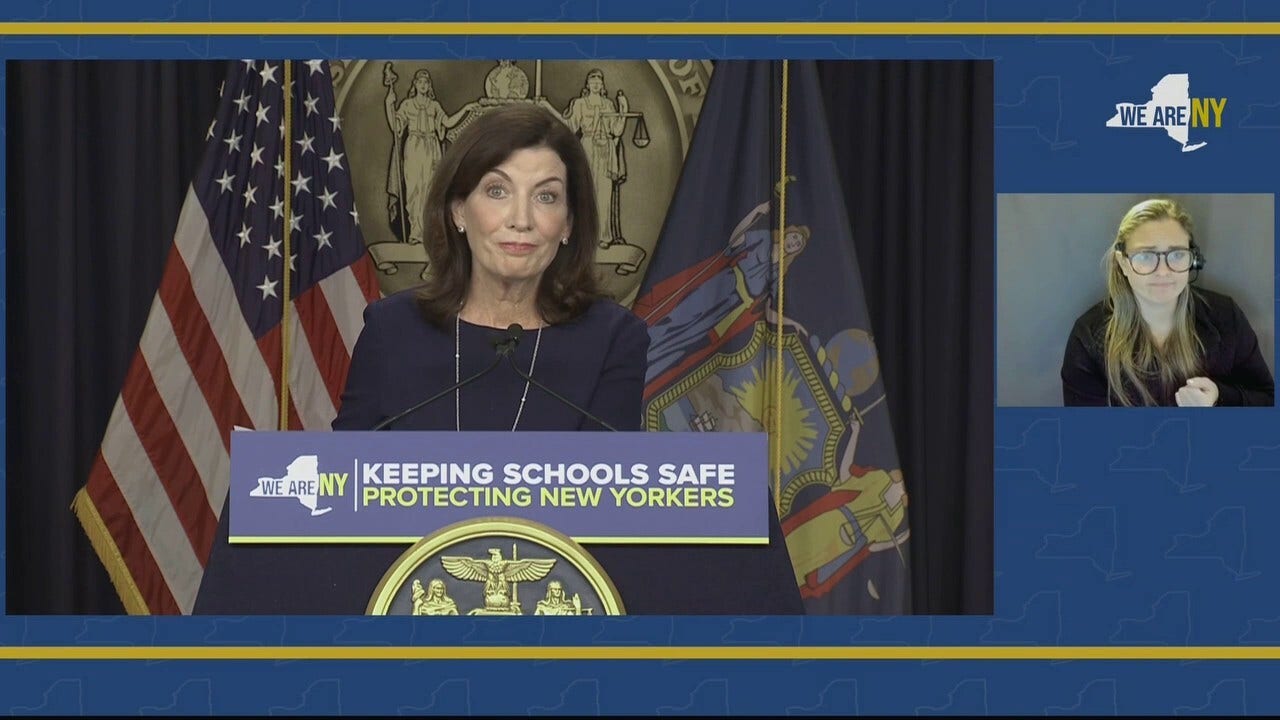 Twitter slams Gov. Hochul's anger over SCOTUS gun ruling: 'Sorry the Constitution happened to you'
Fox News
Conservatives on Twitter railed against Governor Kathy Hochul, D-N.Y., for defiantly speaking out against Thursday's Supreme Court decision upholding gun rights.
Gabriel Hays is an associate editor at Fox News. Follow him on Twitter at @gabrieljhays.
During the press conference, Hochul claimed the Supreme Court "has stripped away the State of New York's right and responsibility to protect its citizens." She added that the decision is "frightful in its scope" and "sending us backwards in our efforts to protect families and prevent gun violence."
One moment of Hochul's speech – around seven minutes in – went viral. The governor stated, "I'm sorry this dark day has come, that we're supposed to go back to what was in place since 1788 when the Constitution of the United States of America was ratified. And I would like to point out to the Supreme Court justices that the only weapons at the time were muskets. I'm prepared to go back to muskets."
More Related News
Americans are facing inflation, soaring gas prices and a crumbling economy. Meanwhile, President Biden is intent on pursuing radical green energy policies.
Austin love triangle murder suspect Kaitlin Armstrong is expected to return to Travis County to face a judge in the shooting death of Anna Moriah "Mo" Wilson.
Judicial Watch has accused Washington, D.C., public schools of violating the U.S. Constitution by hosting racially segregated "affinity groups" for staff.
EU lawmakers gave the thumbs up on Tuesday to landmark rules to rein in tech giants such as Alphabet unit Google, Amazon, Apple, Facebook and Microsoft.
Chicago has long been considered a city with some of the most strict gun control laws, while Illinois overall received a high ranking for its tough gun control measures.
Jan. 6 Committee members over the weekend said they would be willing to hear testimony from people who could refute parts of what Cassidy Hutchinson said last week.
President Biden gave four U.S. Army veterans the Medal of Honor Tuesday from the White House--upgrading awards they had previously received to the highest honor.
A ceremony Tuesday marked the 101st Airborne's deployment to Europe. This is the first time the 101st Airborne has deployed to Europe in 80 years.
The parents of the alleged July 4th Highland Park parade shooter were troubled and always the last to pick him up from after school, according to a former coach and neighbors.
A dozen House Republicans are seeking answers from the Justice Department over the ousting of Trump-era immigration judges, amid concerns from the judges' union.
A Florida judge granted an injunction against the state's new law banning abortion after 15 weeks of pregnancy, but the order is on hold while the state appeals the ruling.