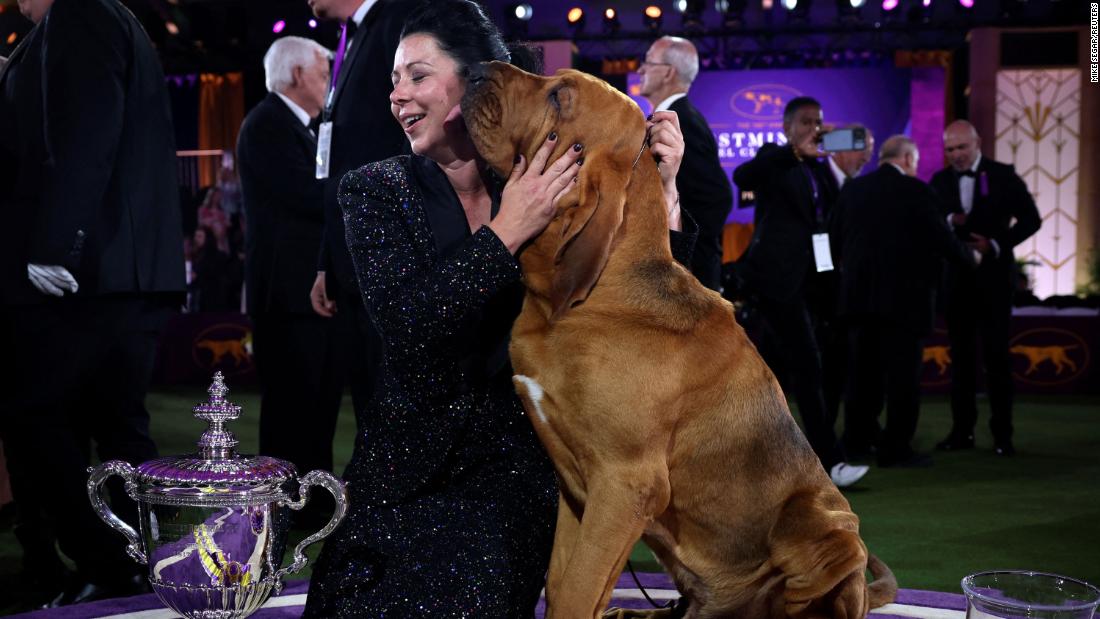 Trumpet, a bloodhound, wins Best in Show at the Westminster Dog Show
CNN
Trumpet, a bloodhound, was crowned the Best in Show winner at the 146th Westminster Kennel Club Dog Show Wednesday night.
The show is the second-oldest continuous sporting event in the US after Kentucky Derby and crowned its winner from among contenders who won in earlier best-in-group competitions.
Trumpet is owned by Chris and Bryan Flessner, Heather Buehner and Tina Kocar, according to the WKC.
More Related News
Attorneys representing Republican South Carolina Sen. Lindsey Graham say that he intends to challenge the subpoena that he was issued by an Atlanta-area special grand jury investigating former President Donald Trump's attempts to overturn the 2020 election in Georgia.
Apple on Wednesday said it will release a new feature this fall for iPhone, Mac and iPad operating software that is designed to protect high-risk users such as journalists and human rights workers from sophisticated spyware that has been linked to human rights abuses.
President Joe Biden and Vice President Kamala Harris spoke by phone Wednesday with Cherelle Griner, the wife of WNBA star Brittney Griner, who is detained in a Russian prison, according to the White House.
Trump White House Counsel Pat Cipollone has reached a deal with the January 6 committee to participate in a transcribed interview behind closed doors on Friday, multiple sources told CNN.
Boris Johnson's scandal-ravaged premiership appeared on the brink of collapse Wednesday, after numerous ministers and former allies pulled their support for the beleaguered British Prime Minister and urged him to resign before he is forced from office.
Who killed the republic? It's not Donald Trump, writes Diane McWhorter, who says the GOP primary in her home state of Alabama illustrates how and why old-school Republicans bear responsibility for American democracy's perilous moment.
Google honored barrier-breaking comedian Charlie Hill, the first Native American comic to appear on national TV, with a Doodle on what would've been his 71st birthday.
A New York judge fined the Trump Organization's former appraiser $10,000 a day after holding it in civil contempt for failing to comply with subpoenas from the New York attorney general's office.
Around 300 inmates are on the run after a suspected raid by Islamist Boko Haram militants on a prison in Nigeria's capital Abuja on Tuesday night, an interior ministry official said.
In a new Monmouth University poll, just 36% of Americans approve of the job Joe Biden is doing -- the lowest mark of his presidency to date in the survey.
American tourist Sura Crutch spent a whirlwind five days with Greek local Haris Sevastopoulos in Athens in the summer of 1971. Here's how they went from strangers to pen pals to a couple of 50 years and counting.