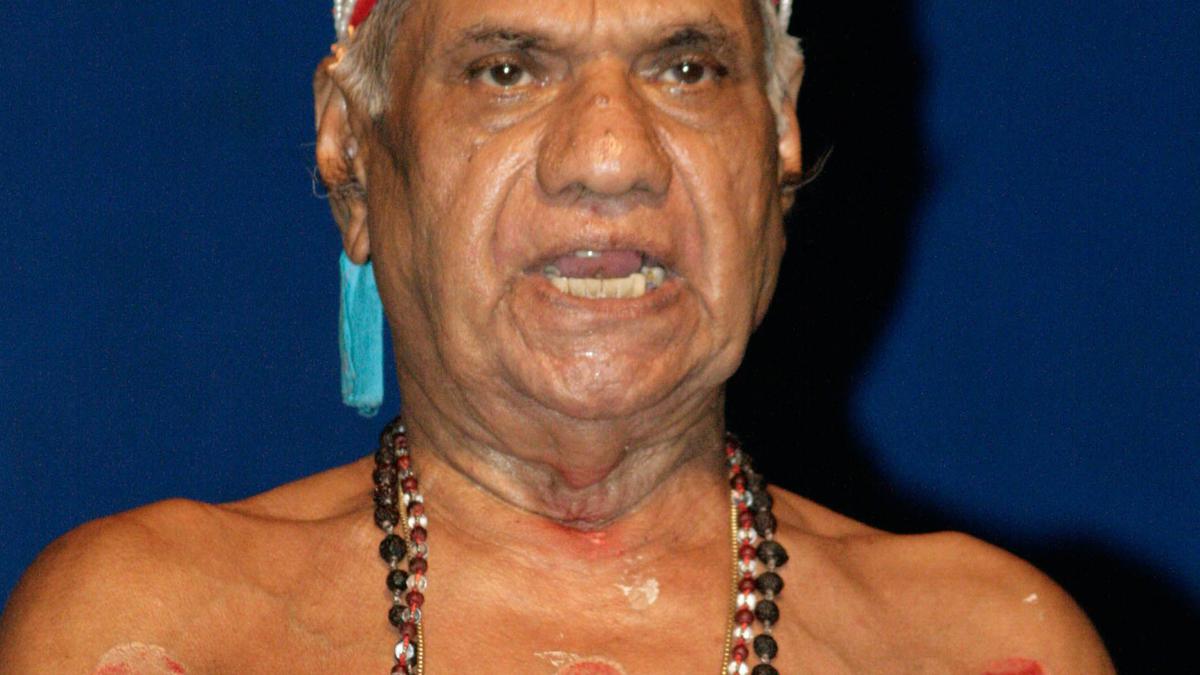 Tribute to P.K. Narayanan Nambiar — a multi-faceted mizhavu exponent
The Hindu
Tribute to Narayanan Nambiar, the Mizhavu exponent
One of the reasons why the The United Nations Educational, Scientific and Cultural Organization (UNESCO) recognised Koodiyattam, the sole surviving traditional Sanskrit theatre, as an oral and intangible heritage of humanity way back in 2001 is its indisputable antiquity.
Ever since its first onstage performance believed to be held between the 10th and 11th Centuries AD, Koodiyattam remained the prerogative of the Chakyars and the Nambiars. In 1965, it was added to the curriculum of Kerala Kalamandalam.
While the progressive-minded or, more precisely, the radically-inclined Painkulam Rama Chakyar headed the faculty of acting there, P.K. Narayanan Nambiar was appointed the instructor for Mizhavu, the principal percussion-instrument of Koodiyattam. The veteran, who passed away recently, was undoubtedly the modern architect of Mizhavu-music, besides being a scholar and writer.
As the son of the legendary Koodiyattam actor Mani Madhava Chakyar, Narayanan Nambiar had inherited many a distinctive quality associated with the artform and its iconic practitioners. He grew up in an environment watching the recitals of well-known Chakyars and Nangiars. Yet he had to wait until the mid- 20th Century to find a democratic platform to hone his talents, and to disseminate his knowledge on Mizhavu.
Within the Koodiyattam-Kalari of Kerala Kalamandalam, Narayanan Nambiar systematised and restructured the form and content of Mizhavu-music. He single-handedly codified and classified its functional significance in accordance with the angika (movement dynamics), vachika (verbal acting) and satwika (emotive acting) of the actors trained by Rama Chakyar.
The training methodology introduced by him solidified the pedagogy of Mizhavu-music in the years to come.
In his own Kalari, Narayanan Nambiar imparted lessons on the Mizhavu to a handful of highly-skilled youngsters, who later joined their guru in the Cholliyattakkalari (performance without make-up and costumes) to temper their talents in tune with the texts, contexts and the characters. In the course of time, most of his disciples became masters in the field. All the noted Mizhavu players of the day hold aloft the idiom carved out by him.