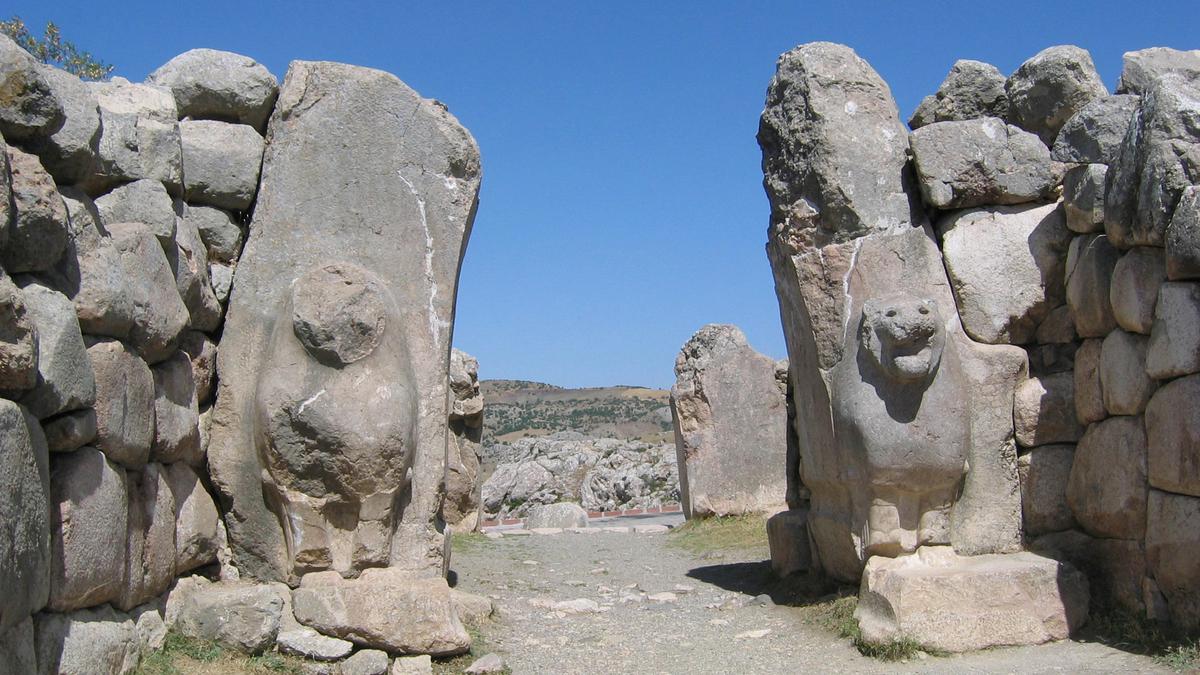 Tree study shows how drought may have doomed ancient Hittite empire
The Hindu
One of the mightiest to perish was the Hittite empire, centered in modern Turkey and spanning parts of Syria and Iraq.
Around 1200 BC, human civilisation experienced a harrowing setback with the near-simultaneous demise or diminishment of several important empires in the Middle East and eastern Mediterranean region - an event called the Bronze Age collapse.
One of the mightiest to perish was the Hittite empire, centred in modern Turkey and spanning parts of Syria and Iraq. Researchers on Wednesday offered new insight into the Hittite collapse, with an examination of trees alive at the time showing three consecutive years of severe drought that may have caused crop failures, famine and political-societal disintegration.
The Hittites, with their capital Hattusa situated in central Anatolia, were one of the ancient world's great powers across five centuries. They became the main geopolitical rivals of ancient Egypt during its glittering New Kingdom period.
"In pre-modern times, with none of our infrastructure and technology, the Hittites controlled and ruled a huge region for centuries despite myriad challenges of space, threats from neighbours and entities incorporated into their empire, and despite being centred in a semi-arid region," said Cornell University professor of arts and sciences in classics Sturt Manning, lead author of the research published in the journal Nature.
Scholars long have pondered what triggered the fall of the Hittites and broader collapse that also devastated kingdoms in Greece, Crete and the Middle East while weakening the Egyptians. Hypotheses have included war, invasion and climate change. The new study offers some clarity about the Hittites.
The researchers examined long-lived juniper trees that grew in the region at the time and eventually were harvested to build a wooden structure southwest of Ankara around 748 BC that may have been the burial chamber for a relative of Phrygia's King Midas, who legend holds turned anything he touched into gold.
The trees offered a regional paleoclimatic record in two ways: patterns of annual tree-ring growth, with narrow rings indicating dry conditions; and the ratio of two forms, or isotopes, of carbon in the rings, revealing the tree's response to water availability.
More Related News
Andhra University Vice-Chancellor P.V.G.D. Prasad Reddy flagged off the Mobile Air Pollution Monitoring Facility (MAPMF) at the Department of Meteorology and Oceanography on the university campus in Visakhapatnam on Friday
The National Investigation Agency (NIA) has seized more than ₹7.80 lakh in cash and a vehicle as "proceeds of terrorism" in a case related to the recovery of arms and explosives, smuggled from Pakistan
The Greater Chennai Corporation registered a steep increase in property tax collection on March 31, with collection touching ₹50 crore for the first time on a single day
Posters and hoarding mocking 'turmeric board' appear in Nizamabad
Residents of Sinkukandam and 301 Colony, near Chinnakanal, in Idukki launched a day and night protest at Sinkukandam on Friday morning demanding that the High Court-appointed committee should hear them before submitting its report to the court on April 5.
Police reportedly asked Enforcement Directorate officials to approach the Chief Secretary to probe money laundering angle in the leak of question papers of TSPSC examinations
Assam Chief Minister Himanta Biswa Sarma on March 31 threatened to sue his Delhi counterpart Arvind Kejriwal, while slamming Congress leader Rahul Gandhi for being "morally corrupt".
Qualcomm India will support the initiative under its CSR programmes, prototyping centre T-Works said on Friday, announcing the signing of a grant agreement with the tech company for the PCB fabrication facility.
Some parts of Tamil Nadu may receive light to moderate rain till Tuesday. Chennai is expected to get light rain on April 2
Suspended YSR Congress Party (YSRCP) MLA Kotamreddy Sridhar Reddy has condemned the attack on Bharatiya Janata Party (BJP) national secretary Y. Satya Kumar's convoy, alleging involvement of the ruling party in the incident. ''It was a providential escape for me too. I escaped an attack by a violent mob. My car driver took another route to Nellore after seeing the mob. Democracy is under threat under the YSRCP rule," said the suspended MLA.
The tweets flagged by the government also include older posts related to anti-minority speeches made by political leaders