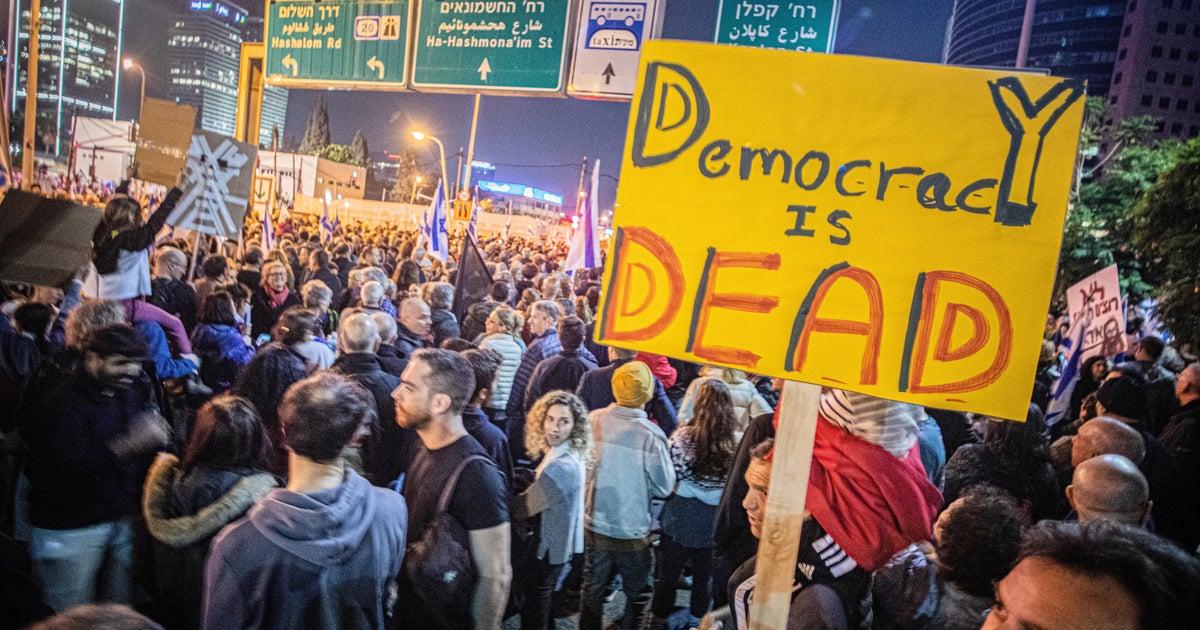 Thousands hit Israel's streets to protest "scary" new government under Benjamin Netanyahu
CBSN
Tel-Aviv — About 100,000 Israelis took to the streets on Saturday for the third week of demonstrations against the country's new far-right, ultra-religious government.
To secure his sixth term as Israel's Prime Minister, Benjamin Netanyahu has formed a coalition with extremist political parties that support the introduction of more severe anti-Palestinian legislation, including banning the Palestinian flag in public spaces and expanding Jewish settlements in the West Bank that are illegal under international law. Some coalition members also support amendments to Israeli laws that protect the rights of women, LGBTQ people and other minority groups.
Sarah, 15, and her friend Noam joined the protest in Tel Aviv alongside some 80,000 others last weekend. She told CBS News they would consider moving to a different country if some of the changes suggested by the hardline coalition members were enacted.
More Related News
Microsoft is integrating ChatGPT-like capabilities into its meeting software, contributing to the user base that has made the AI-powered generative text tool the fastest-growing app of all time.
Washington — The GOP-led House Judiciary Committee is seeking information from the FBI about Charles McGonigal, the former top counterintelligence official in the bureau's New York field office who was charged last week with violating U.S. sanctions on Russia and other related offenses.
Arkansas Gov. Sarah Sanders, who served as White House press secretary in the Trump administration, will deliver the Republican response to President Biden's State of the Union address, House Speaker Kevin McCarthy and Senate Minority Leader Mitch McConnell said in a joint announcement Thursday.
An Iowa care facility is facing fines totaling $10,000 after mistakenly pronouncing a 66-year-old resident dead and having her transported to a funeral home, where she woke up "gasping for air."
Tom Brady announced on Wednesday that he was retiring from the NFL, "for good" – but he may see another NFL contract in his future. New England Patriots Owner Robert Kraft said he would like to offer Brady a one-day contract so the NFL icon can officially retire as a Patriot.
Two men have been charged in relation to the 2019 murder of a Black transgender woman in South Carolina, authorities said Wednesday. In a five-count federal indictment, the two men were charged with hate crime and obstruction offenses in the death of Pebbles LaDime "Dime" Doe, 24, according to a news release from the United State's Attorney's Office.
Washington — Brian Deese, President Biden's top economic adviser, is leaving the White House, the latest significant departure from the president's team at the midway point in his term.
A borough councilwoman in northern New Jersey was found dead inside of her car on Wednesday night, authorities confirmedon Wednesday. Eunice Dwumfour, of Sayreville, succumbed to fatal injuries after unknown perpetrators shot her several times, the Middlesex County Prosecutor's Office said in a news release.
Jerusalem — Israeli police on Thursday arrested an American tourist after he allegedly knocked down and broke a statue of Jesus in a church in Jerusalem's Old City. Images on social media showed the statue laying horizontally on the floor after apparently being pulled down from a stand at the church.
Washington — The House is expected to vote Thursday on a resolution to remove Democratic Rep. Ilhan Omar from her seat on the House Foreign Affairs Committee over past comments about Israel, with House Speaker Kevin McCarthy set to deliver on a pledge to oust her from the panel now that Republicans are in power.
Manila, Philippines — The United States and the Philippines announced an expansion of America's military presence in the Southeast Asian country on Thursday, with U.S. forces granted access to four more military camps, effectively giving Washington new ground to ramp up deterrence against China.