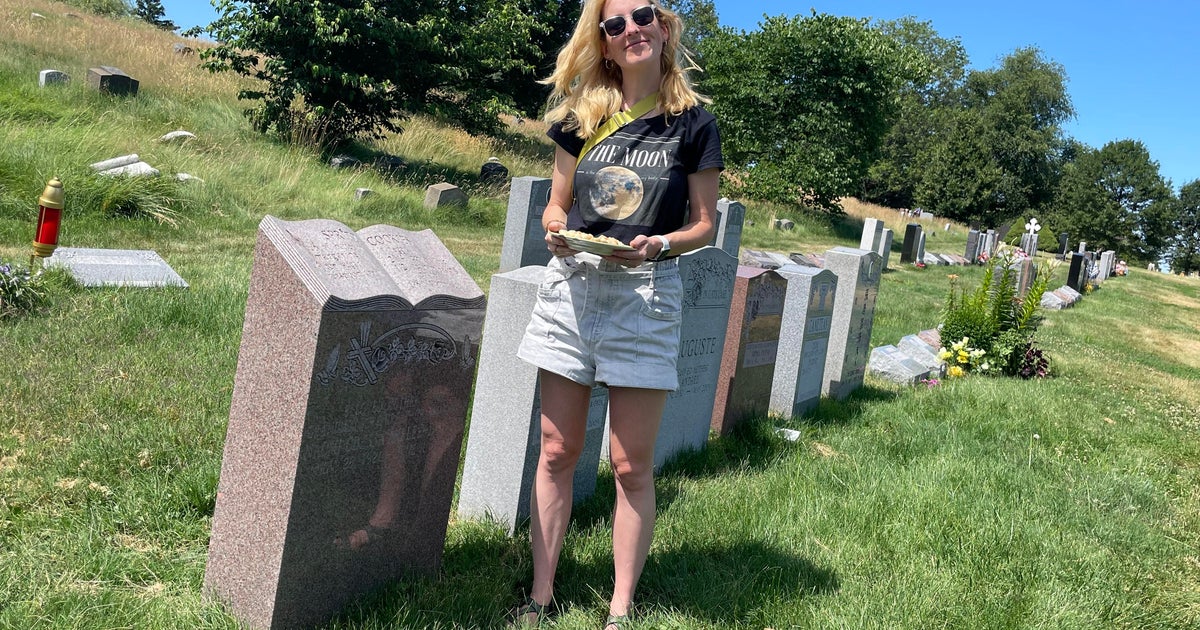 This woman bakes the family recipes people put on their gravestones – and it makes for a very unusual TikTok page
CBSN
There are many sides to TikTok – from true crime to dancing to cooking. Some TikTok accounts are quirky, like Rosie Grant's, an intersection of two very different niches: baking and graveyards.
It started out as an assignment for grad school. She was in library science school at the University of Maryland and took a class on content creation, where she received the unusual assignment to make a TikTok page from scratch.
Grant already had an internship at Congressional Cemetery in Washington, D.C., working in their digital archives department. So, she decided to use that as inspiration. On her @ghostlyarchive TikTok, she began baking the recipes people etch onto their gravestones.
More Related News
With the House Judiciary Committee's gavel and subpoena power close at hand, Rep. Jim Jordan, Republican of Ohio, is getting ready to launch his first investigations of the Biden administration, starting Friday with what he has recently referred to as the administration's "anti-parent directives." It's the type of request from House Republicans that the White House is describing as politically motivated, as Republicans prepare to take control of the House.
A 10-year-old girl helped her mom deliver a baby — a feat that allowed her to live up to her name: Miracle.
A jury on Thursday found two Native Hawaiian men guilty of a hate crime for the 2014 beating of a White man who was fixing up a house he purchased in their remote Maui neighborhood.
Twitter continued to bleed engineers and other workers, after new owner Elon Musk gave them an ultimatum: Either pledge to "hardcore" work or resign with severance pay by 5 p.m. Eastern on Thursday. Many have opted for the latter.
Three law firms involved in the Trump Organization's criminal trial, including one representing the prosecution's star witness, recently received payments from political groups associated with former President Donald Trump, records show.
It was Jan. 6, 1982, a bitter cold evening with blizzard-like conditions, when two women hitchhikers vanished from the popular ski resort town of Breckenridge, Colorado, and were later found shot to death.
Chris Hemsworth's new show with National Geographic on Disney Plus is "a mission to live better for longer." But because of that show, he has come face-to-face with his "biggest fear" – that he might develop Alzheimer's disease.
Miami — Federal prosecutors have charged eight people with smuggling endangered monkeys, including a Cambodian wildlife official who was arrested in the U.S. while traveling to a conference on protecting endangered species.
Donald Trump is weaker than he was in 2020, President Biden is primed to "beat him like a drum," Democrats still have a branding problem and Florida is now a party "reclamation project" — those are just some of the midterm takeaways from Mr. Biden's pollster, John Anzalone, who appeared on "The Takeout" this week.
Atmore, Alabama — Alabama's execution of a man convicted in the 1988 murder-for-hire slaying of a preacher's wife was called off Thursday just before the midnight deadline because state officials couldn't find a suitable vein to inject the lethal drugs.
Buffalo, N.Y. — New York Gov. Kathy Hochul declared a state of emergency Thursday for parts of western New York ahead of a dangerous storm that had the potential to dump several feet of snow on some communities on the eastern ends of Lake Erie and Lake Ontario.