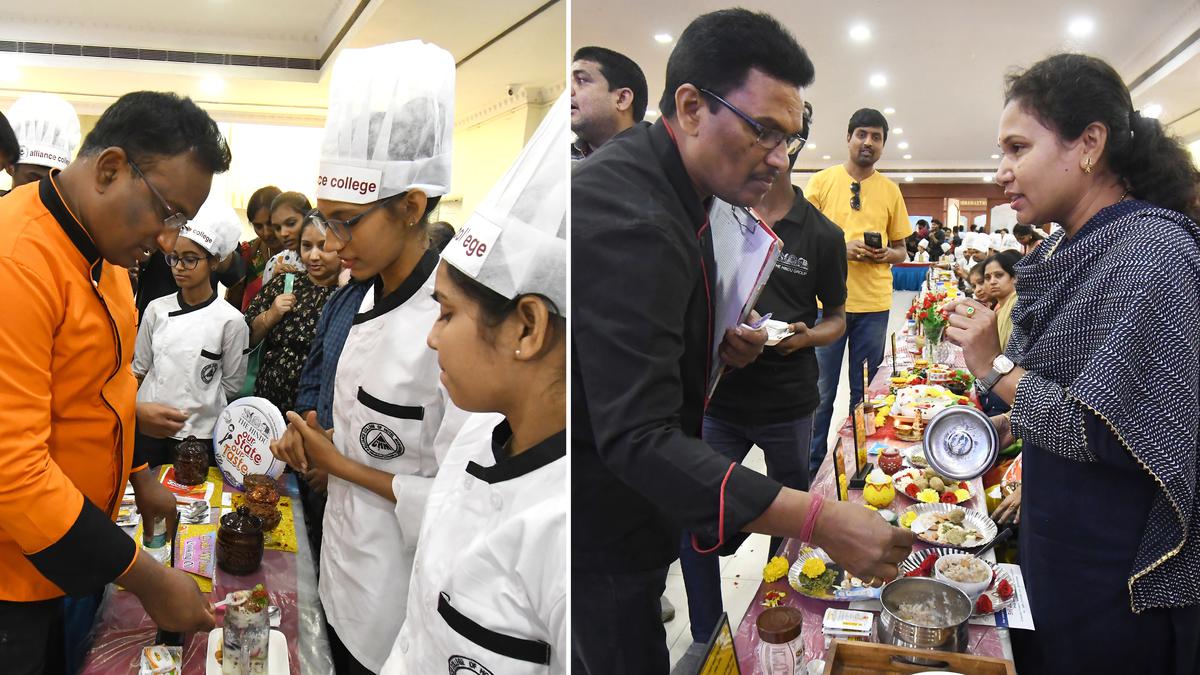 The Hindu's culinary event 'Our State - Our Taste' evokes overwhelming response in Visakhapatnam
The Hindu
Nearly 300 contestants, including the students of hotel management institutions, present variety of dishes
Visakhapatnam
Visakhapatnam got into the Sankranti festive mood as around 300 contestants came up with a variety of dishes at The Hindu's culinary talent hunt `Our State – Our Taste' on Sunday.
The cookery competition was held across 12 cities in Andhra Pradesh and Telangana. The sixth round of the regional category for Andhra Pradesh was held in the city at KSR Complex in Seethammadhara here, where the The Hindu's exclusive event saw an overwhelming response from women fraternity and even the students of hotel management institutions.
A contestant Voona Sujatha was adjudged the winner of the preliminary round. She showcased her talent by bringing a variety sweet recipe `Kova Gulab Jamun'. Contestants G. Rohini and Sai Lakshmi bagged the second and third prizes respectively.
Participants presented dishes that represented the flavour of Andhra Pradesh with Gold Winner Cooking Oil.
Judges for the contest Vah-chef Sanjay Thumma and ETV Chef Raju said, "The judging criteria for the dishes were based on the taste, texture, flavour and presentation. We have seen overwhelming response in Visakhapatnam."
The Hindu's Andhra Pradesh zonal head G. Srinivasa Rao, Visakhapatnam branch's senior AGM SLB Ramakrishna, senior deputy manager Ravi Kumar and assistant manager A. Gupteshwar participated.
More Related News
Quad comprising India, United States, Japan and Australia invited Internet users across the Indo-Pacific to become part of the 'Quad Cyber Challenge' and practice "safe and responsible" cyber habits
Citing the LIC statement on the matter, the unions said LIC has earned a notional profit of almost ₹20,000 crore on its investment in the Adani Group
A plea had challenged several provisions of the Indian Penal Code and the Prisons Act relating to solitary confinement saying that they were in violation of the Constitution
The actors opted for Manish Malhotra creations for their special day, as the bride wore a pink and dust gold lehenga, while the groom coordinated in dust gold sherwani and saafa
Dr. Rajesh Pant added that there was 'turbulence' in digital policymaking as the government considers a slew of changes and additions to cyberlaw
Construction is in progress for 593 facilities. Chennai has the most number of these centres, with a total of 200 coming up. The centres will ensure immediate treatment for people, especially those who are living in urban slums, says official
The ST Commission sought a report on what action had been taken on complaints of lack of mental health support for SC, ST students
Appearing before a Bench led by Chief Justice of India (CJI) D.Y. Chandrachud, senior advocate Abhishek Manu Singhvi, representing AAP mayoral candidate Shelly Oberoi, said the causes of the delay was "brazen" and amounted to a "murder of democracy"
Bano's lawyer Shobha Gupta mentioned the matter for urgent hearing; said new Bench must be constituted as Justice Trivedi had recused herself from hearing plea