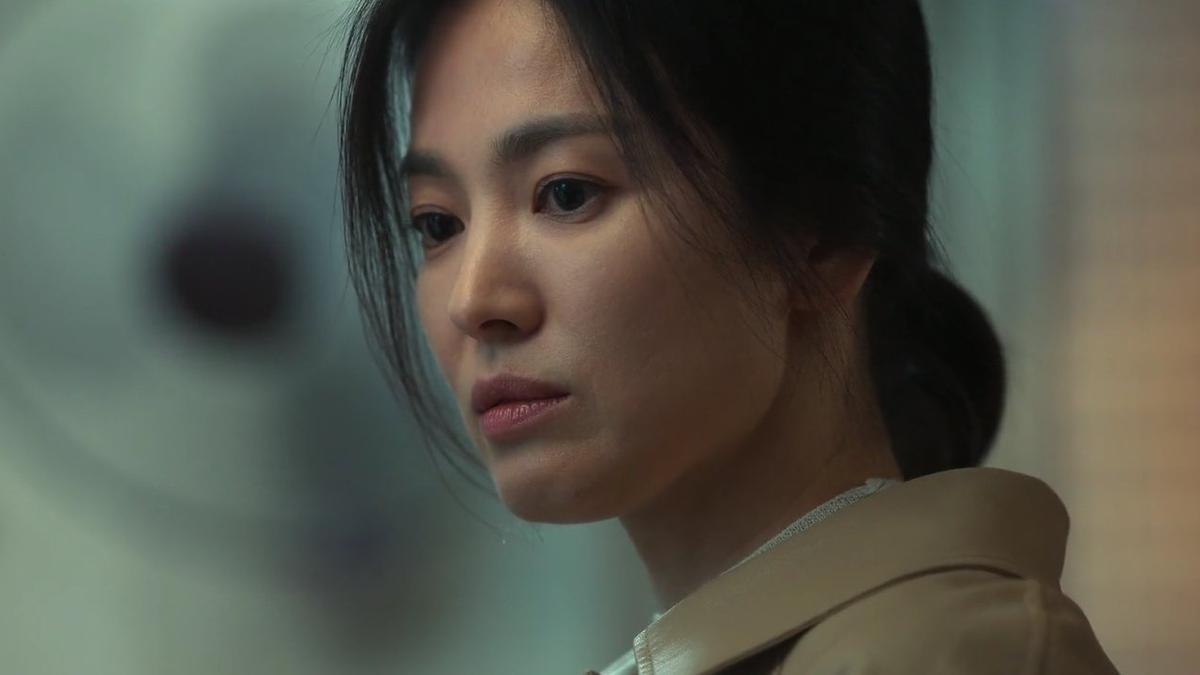 'The Glory' Part 1 review: A terrific Song Hye-Kyo in a disturbing tale of bullying and revenge
The Hindu
While scenes with graphic violence in its initial portions are hard to watch, 'The Glory' leaves you angry at the injustice and subsequently gratified once the retribution begins
In a particularly disturbing scene from The Glory, Netflix's latest original K-Drama, high school student Moon Dong-Eun (Jung Ji-So) asks her classmate and bully Park Yeon-Jin (Shin Ye-Eun) why she is being subjected to such extreme bullying. "Even if I do this, nothing will happen to me and nothing will change for you," retorts Yeon-Jin, as she continues inflicting violence on Dong-Eun.
The Glory is not an easy watch, nor is it a run-of-the-mill revenge thriller. Queen Bee Yeon-Jin has nothing to fear. She is rich, entitled, and leads a clique comprising four others that picks on their underprivileged classmate Dong-Eun. The group is violent beyond measure and is confident of there being no repercussions for their actions. As Dong-Eun suffers at the hands of her bullies, she's constantly reminded that no one will protect her. The school authorities, teachers, and her mother are all a part of a system that has wholly failed her. In some way or other, everyone around her is complicit in the horrors she is subject to.
Several K-Dramas have turned the spotlight on bullying in high schools, some more sensitively than others. In shows like the cult favourite Boys Over Flowers, the rich, entitled male lead is shown to lead a clique that often bullies their schoolmates, but we hardly delve further into this as the show progresses. Romance shows like True Beauty and My ID Is Gangnam Beauty both had their female leads bullied for their looks. More recently, gritty K-Dramas like Extracurricular, Revenge of the Others, Weak Hero Class 1, and even the zombie apocalypse thriller All of Us Are Dead, either centred around bullying or prominently featured it.
After being pushed to the edge, our protagonist in The Glory vows revenge. There's no question of redemption here and through some extremely graphic scenes of violence and bullying, the show makes sure that the viewers are left rooting for and invested in every step of Dong-Eun's carefully planned quest for revenge, one that has no boundaries.
The violence is not for the faint-hearted (viewer discretion is recommended), and there are potential triggers regarding suicide ideation, violence, and sexual assault.
Dong-Eun (Song Hye-Kyo) grows up clawing her way through physical, social, and economic hardships and positions herself at a place that she is most sure will strike fear in the heart of her chief tormentor from high school. She takes over as the homeroom teacher at Semyeng Elementary where Yeon Jin's (Lim Ji-Yeong) young daughter is enrolled.
There's little that has changed for the gang of bullies. If they were despicable and depraved as high schoolers, they are remorseless and unrepentant as adults. The hierarchy established within the clique owing to their social backgrounds, the ensuing jealousy, and distrust, is one of the major aspects that Dong-Eun mines while unravelling her elaborate scheme.
More Related News
Yettinahole Integrated Drinking Water Project trial run caused flooding in Sakleshpur taluk, damaging houses, coffee beans, and a road. Locals blamed officers for the damage and raised doubts over quality of work. Project officers and MLA visited spots, assured repair work, and stopped trial run. To ensure efficiency, experts will examine pipeline and find leakage points.
Assembly elections results 2023: BJP leaders credit PM Modi's "charismatic" leadership & development agenda for party's success in 3 States. Home Minister Shah asserts people have put stamp of approval on PM Modi's "good governance".
Retired Air Force officer B. Rama Krishna Rao, who donated blood 257 times, encourages senior citizens to volunteer for blood donation. To mark Navy Day, retired officials of the Navy and Air Force, including S.N. Raju, V.V. Ramana, T. Shiva Sankar, Ch. Bala Raju, V.V.B.S. Thimmarasu, donated blood at New Life Blood Center of Vizianagaram. Awareness of blood donation needed to bridge gap between availability and requirement.
Election Commission of India directs Telangana Chief Secretary to suspend DGP Anjani Kumar for meeting TPCC president while election results were being announced. ECI recommended suspension of DGP for violating model code of conduct. DGP claims he was called to discuss arrangements for swearing ceremony. Suspension orders awaited.
Special Chief Secretary (Energy) K. Vijayanand told the CMDs of power distribution companies (DISCOMs) to be alert to the likelihood of cyclone Michaung causing widespread destruction during its landfall and to promptly take restoration works.
Salem district distributes terrace garden kits to 11,000 residents with ₹62.50 lakh subsidy. Kits include seed packages, bags, organic fertilizers, pesticides & manual. People can learn farming & meet daily vegetable needs through Uzhavar Sandhais.
Lt. Gen. Manjinder Singh assumed office as GOC-in-C of ARTRAC on Dec. 1, 2023. He is an alumnus of Sainik School Kapurthala, NDA, Khadakwasla & IMA, Dehradun. He has commanded a Battalion in J&K, an Infantry Brigade at LoC, an Infantry Division & a Corps. He was decorated with Yudh Seva Medal & Vishisht Seva Medal. He is the Colonel of Madras Regiment since Jan. 2021.
ENC C-in-C V.Adm. Rajesh Pendharkar announces Operational Demo on Dec 10, postponed due to Cyclone Michaung. 2nd edition of Exercise MILAN in Visakhapatnam in Feb 2024, with 50 countries. Highlights: Seminar, Table Top Exercises, DSRV, Multilateral Exercise, City Parade, Social & Cultural Events. Indian Navy to deploy Aircraft Carriers Vikramaditya & Vikrant to Eastern Seaboard.
Telangana election results reflect the aspirations of people there, say Chandrababu Naidu, Lokesh. In a joint message posted on X, they have advised the TDP cadre to refrain from belittling the losers, and added that time has come to focus on elections in Andhra Pradesh.
Sri Venkateswara Institute of Medical Sciences (SVIMS), the super specialty hospital being run by the Tirumala Tirupati Devasthanams (TTD), is laying an enhanced focus on tackling cardiac disorders and cancer care, while adequate thrust will also be given on preventive care through screening services. The paradigm shift in core focus started after R.V. Kumar, former head of CT surgery at Nizam's Institute of Medical Sciences (NIMS), Hyderabad, took over the reins of this institute as its Director and Vice-Chancellor. In an interview with The Hindu, Dr. Kumar spoke about his previous accomplishments and explained the roadmap for the development of the SVIMS.
A collection of images from India's youngest State, which has chosen Congress after handing over two successive wins to BRS.