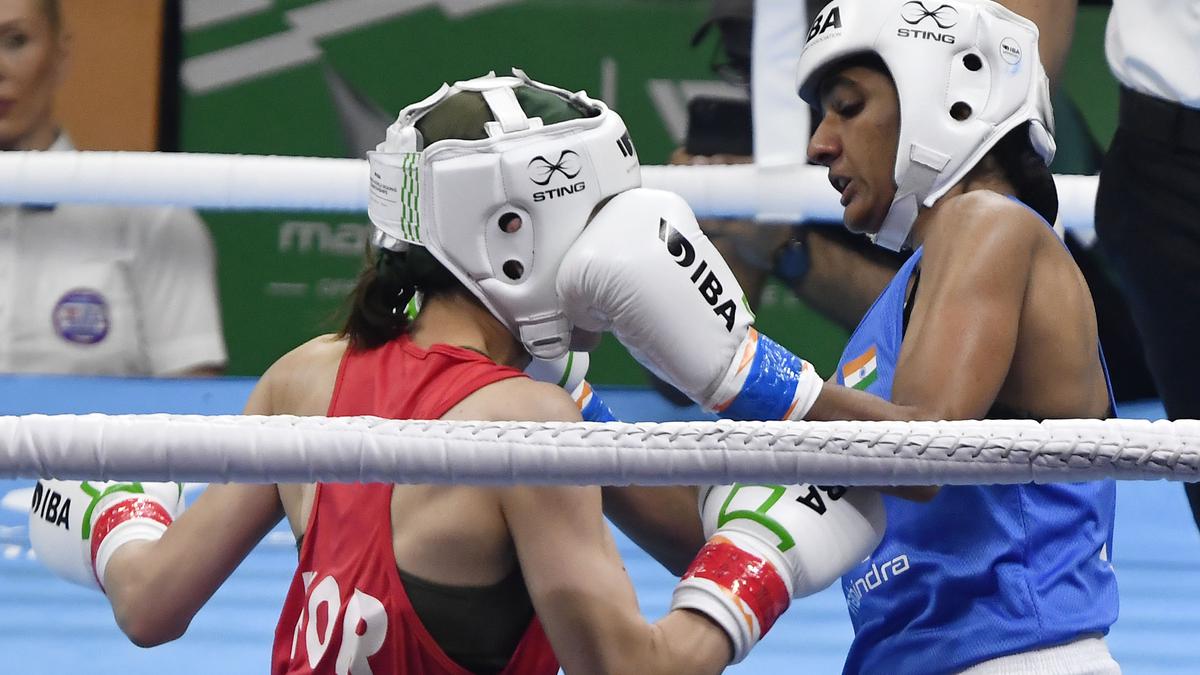 Teenager Preeti Sai stuns top seed Perijoc
The Hindu
Wins 4-3 after a 'bout review' to set up a pre-quarterfinal date with Thailand's Jitpong; Commonwealth Games champion Nitu Ghanghas and National champion Manju Bamboriya win convincingly to bring cheers to the home camp
Nineteen-year-old Preeti Sai Pawar displayed a superb combination of skills and maturity to stun current silver medallist and top seed Lacramioara Perijoc in a fiercely-fought 54kg second round bout of the World women's boxing championships at the K.D. Jadhav Hall here on Saturday.
Preeti pipped Romanian Perijoc, the World No. 2 and a 2019 European champion, 4-3 following 'bout review' to set up a pre-quarterfinal clash with another 2022 Worlds silver medallist (52kg) Jutamas Jitpong of Thailand.
Commonwealth Games champion Nitu Ghanghas (48kg), who returned to action after a lay-off, and National champion Manju Bamboriya (66kg) also won convincingly to spread cheers in the home camp.
An Asian bronze medallist, Preeti was magnificent in the second bout of her first World championship. She took the opening round 3-2 following a heavy exchange of punches and trailed 2-3 in the next.
Backed by a partisan crowd, Preeti maintained her composure. Relying on her quick feet, the Haryana boxer executed her counter-attacks well even while taking care of her defence in the action-packed third round to emerge triumphant.
"I prepared hard, wanted to prove that I am no less. In the last round, I was taking a step back to avoid my opponent's punches and counter-attack," said a confident Preeti.
More Related News
From their debut to the Women's Premier League, the Indian women's cricket team has come a long way in their T20 journey, narrowing the gap with men's cricket
New Zealand has claimed Sri Lanka's final wicket a few minutes from stumps to complete an innings and 58 run win in the second cricket test and a 2-0 sweep of the series
Jalandhar Riya Sachdeva won both the singles and doubles titles in the Asian under-16 tennis tournam
NEW DELHI: Wayne Rose, an Australian technical delegate overseeing the ongoing World women's boxing
Rohit Sharma comes back in the team along with Axar Patel, Shardul Thakur and Ishan Kishan miss out
Wins 4-3 after a 'bout review' to set up a pre-quarterfinal date with Thailand's Jitpong; Commonwealth Games champion Nitu Ghanghas and National champion Manju Bamboriya win convincingly to bring cheers to the home camp
She has battled cancer and kidney disease and is 87 years old, but these factors have not succeeded in keeping her off the athletic track. Meet the irrepressible Theresa Arokiaswamy