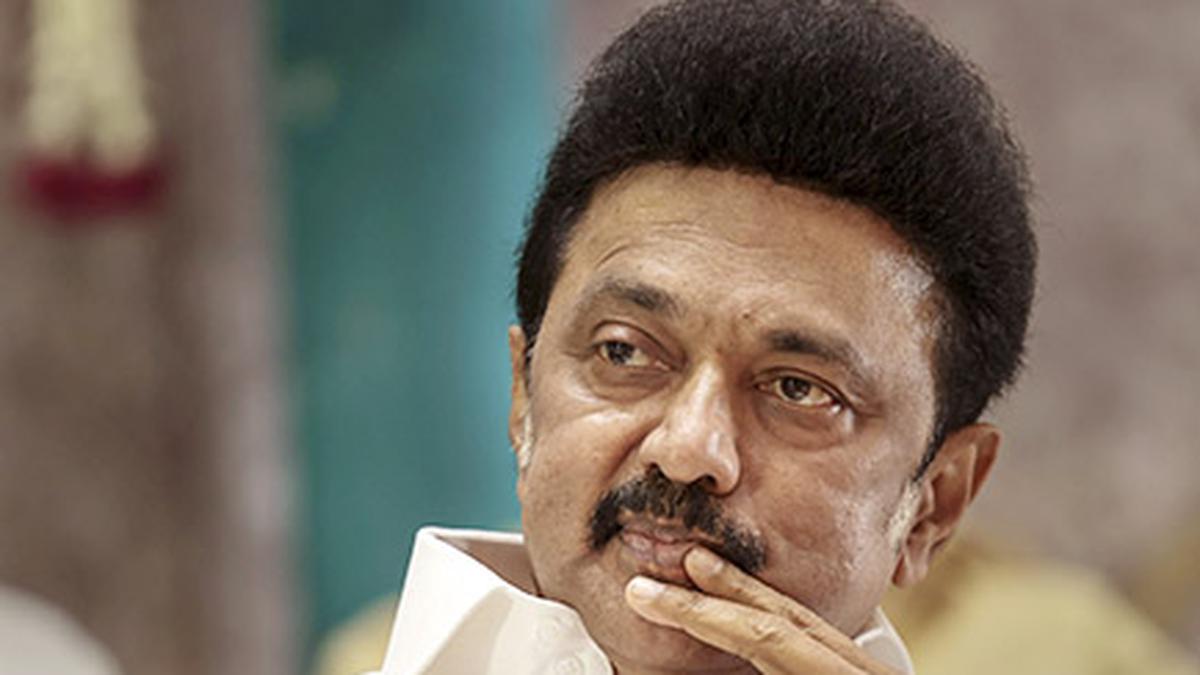 Tamil Nadu CM Stalin makes call for revival of Sethusamudram project
The Hindu
Chief Minister M.K. Stalin said Tamil Nadu would have benefitted immensely and India would have attained fame had the Sethusamudram project been implemented 18 years ago
Chief Minister M.K. Stalin on Saturday made a strong pitch for the revival of the Sethusamudram project and called upon former Union Minister T.R. Baalu to pursue and complete the project, which he said was given up because of the opposition from the BJP and the AIADMK.
"Mr. Baalu should make all efforts to implement the project. It was a dream of Arignar Anna and our leader Kalaignar [M. Karunanidhi], and we have the duty to fulfill it," he said, releasing Pathaimara payanam, a two-volume autobiography of Mr. Baalu, who handled the project when he was Union Minister for Shipping, Road Transport and Highways.
Recalling Union Minister Jitendra Singh's explanation that "to some extent, through space technology, we have been able to discover pieces and islands, some kind of limestone shoals, which of course, can't be accurately said to be remnants or parts of a bridge", Mr. Stalin said Tamil Nadu would have benefitted immensely and India would have attained fame had the project been implemented 18 years ago.
"India's foreign exchange would have increased; Tamil Nadu would have achieved much more industrial growth; the handling capacity of ports in Tamil Nadu and neighbouring States would have increased; maritime trade would have improved; and it, in turn, would have improved the livelihood of fishermen. Both the BJP and the AIADMK prevented [the project]," he alleged.
The Chief Minister used the occasion to urge the party leaders to pen their memoirs and fieldwork, saying the sacrifice and achievements of the Dravidian movement had not been fully recorded. "Just 50% of the history has been written so far. Unless we write, our history will be forgotten and suppressed," he said.
Mr. Stalin also pointed out that though Periyar, the founder of Dravidar Kazhagam, ran magazines and wrote profusely, he failed to write his memoirs, and the same could be said about Anna. "Even Kalaignar covered the history only up to 2002 in his autobiography Nenjukku Needhi. If they had been written, people would have received a lot of rare information," he said.
More Related News
Though there is a case for alternative mode, only 40% water could be purified for consumption through the plant, says PWD Minister K. Lakshminarayanan
The banner at the AIADMK election office in Erode leaves out images of BJP leaders; Jayakumar says clear picture will emerge only after alliance composition is finalised
It says KSPCB should help industries in complying with norms instead of issuing notices and harassing them
The report states that the tree felling will have multiple environmental impacts that are irreversible
Governor's address to be followed by presentation of budget, most likely on February 6
While the results are yet to be fully declared, the MVA is in driver's seat with the ruling BJP managing to win only the Konkan teachers' constituency
'Experience shows that in most cases, the people who are associated with the drug trade, etc., are in all likelihood substance abusers as well'
Some of those fielded had switched over from the NPF less than a year ago
Abubacker has filed the appeal challenging a trial court order that refused to release him on medical grounds.
The Differential Global Positioning System will be used to provide better accuracy of the river boundaries and it saves teams of time-consuming process of manual demarcation during every project