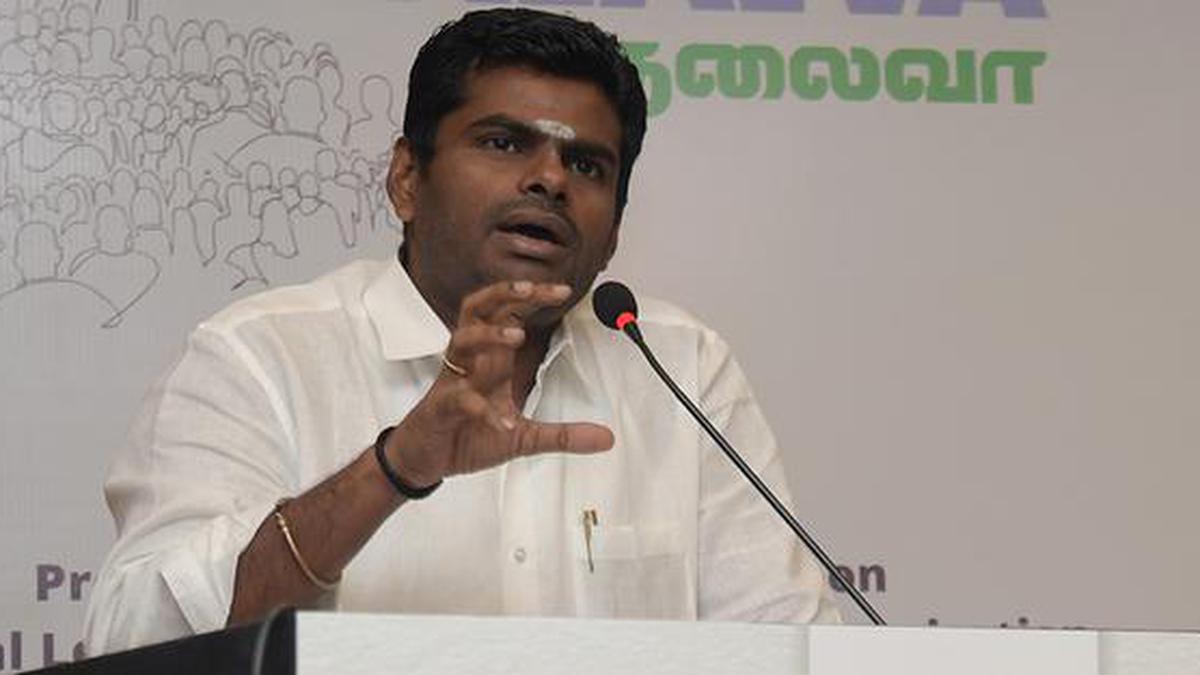 Tamil Nadu BJP chief Annamalai State govt. to regularise employment of nurses engaged during COVID-19
The Hindu
CHENNAI
Tamil Nadu Bharatiya Janata Party president K. Annamalai on Saturday strongly condemned the State government for not extending the contract of roughly 6,000 nurses employed temporarily during COVID-19.
These nurses were engaged for a monthly salary of ₹ 14,000 per month and their contract, after few extensions, came to an end on Saturday. In a statement, Mr. Annamalai said that the decision to not extent the contract has come as a rude shock to the nurses on the new year.
He alleged that the DMK government has gone back on its promise that the employment of these nurses would be regularised. Pointing out that the selfless service and contribution of these nurses were crucial in the fight against COVID-19, Mr. Annamalai said that his party would launch a massive protest in support of the nurses if the government did not reinstate them.
He further alleged that the State government has been "cheating" the youngsters in the State by promising the creation of 10 lakh jobs a year. He said that contrary to its poll promise of filling all vacancies in government offices, the State government has even delayed the conduct and later the publication of results of the Tamil Nadu Public Services Commission's Group IV exams.
Tamil Maanila Congress president G.K. Vasan in a statement urged the State government to extend the service of the nurses, considering their livelihood and their immense service during COVID-19. With the possible threat of another wave of COVID-19, he said that the services of these nurses would be essential.
More Related News
Travel writer and author Zac O'Yeah delves into India's rich culinary traditions in his new book Digesting India
The sacrifices of the Galwan Valley war hero, the late Colonel Santosh Babu were recognised with the first-ever statue of his set up in Kodad town of Suryapet district in the presence of Santosh Babu's parents Bikkumalla Upender and Manjula.
Acting upon allegations that illegal immigrants from Bangladesh and Rohingyas from Myanmar were being allowed to take up reservation in West Bengal, the National Commission for Backward Classes (NCBC) has now launched an investigation into the State's OBC list, Commission Chair Hansraj Gangaram Ahir said.
The Allahabad High Court has held that mere possession or transportation of cows and bullocks from one place to another within the State would not come under the Uttar Pradesh Prevention of Cow Slaughter Act
Land of love in Shamirpet, Hyderabad is a venue with different sets and props for photo and video shoots
In this episode, C.P. Chandrasekhar speaks to us about the concerns about the methodology followed in the GDP calculation, and what the growth rate means in terms of the health of the economy.
PMK president Anbumani Ramadoss on June 8 urged the State government to roll back the electricity tariff hike announced for industries and commercial establishments.
Australian greats Matthew Hayden and Ricky Ponting have slammed India's decision to drop premier off-spinner Ravichandran Ashwin for the World Test Championship final against Australia
The Manipur Human Rights Commission (MHRC) has asked the State government to consider restoring internet services since ethnic violence broke out in Manipur on May 3
The Sahitya Akademi-winning author's granddaughter translates his work into English, in the process carrying forward his legacy
Construction is still under way at the new campus, which occupies around 3,50,000 sq. ft. (built-up area) of the 86-acre MAHE campus and is spread across seven buildings