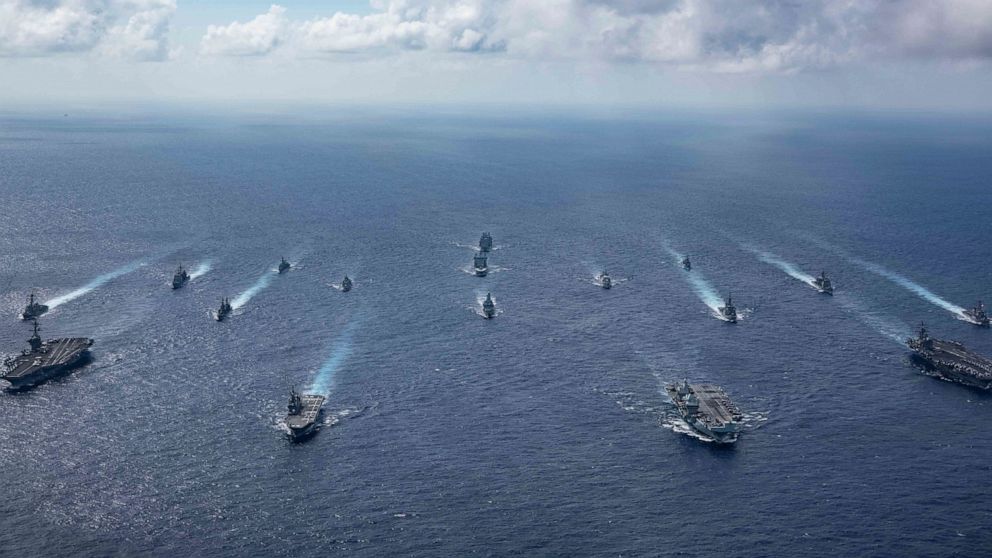 Taiwan tensions raise fears of US-China conflict in Asia
ABC News
After sending a record number of military aircraft to harass Taiwan over China's National Day holiday, Beijing has toned down the saber rattling but tensions remain high, with the rhetoric and reasoning behind the exercises unchanged
BANGKOK -- After sending a record number of military aircraft to harass Taiwan over China's National Day holiday, Beijing has toned down the saber rattling but tensions remain high, with the rhetoric and reasoning behind the exercises unchanged.
Experts agree a direct conflict is unlikely at the moment, but as the future of self-ruled Taiwan increasingly becomes a powder keg, a mishap or miscalculation could lead to confrontation while Chinese and American ambitions are at odds.
China seeks to bring the strategically and symbolically important island back under its control, and the U.S. sees Taiwan in the context of broader challenges from China.
"From the U.S. perspective, the concept of a great power rivalry with China has driven this back up the agenda," said Henry Boyd, a Britain-based defense analyst with the International Institute for Strategic Studies.
More Related News
In the capital of Ethiopia's Tigray region, a year of war and months of government-enforced deprivation have left the city of a half-million people with a rapidly dwindling stock of food, fuel, medicine and cash
Taiwan's president has paid her respects at a morgue to the dozens of people killed in a deadly inferno that ripped through an aging tower block earlier in the week
The leader of outgoing German Chancellor Angela Merkel's party has urged supporters to emulate the unity and discipline of their victorious opponents
Leaders from across the political spectrum have come together to pay tribute to a long-serving British lawmaker who was stabbed to death in what police have described as a terrorist incident
The Islamic State group says its members are responsible for a deadly suicide bombing on a Shiite mosque in southern Afghanistan
Indonesian authorities say three people were killed and another seven were injured when a moderately strong earthquake and an aftershock hit Indonesia's resort island of Bali