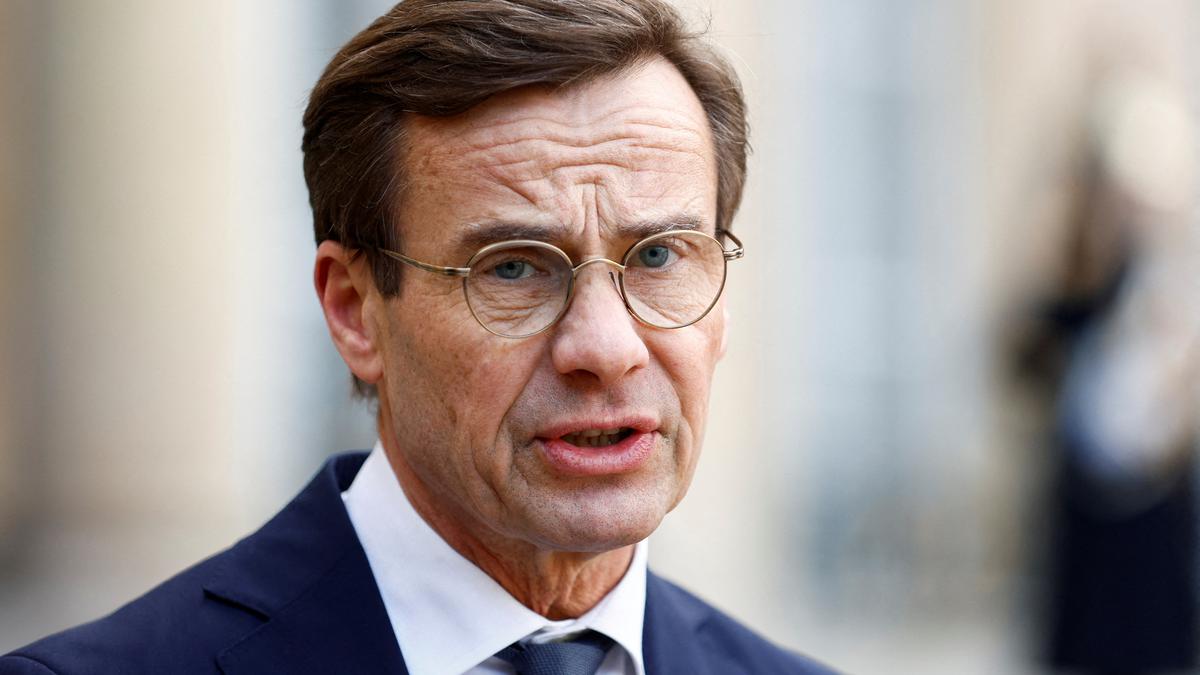 Sweden can't meet some Turkey demands for NATO bid: PM
The Hindu
Sweden and Finland broke with decades of military non-alignment and applied to join the U.S.-led defence alliance in response to Russia's February invasion of Ukraine
Turkey, which has for months blocked NATO membership bids by Sweden and Finland, has made some demands that Sweden cannot accept, Sweden's prime minister said on Sunday.
"Turkey has confirmed that we have done what we said we would do, but it also says that it wants things that we can't, that we don't want to, give it," Ulf Kristersson said during a security conference also attended by NATO chief Jens Stoltenberg.
Also read: Explained | Why is Turkey against Sweden, Finland joining NATO?
"We are convinced that Turkey will make a decision, we just don't know when," he said, adding that it will depend on internal politics inside Turkey as well as "Sweden's capacity to show its seriousness."
Sweden and Finland broke with decades of military non-alignment and applied to join the U.S.-led defence alliance in response to Russia's February invasion of Ukraine.
But Turkey has refused to approve their bid until the two countries take steps, including joining Turkey's fight against banned Kurdish militants.
Most of Turkey's demands have involved Sweden because of its more robust ties with the Kurdish diaspora.
More Related News
Senegalese are blaming the government for the violence and the loss of lives.
The museum is in a large building on the banks of the Nile in central Khartoum
The killings appeared to be connected to the thwarted drug smuggling attempt.
In a speech to the Shangri-La Dialogue defence summit, Mr. Subianto proposed a ceasefire 'at present positions', and demilitarised zones
Pope Francis voiced immense sadness at the Odisha train accident which killed at least 261 people and injured over 900
Mr. Zelensky also expressed frustration at Western leaders ahead of the NATO summit in Vilnius next month.
Volodymyr V. Havrylov said that alongside cruise missile strikes, Ukraine had faced repeated volleys of ballistic missiles, especially in urban centres including the capital, Kyiv. "Their primary goal is to stop our counter-offensive and target decision-making centres," he said on the sidelines of Asia's top security conference, the Shangri-La Dialogue in Singapore.
Indian American Ajay Banga on June 2 took over as the President of the World Bank, making him the first person of colour to head either of the two global financial institutions, the World Bank and the International Monetary Fund.
Expansion of the BRICS bloc is still a work in progress and members of the five-nation grouping are approaching the idea with a positive intent and an open mind, External Affairs Minister S. Jaishankar has said.
External Affairs Minister S. Jaishankar met his Brazilian counterpart Mauro Vieira and held discussions on advancing India and Brazil's cooperation in the BRICS, IBSA, G20 and United Nations frameworks.
Global unemployment is likely to return to the pre-pandemic level in 2023, according to the International Labour Organisation's (ILO) latest report, ILO Monitor on the World of Work–11th edition, released worldwide on Friday.