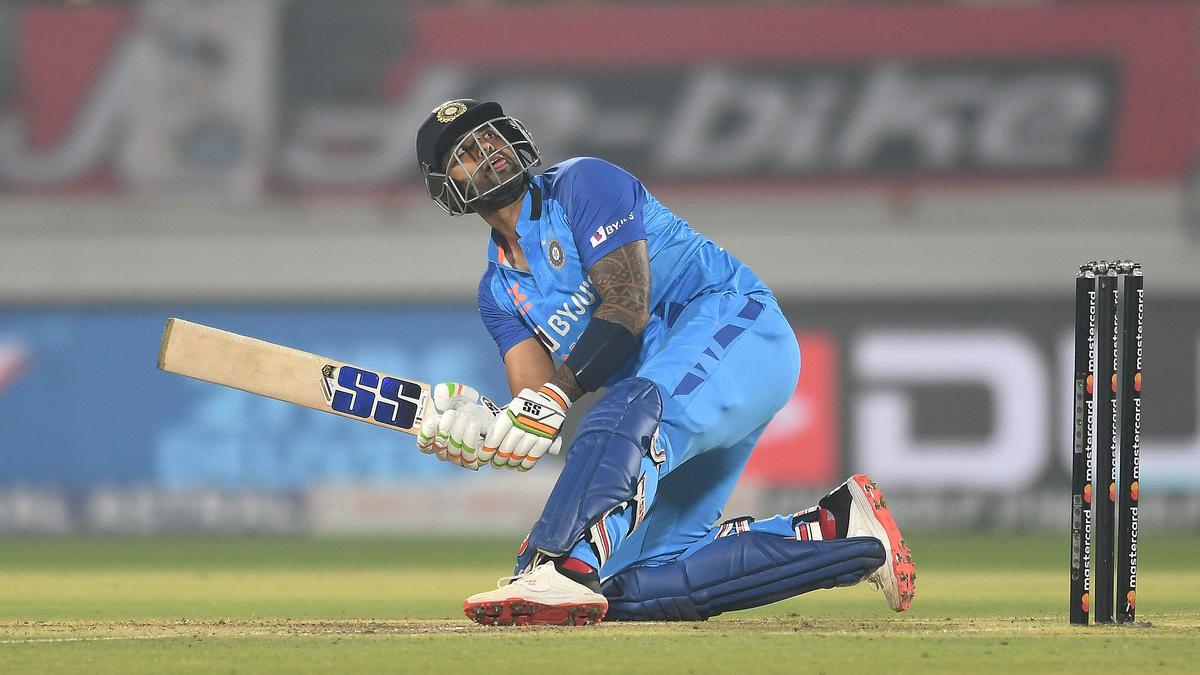 Suryakumar — the jewel in the crown of India's white-ball warriors
The Hindu
He does not doubt his ability and that's the reason for his success in this format; need to maintain this mindset when the pitch is not as helpful, says skipper Hardik
Suryakumar Yadav's value as the ultimate match-winner came to the fore once again on Saturday. An unbeaten 51-ball 112 flattened Sri Lanka in the third T20I here, giving India a 2-1 series win.
In scoring his third T20I century in the span of six months, Suryakumar has established himself as the white-ball crown jewel of this Indian team.
For skipper Hardik Pandya, life is good when Suryakumar clicks. "Today it felt like Sri Lanka versus Surya. It makes my life very easy. Surya is so important for us in white-ball cricket. He changes the game. The way he plays his shots actually breaks the morale of the bowler, and that helps other batters as well," Hardik said at the post-match press conference.
Suryakumar is well aware of his strengths, so there is little reason for Hardik to give him advice. "You don't tell Surya anything (before he goes in to bat). The sort of form he is in, and the clarity he has — you don't have to speak to him. He does not doubt his ability, and that's the reason for his success in this format," Hardik said.
Suryakumar was given the ideal platform for launch by Rahul Tripathi.
Tripathi, playing his second T20I, shifted the momentum India's way by blazing a 16-ball 35 in the PowerPlay.
"A special mention of Rahul — the kind of intent he showed can change the momentum of the game. The next batter thought there was something in the wicket, but because of his innings, all of a sudden that ball stopped moving and the bowlers changed their lengths. Then Sri Lanka was chasing the game," Hardik said.
More Related News
Born in 1928 in Khadaklat in present-day Karnataka, she was known by her mononym 'Sulochana' and acted in more than 300 Marathi and Hindi films.
The Aam Aadmi Party (AAP) on Sunday attacked the Bharatiya Janata Party (BJP) over the Balasore train accident, and said that before the accident, there were complaints of problems with the signalling system and a shortage in manpower, but the Central government had not done anything about these issues.
The silver jubilee celebrations of Amrita Hospital, Ernakulam, were inaugurated on Sunday. Inaugurating the celebrations, Union Home Minister Amit Shah said the hospital had set an example by providing free medical support to needy sections of the society.
Dakshina Kannada Member of Parliament Nalin Kumar Kateel has said that 22 km of the 45 km- long Bikarnakatte-Sanur National Highway widening project has been completed.
A month after Manipur was engulfed in ethnic violence, only 18% of over 4,000 weapons, looted or taken away from police armouries have been surrendered with the authorities.
The Congress had earlier demanded the resignation of Railway Minister Ashwini Vaishnaw and criticised Prime Minister Narendra Modi
Mamata Banerjee announced ₹5 lakh compensation to the kin of the deceased, ₹50,000 to the injured
Members of HB Colony Residents Welfare Association and Visakhapatnam Apartment Resident Welfare Association staged a protest demanding that the APSRTC officials resume city bus 20A service immediately
As many as 32 people from Karnataka, part of volleyball teams, who were stranded after the train accident in Balasore, managed to return on Sunday
The power sector in Tamil Nadu may see a maximum coal demand of 65.7 million tonnes by the financial year 2030 from actual consumption of 27.95 million tonnes in financial year 2022, as per government's report on Integrated Coal Logistics Plan for efficient coal evacuation.
Heavy rain accompanied by strong winds brought down the mercury level in Sivaganga town and its peripheries on Sunday evening..