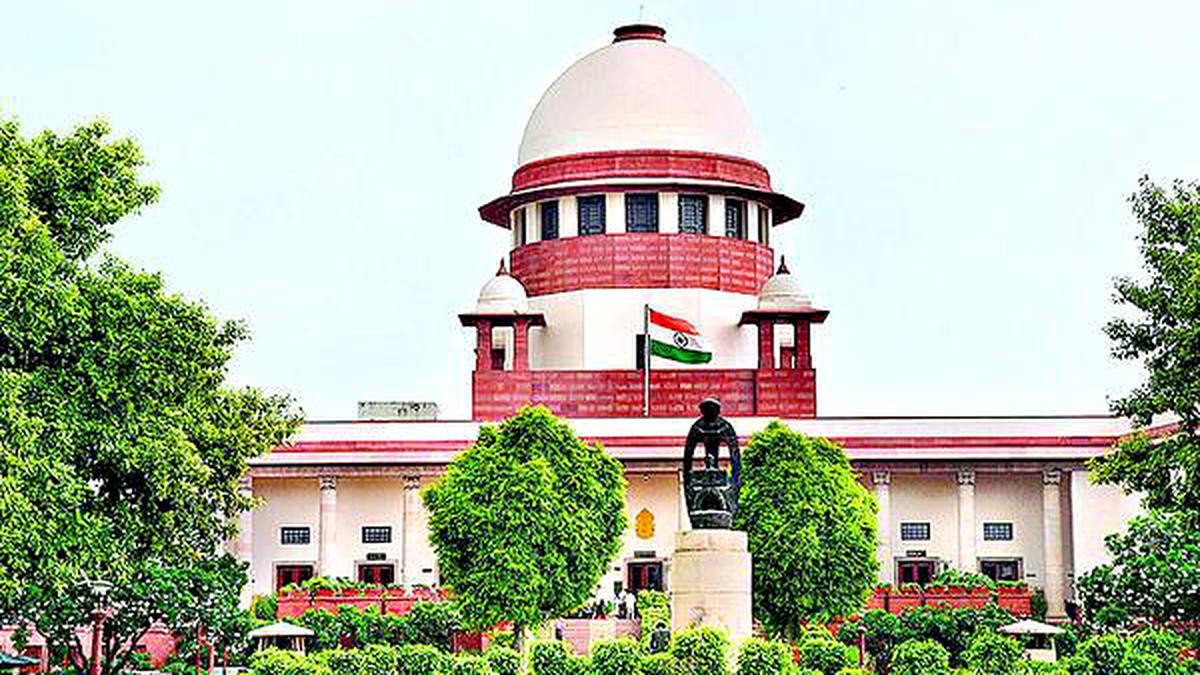 Supreme Court stay on HC order on U.P. civic polls deviates from its earlier judgment
The Hindu
In the Suresh Mahajan judgment, a Bench led by Supreme Court Justice (now retired) A.M. Khanwilkar had held that until the triple test/conditions were completed, no reservation for Backward Classes could be provided
The Supreme Court stay of a direction of the Allahabad High Court to immediately notify local body polls in Uttar Pradesh in the general/open category without reserving seats for Other Backward Classes (OBC) is a deviation from its own May 10, 2022 judgment concerning local body elections in Madhya Pradesh.
On December 27, the Allahabad High Court had followed the law laid down by a three-judge Bench of the Supreme Court in Suresh Mahajan versus State of Madhya Pradesh in May.
In the Suresh Mahajan judgment, a three-judge Bench led by Justice (now retired) A.M. Khanwilkar had held that until the triple test/conditions were completed, no reservation for Backward Classes could be provided. In case such an exercise cannot be completed before the issue of the election programme, the seats, except those reserved for Scheduled Castes and Scheduled Tribes, must be notified for general category. Political parties "who claim to be the protagonist of participation of OBC in the governance of local bodies" could field Backward Class candidates in various constituencies, even in general category seats. The May judgment had made it clear that its directions would hold true for all States and union territories, and were not limited to the holding of local body elections in Madhya Pradesh and, in an earlier case, Maharashtra.
Triple test mandates a dedicated commission to collate contemporaneous empirical data on politically backward citizens and recommend reservation of seats for them in local bodies.
Justice Khanwilkar, in his judgment, had highlighted the constitutional mandate to conduct fresh elections to local bodies every five years.
"This constitutional mandate is inviolable. Neither the State Election Commission nor the State government or for that matter the State Legislature, including this court in exercise of powers under Article 142 of the Constitution, can countenance dispensation to the contrary," the May judgment had underscored.
The judgment had ordered the Madhya Pradesh Election Commission to issue the election programme by directing that the seats, except those reserved for Scheduled Castes and Scheduled Tribes, must be notified for general category. The court had subsequently allowed the implementation of OBC reservation in Madhya Pradesh civic polls, but only after the dedicated Commission submitted a revised report complying with triple test conditions with a local body wise break-up of OBC seats.
More Related News
She urged people of poll-bound Tripura to break myth of a double-engine government and vote only for her party, to introduce 'Bengal model' of governance
The Assembly Session will start with the Governor's address to the House, the first in the State Assembly after assuming office
As both teams head into the semifinal clash at the M. Chinnaswamy Stadium starting Wednesday, Karnataka has a score to settle.
Notwithstanding a couple of untimely adjournments, both the Houses conducted discussion on the Presi
The Home Minister, while chairing the meeting of the Parliamentary Consultative Committee on LWE, said that for the first time in four decades, the number of deaths of civilians and security forces was under 100 last year
Bengaluru Traffic Police launches special drive to crack down on vehicles using fake number plates
Madurai The first fully-solar powered police check post of Madurai district police was inaugurated a
The 21st edition of the event is open for school students in two categories
The High Court, in the meantime, began hearing submissions on the bail plea of the Rashtriya Janata Dal's youth wing leader and Jamia Millia Islamia student Meeran Haider in the same case