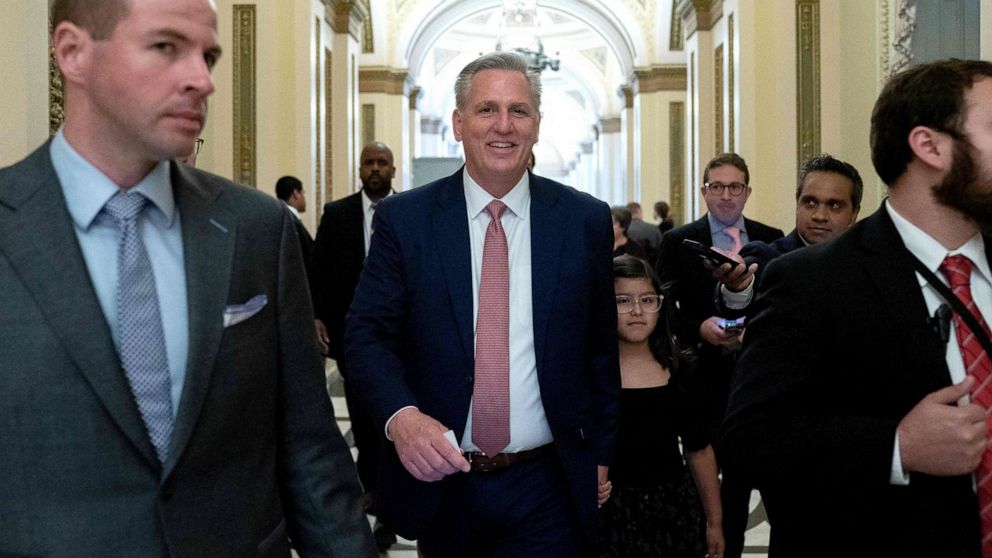 Subpoenas to GOP members marks escalation in 1/6 committee probe
ABC News
Subpoenas sent to GOP members of Congress mark an escalation into the committee investigating the Jan. 6 attack on the Capitol.
The decision to subpoena House GOP Leader Kevin McCarthy and other sitting GOP lawmakers by the House select committee investigating the Jan. 6 Capitol attack marked a sharp escalation in the panel's inquiry – and the potential setting of a new modern precedent in the House.
While congressional ethics committee empowered to investigate misconduct have subpoenaed sitting lawmakers, there are few modern instances of other committees issuing subpoenas to members of the body, Irv Nathan, the former House counsel during Speaker Nancy Pelosi's first two terms leading the chamber, told ABC News.
"It's unprecedented, but it's certainly within their authority," Nathan said of the Jan. 6 committee.
"The crucial matter is what the subpoenas are for," Charles Tiefer, another former House counsel and law professor at the University of Baltimore School of Law, told ABC News. "I don't really see why the Justice Department can accumulate evidence about Jan. 6 but the House cannot."
More Related News
The law gives the Department of Agriculture authority to let WIC participants buy whatever formula is available during times of crisis.
Biden said last year he'd only meet with the North Korean leader so long as he committed to a discussion about denuclearization.
One person died and multiple people were injured after a destructive tornado tore through northern Michigan Friday afternoon, authorities said.
A federal judge in Louisiana decided the fate of a major move behind the Biden administration's immigration agenda.
An investigation is underway after a Chicago police officer shot an unarmed 13-year-old boy who authorities allege was involved in two recent carjackings.
A dispute broke out between two groups, eventually leading one individual to fire shots into the crowd, hitting nine people, police said.
Dozens of artillery systems supplied by the United States to Ukraine are not fitted with advanced computer systems, which improve efficiency and accuracy.
Former President Donald Trump has already injected election conspiracy theories into Pennsylvania's Senate primary, which is almost certainly headed to a recount.
The production of firearms in the U.S. has ramped up exponentially in recent decades, according to a new study by the Bureau of Alcohol, Tobacco, Firearms and Explosives
Members of Alexei Navalny's team are pressing the U.S. to pursue sanctions against 6,000 Russians who they say are among the "next tier" of those enabling Vladimir Putin.
The suspect who allegedly rushed and tackled comedian Dave Chappelle on stage last month has been charged with attempted murder in a separate incident.