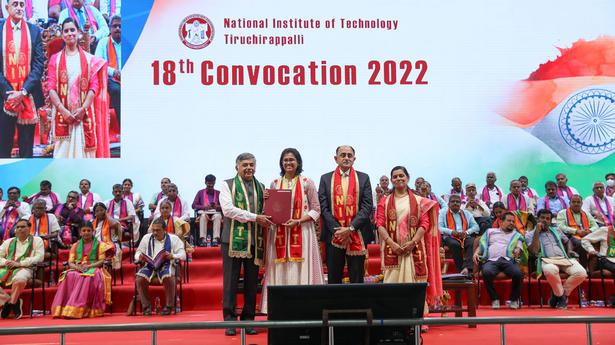 'Students should lead from the front'
The Hindu
Shyam Srinivasan, Managing Director and Chief Executive Officer of Federal Bank, on Saturday said the new generation of students should lead from the front so as to shape the future of the country.
Speaking at the 18 th convocation of National Institute of Technology-T here, he said there was a lot of work to do - people to feed, communities to build, children to educate and health care needs of an ageing population - to be met.
While urging the graduands to focus on B.R.A.N.D (Belief, Relevance, Authenticity, Negotiating Challenges, and Delivery), Mr. Srinivasan said Jeremy Lalrinnunga, a gold medallist in the Commonwealth Games at the age 19, APJ Abdul Kalam, former President, Sachin Tendulkar, former cricketer, had made their mark. They were role models to the aspiring achievers. The graduating students should learn from these icons as they fought through difficult circumstances and came out with flying colors.
Mr. Srinivasan, who went down memory lane and recollected his experiences at the then Regional Engineering College, Tiruchi, said the institute had prepared him for a life of learning, unlearning, and relearning. There might be several challenges. It could be dealt with focus and determination.
Bhaskar Bhat, Chairperson, NIT and G. Aghila, Director, NIT spoke. A total of 1,977 graduands were awarded degrees at the convocation ceremony. Mr. Srinivasan, presented the president medal (Overall Highest CGPA in B. Tech) to Kimaya Prasad Suryarao of Metallurgical and Materials Engineering.
More Related News
Audi has opened bookings for the new Q3, which is likely to be launched in India next month. Custome
Decisions would be taken for making better arrangements for pilgrims after talks with religious leaders, says CM Gehlot.
Djokovic also not expected to be able to enter U.S. Open
Train witnesses overwhelming response with an average occupancy of 63%
The West Indies managed only 125/9 in reply of Kiwi's mammoth total of 215/5
Raju Srivastava was admitted to the hospital after suffering a heart attack on August 10, 2022
The court found Google misled some customers about personal location data collected through their Android mobile devices between January 2017 and December 2018.
Delhi flood control room said the water level breached the danger mark and reached 205.99 metres on August 13 morning
C.P. Muhammad Niyas, Judge, Kerala High Court, will inaugurate the programme at M.K. Damodaran Hall near the Kerala High court