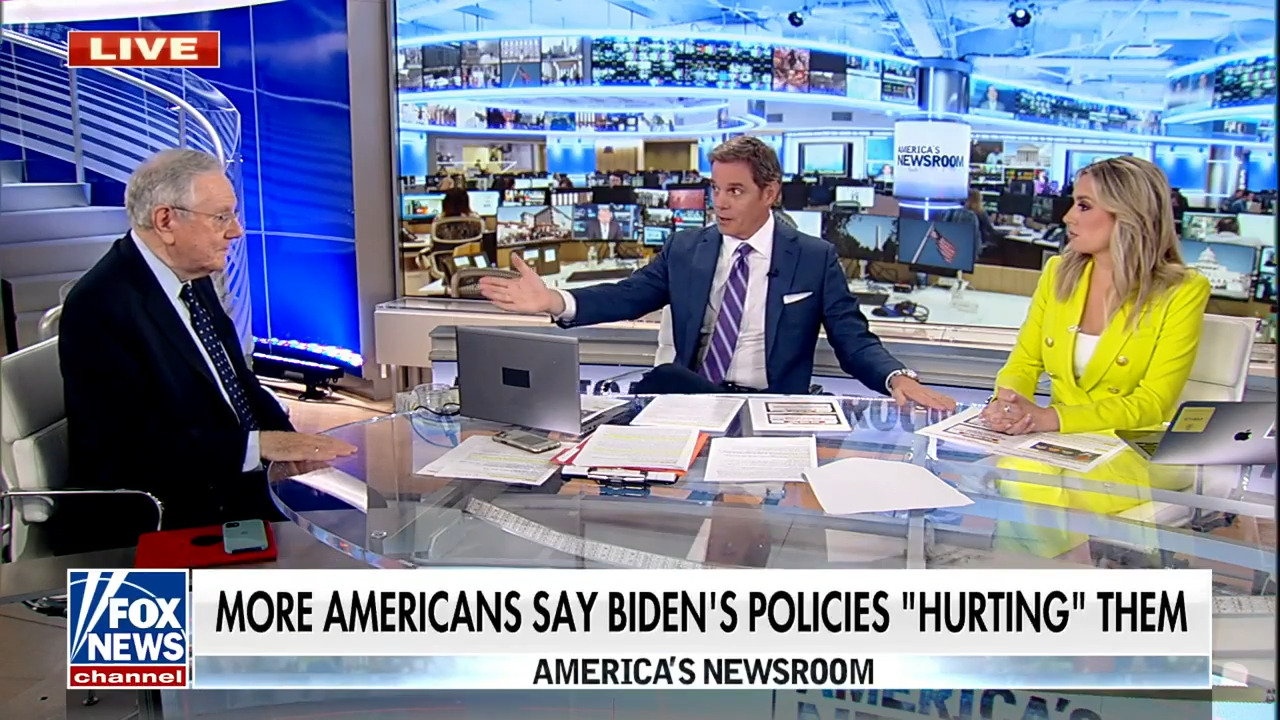 Steve Forbes says Joe Biden will not be the Democratic nominee: 'They cannot have him running'
Fox News
Forbes Media chairman Steve Forbes outlines why he believes the economic crisis will cost President Biden the 2024 Democratic Party nomination.
STEVE FORBES: I think what's happening with the economy, even though it's not officially in a recession, it's sort of the economic equivalent of walking pneumonia. Not enough to put you in bed yet, but just dragging you down, draining the energy. I think there is economy fatigue, one thing after another. So, inflation has come down a little bit. Prices are still going up. Wages aren't going up fast enough. There's a feeling the country is adrift. These whole negotiations on the debt ceiling, my goodness! They can't control spending even though it's $2 trillion higher than it was a couple of years ago. People just throw up their hands and say these people are out of control. Madeline Coggins is a Digital Production Assistant on the Fox News flash team with Fox News Digital.
[…]
And I think that's why next year Joe Biden will not be the Democratic Party nominee … Because the economy — yeah, they can sweep the Hunter stuff away — but that has a stench out there. So you have a poor economy, you have a president people feel is not up to the job anymore, certainly not for the next four years. So I don't know what the scenario is going to be, but they cannot have him running in November of 2024.
More Related News
Connecticut lawmakers gave power to more libraries facing book bans and passed protections for abortion providers before adjourning this year's session.
Target Corporation faces heat from LGBTQ+ advocacy organizations, some who said they may boycott the company if it refused to fix its mistakes during Pride Month.
A new clash has erupted between the Biden administration and Israel over the Jewish state's judicial reforms, with Vice President Harris wading into the diplomatic row.
Fentanyl test strips are becoming legal in more states as overdoses from the deadly substance continue to be an issue. Nearly 70% of the overdoses in 2022 could be linked to fentanyl.
CNN's crybabies chase out Licht for the crime of being more neutral. Trump town hall, unfavorable profile help whining staffers fire their network boss.
Britain should prohibit technology developers from working on advanced AI tools unless they have a license to do so, according to the British Labour Party.
AI arms race will dominate 2024 election as campaigns maximize use of new artificial intelligence technology. Results will show the strengths of the tech.
A facility in Kentucky that is dedicated to disposing of Cold War-era chemical weapons is approaching the final stages of its mission to destroy a 520-ton stockpile.
Fox News host Greg Gutfeld blasted the media for "losing their minds" after the PGA Tour announced a merger with Saudi-backed LIV Golf despite the U.S. "already" doing business with the Saudis.
President Biden vetoed a bill that would scrap his $400 billion student loan handout while railing against Republicans for supporting "huge tax cuts for corporations and the wealthy."
Texas residents said they were largely dissatisfied with the state of affairs in the U.S. as well as the direction America seems to be headed.