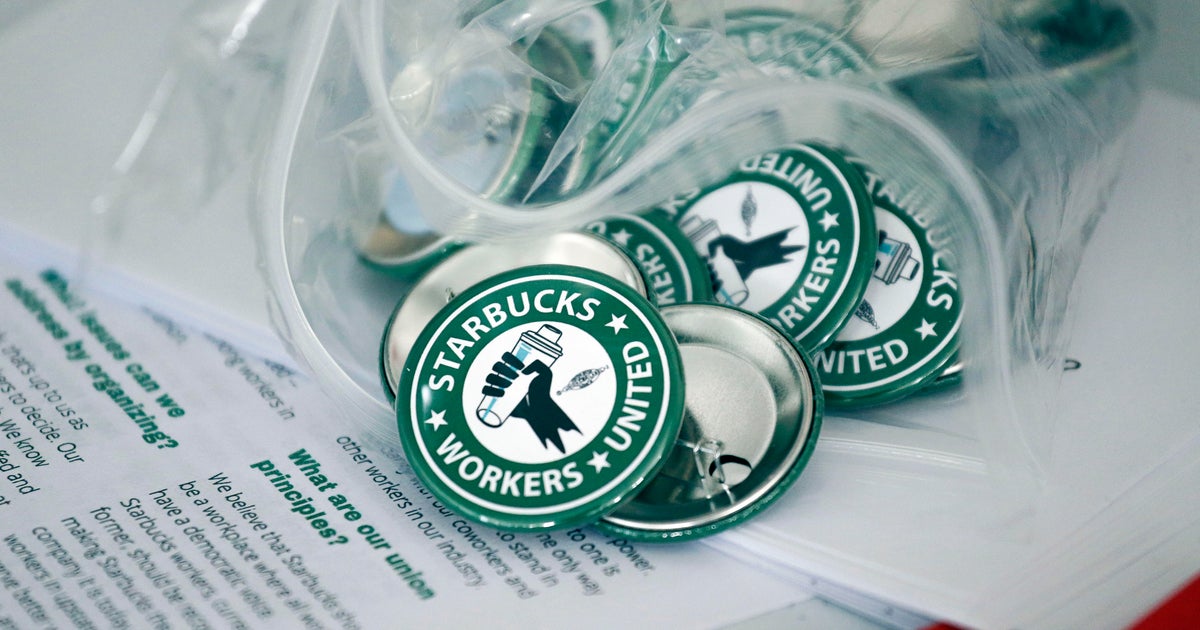 Starbucks used "array of illegal tactics" against unionizing workers, labor regulators say
CBSN
The National Labor Relations Board is asking a federal court to order Starbucks to stop using what the federal agency calls an "array of illegal tactics" aimed at workers involved in unionization efforts at the coffee chain's stores.
The NLRB's petition, filed Tuesday in a U.S. District Court in western New York, is the board's third against the company since workers at a Starbucks store in Buffalo in December voted to join a union — a first for the retailer's nearly 10,000 company-owned stores in the U.S. At least 151 stores have since voted to unionize, and more than 289 stores have filed with the NLRB to hold elections.
Starbucks opposes the unionization effort, arguing the company runs better when dealing directly with its employees. But it has consistently rejected claims it uses unlawful tactics aimed at discouraging workers from trying to organize.
More Related News
A former president of USA Softball was charged in April with committing sex offenses involving a child, California authorities said Tuesday. John Gouveia, 61, of Castro Valley, California, was arrested on April 14 on eight felony counts of lewd lascivious act with a child under the age of 14, according to a release from the Sacramento County Sheriff's Office.
The Dallas Cowboys sparked criticism on social media after announcing a marketing agreement with a gun-themed coffee company that sells blends called "AK-47 Espresso," "Silencer Smooth" and "Murdered Out."
Amazon Prime now comes with another perk: free food delivery for a year.
The Department of Justice on Tuesday sued Arizona over a new law requiring people who use a federal form to register to vote to provide additional proof of citizenship if they want to vote for president or using the state's popular vote-by-mail system.
Washington — With the Justice Department's recent warning to states not to ban a federally approved drug that induces an abortion after the Supreme Court overturned Roe v. Wade, the Biden administration signaled that medication abortion may be the next front in the fight to preserve abortion rights in states that are curtailing access.
A Colorado funeral home operator accused of illegally selling body parts and giving clients fake ashes has pleaded guilty to mail fraud in federal court.
A population of an invasive fly from Asia has been discovered in North Carolina for the first time, confirming a prediction from agriculture experts that it was only a matter of time before the potentially destructive pest reached the state.
New York — American ice cream brand Ben & Jerry's said Tuesday it is suing its parent company Unilever to block a move that would see its product sold in West Bank settlements, which would run counter to its values. The company, known for its political activism, took the unusual step seeking an injunction after London-based Unilever last week announced it had sold its interest in the ice cream brand to Israeli license-holder Avi Zinger.
In this episode of Intelligence Matters, host Michael Morell speaks with Heather Conley, president of the German Marshall Fund of the United States, about Russia's use of "strategic conservatism" to exploit divisions with and within the West. Conley explains how Russian President Vladimir Putin has leveraged the support of the leadership of the Russian Orthodox Church to portray himself as a global defender of conservative values. Conley and Morell also discuss how the Russian Orthodox Church has undermined its own objective of ecumenism by alienating those who oppose Russia's invasion of Ukraine.
Jackson, Calif. — Evacuation orders were expanded Tuesday for remote California communities near a wildfire that may have been sparked by fireworks or a barbecue on the Fourth of July in a mountainous region that's a top tourism destination. The Electra Fire in Sierra Nevada Gold Country broke out Monday afternoon and tripled in size to about 6.1 square miles. It was 5% contained Tuesday night. The fire was making short, uphill runs, fire officials said. "The rate of spread isn't what it was like yesterday, but it is still spreading," said Amador County Sheriff Gary Redman. He said firefighters were working to keep flames confined to unpopulated canyon areas.
Guitar legend Carlos Santana is recovering after he collapsed on stage during a concert near Detroit on Tuesday night.